Will Camilla be Queen when Charles is crowned? Her title and role explained
Settling the Queen confusion once and for all...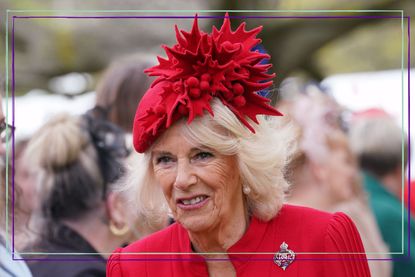 (Image credit: Future/Getty)
As the coronation looms, many are curious to know if Camilla will be Queen when Charles is crowned King. Here's what will happen at the ceremony, plus her royal role and title explained.
Being the wife to the King of England is quite a feat. So it's no surprise that unlike the average Mr and Mrs, Camilla has an official royal title to signify her importance. Whilst technically known as Queen Consort following Queen Elizabeth's death, confusion came in April 2023 when the official coronation invitation referred to her as simply "Queen Camilla". Royal fans have been wondering whether Camilla will be made Queen at the coronation ceremony, and if so, what this means - especially as many will recall that Prince Philip was never called King.
We've dished the details on Camilla's title and role just in time for the coronation of King Charles III. Here's what you should call her on the day and going forward.
Will Camilla be Queen when Charles is crowned?
Yes, Camilla will be crowned Queen alongside King Charles at the coronation, though her official title remains Queen Consort - the name given to the wife of a ruling monarch.
"The ceremony will see His Majesty King Charles III crowned alongside the Queen Consort," confirmed a statement from Buckingham Palace.
Female spouses of a monarch have always traditionally been crowned alongside their husbands at coronation ceremonies. As Royal.uk states: "Unless decided otherwise, a Queen consort is crowned with the King, in a similar but simpler ceremony. If the new Sovereign is a Queen, her consort is not crowned or anointed at the coronation ceremony."
This explains why Prince Philip was not crowned King at the Queen's coronation back in 1953.
Why is Camilla a Queen Consort and not a Queen?
Camilla will never be Queen in her own right as she is not a royal family member by blood, and as such can never rule as sovereign. She takes the title of Queen Consort as she is married to a ruling King.
Camilla's title of Queen Consort was first announced by the late Queen Elizabeth II in February 2022. Marking the 70th anniversary of her accession to the throne - ahead of her Platinum Jubilee - Queen Elizabeth confirmed it was her "sincere wish" for Camilla to be known as Queen Consort when Charles took to the throne.
This title change came into effect after Queen Elizabeth II's death on September 8, 2022. A Buckingham Palace statement released to announce the Queen's passing read: "The Queen died peacefully at Balmoral this afternoon. The King and The Queen Consort will remain at Balmoral this evening and will return to London tomorrow."
The Consort title has historically been given to spouses of ruling monarchs. The Queen Mother was known as Queen Consort during her husband King George VI's reign. Meanwhile Prince Philip was known as Prince Consort. A male spouse historically has taken the title of Prince Consort instead of King Consort so as not to usurp the ruling Queen's power.
Whilst Camilla is officially known as Queen Consort, the official invitation for King Charles' coronation has named her as Queen Camilla, which is how she will be referred to publicly.
A palace source explained: "It made sense to refer to Her Majesty as the Queen Consort in the early months of His Majesty's reign, to distinguish from Her Majesty Queen Elizabeth II.
"'Queen Camilla' is the appropriate title to set against 'King Charles' on the invitation. The coronation is an appropriate time to start using 'Queen Camilla' in an official capacity. All former queen consorts have been known as 'Queen' plus their first name."
What is Camilla's role in the British monarchy?
Camilla's official role as Queen Consort is to support her husband as King. This involves her joining King Charles III on public engagements, royal tours and ceremonial events.
"The role of The Queen's consort is primarily to provide companionship and moral and practical support to the Monarch," states the Royal Family website."The consort does not hold a formal position in the structure of government and The Duke did not see State papers or hold official audiences."
In January 2022, Camilla was also made a member of the Order of the Garter. This is an important honour that sees her become a part of the oldest and most senior Order of Chivalry in Britain.
The history behind the Order of the Garter is that King Edward III set up the group of honourable knights having been inspired by the tale of King Arthur and the Knights of the Round Table. Only ruling monarchs can appoint new members, with the late Queen Elizabeth II appointing Camilla early last year.
"Today, the Order includes The King, who is Sovereign of the Garter, several senior Members of the Royal Family, and twenty-four knights chosen in recognition of their work," explains the Royal Family website. "Knights of the Garter are chosen personally by the Sovereign to honour those who have held public office, who have contributed in a particular way to national life or who have served the Sovereign personally.
As the most senior female in the royal family now, Camilla has also technically taken on the role of 'matriarch'. According to Good Morning America, this will see her working closely with Charles' family - his siblings and sons - to ensure the monarch is supported throughout his reign.
Related features:
Video of the Week
Emily Stedman is the former Features Editor for GoodTo covering all things TV, entertainment, royal, lifestyle, health and wellbeing. Boasting an encyclopaedic knowledge on all things TV, celebrity and royals, career highlights include working at HELLO! Magazine and as a royal researcher to Diana biographer Andrew Morton on his book Meghan: A Hollywood Princess. In her spare time, Emily can be found eating her way around London, swimming at her local Lido or curled up on the sofa binging the next best Netflix show.