10 reasons we'd happily swap bods with Rebecca Adlington
If you watched I'm A Celeb on Thursday night and felt sad watching Rebecca cry about her figure, you're not the only one! Here's 10 reasons why we'd swap figures with her right now...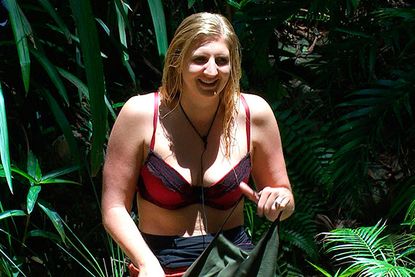 If you were watching Thursday's I'm A Celeb then you'll agree that seeing Rebecca Adlington cry while comparing her body to super-skinny model Amy Willterton was heartbreaking.
We've all been there, stuck in a situation with someone we think is prettier/cleverer/generally better than us and feel our confidence drain away. But if we could send Rebecca one message while she's in the jungle, it would be that we would happily swap bodies with her any day - she's gorgeous! Here's a few reasons why we would be up for a body swap with the gold medallist and all-round I'm A Celeb lovely...
1. She's super toned
And we're not surprised with all the training she will have done as an Olympic athlete. We could never dream of getting this toned and if we looked like this, we'd be prancing about in a swimsuit for the whole world to see!
2. She's a medallist
With not just one but two gold medals to her name, the hours Rebecca must have spent training are clear to see from her swimsuit shots in the jungle. She looks amazing!
3. She looks better than we ever will in a posh frock
Talk about scrubbing up well, how fantastic does Rebecca look in a fancy frock?! The black dress really suits her blonde bombshell looks and compliments her curves in all the right places. Jealous? Us? Never.
4. She's got a great pair of boobs!
While we don't think she seems like the kind of girl to want to show them off to the world, we couldn't help but notice that she has a cracking cleavage! We'd be back in that shower and showing them off Rebecca!
5. She's model tall
At 5ft 10, Rebecca has height that most aspiring models would kill for. She's naturally pretty and her height allows her to stand out from the crowd.
6. She doesn't have an ounce of cellulite
For someone with such fantastic curves as Rebecca, we weren't surprised to see that she doesn't have one little bit of cellulite. And that's because swimming is one of the best ways to get rid of the unsightly stuff us non-olympians suffer with. Time for a dip we think!
7. She has blonde locks we would kill for
While we contend with home dye kits and forever wishing that our hair would grow just a teensy bit more, Rebecca's blonde locks look healthy and glowing, even if her teammates aren't!
8. We have a feeling she'll beat them all in the bush tucker trials
The other celebs better watch themselves, because we have a sneaking suspicion that Rebecca's combination of determination and fitness will leave the others gasping for breath when it comes to the bush tucker trials!
9. She has a rebellious tattoo on her foot
Just in case you thought she had a squeaky clean image, think again! We love this little bit of bad girl on her, and think it's brilliant that it shows a bit of her fun personality.
10. She looks FAB in a bikini
Proving that she's just as worthy of the traditional I'm A Celeb shower shot as everyone else, we're pretty sure Rebecca is the only one upset about her bikini-baring in the jungle. Rebecca - we think you're awesome!
Where to next?
- Check out all these curvy celebs with bodies to die for!
- Our top 10 tips for getting rid of cellulite
- Try out these easy ways to exercise every day