Alex Jones' diet and exercise secrets REVEALED - and you can do her favourite workout anywhere!
Her super-toned tum could be in our reach, hooray!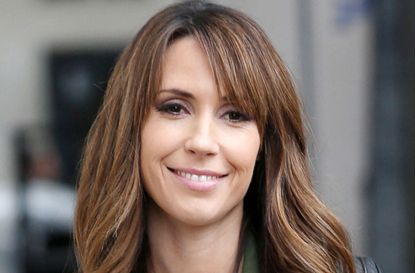 Alex Jones is one super-trim lady, and looking at her toned tum and amazing shape, you might think that she has to stick to a strict routine to keep her looking so fab. So we were relieved to find out that her figure isn't down to crazy diet or exercise fads - in fact, you can do her favourite workout anywhere!
The 38-year-old presenter spoke to Fit and Well magazine to spill the beans on how she stays in shape, and we think you'll be surprised just how easy her routine really is!
She's a yoga bunny...
'I love Bikram yoga because sweating makes you feel really flushed out and it's great for sculpting your body. But I can only do it when I have time because it's a 90-minute class.'
...but her favourite exercise is FREE!
'I run a lot - you can do it anywhere. I leave my kit in the bathroom the night before, then put it on as soon as I get up and just go out, even if it's just for 20 minutes. If I'm tired and don't feel like going out, I remind myself how much better I'll feel for it.'
Alex, who grew up in Wales, credits her upbringing for her love of fresh air and of exercise. 'We all had bikes and went for long walks at the weekends,' she says. 'Even in London, I walk loads - it's often quicker than getting on the tube.'
Alex is also a big fan of barre workouts, a routine which works the same muscles as ballet. 'After I'd only been to two classes I noticed the difference, especially in my abs and legs,' she says.
She doesn't diet
'I don't think diets work for anyone. I try to have a balanced diet most of the time' she explained. 'I believe that anything that comes out of the ground is basically good for you. I know people say fruit has lots of sugar, but it's also a natural food with lots of nutrients. I recently decided to get a Nutribullet so I could drink fruit smoothies, but it's taking a while to work out the right combinations!'
It was recently reported that both Kate and Pippa Middleton are big fans of the Nutribullet too - and looking and their trim figures, we'd say you're on to a winner, there, Alex!
She still allows herself the odd takeaway
'I don't have a very sweet tooth, but at the weekend Charlie [Thomson, Alex's fiance] and I often have a takeaway pizza or a Thai meal. I like a glass of wine, but I don't drink during the week as it makes me feel a bit tired. And although I try to avoid bread most of the time, I do have lots of toast on Sundays!
'Charlie and I are really sociable, and we always go for meals with friends,' the presenter says.
And she takes care of her skin as well as her body
Whilst she admits to being 'lazy' and using face wipes from time-to-time, Alex knows the importance of looking after her skin in the sunshine. 'My mum always told me to wear SPF on my face and I'm grateful for that. She looked herself well and she's passed it on to us.'
Well, whatever Momma Jones told Alex to do, it's certainly working. What a beautiful bride she'll make at her upcoming wedding! And we hear that a family might just be on the horizon? She'd love to be a mum
'I always thought I'd have children, but I also recognise the fact that I've been really lucky to have the career I've had. It would be fantastic to have kids and hopefully we will. But if it's doesn't happen, we'll be happy together anyway.'
Read Alex's full interview and her easy at-home barre workout routine in this month's Fit and Well
Trusted, informative, and empathetic – GoodTo is the ultimate online destination for mums. Established in 2007, our 15-year-strong archive of content includes more than 18,000 articles, 1,500 how-to videos, and 7,000 recipes.