What is slugging skin? I tried the viral hack for dry skin - and now the name makes sense
I gave slugging a go to find out what it is, how to try it, and whether it's actually any good for your skin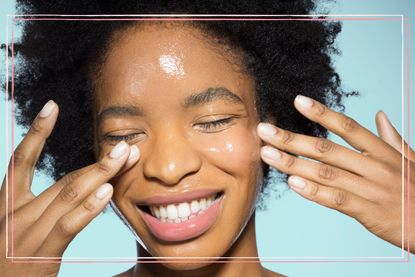 (Image credit: Getty Images)
Goodto Newsletter
Parenting advice, hot topics, best buys and family finance tips delivered straight to your inbox.
Thank you for signing up to GoodTo. You will receive a verification email shortly.
There was a problem. Please refresh the page and try again.
If you often turn to TikTok for the latest beauty trends, you might be asking 'What is slugging?' as the Korean beauty tip continues to trend on social media.
For beauty nerds who struggle with dry skin, researching the best moisturisers and best night creams will be familiar territory, but slugging is something else to try, now that the beauty trend has seen a resurgence in interest on social media. It involves slathering the skin with an additional moisturising product after your nighttime skincare routine, and the idea is that this can lock in moisture and result in a healthy, plump and hydrated-looking glow. Advocates of the trend claim that it can help get rid of acne scars and reduce the appearance of wrinkles too - you just have to spend the night looking a bit like a slug... but in a good way, like healthy and glowing.
Nick Drewe, trend expert at WeThrift explained, "The Korean skincare movement is booming and the quest for a natural healthy glow is a popular trend. It started with the notorious 'glass skin' and 'mirror skin', then came along 'slugging', which is currently taking TikTok by storm. Hailed as a miracle for spot-prone skin, 'slugging' - coined due to the 'slimy' appearance it gives your skin - involves slathering your face in Vaseline as the last step in your beauty routine."
I spoke to skincare experts to find out how exactly slugging works and I even tried it myself, so I've got all your questions around the unorthodox beauty trend answered - from how often you should be doing it to what products you can use.
Disclaimer
New skincare trends can be fun to try, but always pay attention to your skin's reaction. If you're someone who suffers with particularly sensitive skin or a skin condition, make sure to check with your doctor or a dermatologist before trying something new.
What is slugging?
Slugging is a skincare technique that involves slathering the face with an occlusive product (a moisturiser that creates a physical barrier on top of the skin) at the end of the skincare regime. The idea is that the occlusive will seal in skincare products, while also acting as a protective barrier.
Vaseline has become the occlusive of choice online, and the practice is said to minimise water loss from the skin and maximise the positive impact of other skincare products by locking them into the skin overnight, leaving it feeling hydrated, smooth and plump the following day.
Dr Ifeoma Ejikeme, founder and medical director of the Adonia Medical Clinic, explained, "Slugging skin, also known as simply 'slugging,' is a skincare trend that involves applying a thick occlusive barrier over the face, usually in the form of petroleum jelly or other occlusive agents like oils or balms. This creates a 'slug-like' appearance on the skin, hence the name."
As Dr Ejikeme says, petroleum jelly products such as Vaseline are commonly used by proponents of slugging, but there are many other moisturising products that can be used in their place.
Nina Prisk, skin and aesthetics expert from Update Aesthetics, told us, "It's important to think about which products you use when slugging, as trapping certain products by your skin can increase their strength, meaning they might impact your skin differently than normal.
"There are a range of different occlusive products available, including Vaseline, CeraVe, and SkinCeuticals. The main thing is that the product is petrolatum-based and usually includes glycerin, lanolin, and mineral oil."
Is slugging good for your skin?
Slugging is good for your skin if you struggle with dryness and dehydration, as it helps to look in moisture and prevent water loss, easing any irritation that may be felt as a result of dry skin. It's also hailed as a remedy for acne scarring.
As registered aesthetic doctor Dr Joney De Souza explained, "Slugging can indeed be beneficial for certain skin types and concerns. It's particularly useful for those with dry, dehydrated skin, as it helps to seal in moisture and keep the skin hydrated throughout the night. However, it might not be suitable for everyone, especially if you have oily or acne-prone skin, as the heavy occlusive could potentially clog pores."
How to try slugging: A step-by-step guide
Cleanse your skin as normal to remove any makeup, dirt or build-up of oil on the skin, and pat dry with a clean towel. Make sure you are using a cleanser suitable for your skin type.
Follow with your regular skincare routine, which may include toner, serum and a thin layer of your regular moisturiser. Dr Joney De Souza points out that it is essential to avoid using skincare products which use alpha-hydroxy acids, beta-hydroxy acids and retinoids, as these can irritate the skin once sealed in for a long time.
Take your occlusive product of choice, making sure to cover the face and neck. Vaseline is a typical choice, but I used the Q+A Ceramide Face Cream.
Sleep with the occlusive layer overnight, to allow the products to penetrate the skin fully.
Gently cleanse the face in the morning, followed by your usual daytime skincare routine.
---
Top tip: You want to apply enough of the occlusive product so that there is an even layer on the skin, but not an excessive amount which feels uncomfortable. In addition, slugging can be applied to only sections of the face which require deep hydration - including the lips - you don't need to apply it to the whole face.
---
How I tried slugging
Full transparency here - I have pretty oily skin and I don't struggle with scarring, so my skin type probably isn't the best for testing this K beauty hack. But that's not to say that those with oily skin should avoid slugging completely, it can still be beneficial if applied infrequently - Dr De Souza recommends it as an occasional intensive treatment - and you don't need to do it on your whole face either, if you suffer with dry patches, try slugging just the affected areas.
Yet, as someone who has carefully curated a skincare routine designed to mop up the excess oil my skin produces, I was apprehensive to try slugging. That's why I decided to use the Q+A Ceramide Face Cream as my occlusive product of choice.
It's been sitting unused on my bathroom shelf for a while - the heavy consistency is something I tend to avoid - but given that it's formulated to protect the skin barrier, and contains moisturising glycerin and squalane while also catering to those with oily skin, it ticked all the boxes for me.
---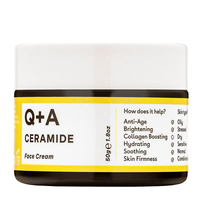 Q+A Ceramide Face Cream - £12 | Holland & Barrett
Formulated with ceramides derived naturally (and sustainably) from pineapple, this face cream can be used day or night, and promises to provide highly effective moisturising, brightening and anti-ageing benefits to help protect your skin barrier from external day-to-day stress.
---
Another thing I like about this product is that it has a mattifying effect on the skin. So while I might not have experienced the full slug-like look of this viral beauty trend, that's not to say I didn't feel any of the effects of slugging.
After I had completed my usual evening skincare routine, and applied my chosen moisturiser, I added a layer of the Q+A Ceramide Face Cream on top. Following the experts' advice, I only went in with a thin layer, but it still felt slightly sticky and a little uncomfortable at first.
By the next morning, however, my skin felt much less sticky and the products seemed to have sunk in (or rubbed off all over my pillow?), and when I looked in the mirror I definitely had a bit of a 'glow' about me - not quite sweaty but definitely a bit shiny - and it felt like my skin was slightly more plump.
In addition, the night before I'd had a couple of small patches of flaky skin that had previously been occupied by a pimple, and these were looking improved thanks to the heavy-duty moisturiser.
My main concern ahead of trying slugging was that it would make me appear more oily or result in a breakout, but I'm pleased to say this wasn't the case. So, while I'm not sure I'll be a regular slugger, due to my skin type, it's definitely something I'll be keeping in my back pocket for winter, when I tend to get dry skin around my nose and chin.
And for those of you who love to use a jade roller or gua sha, this beauty trend might be for you - mine slipped over my skin with ease the morning after slugging.
What I loved: My skin felt soft and healthy the next day, without making me extra oily or causing breakouts.
What I didn't like: While I was slugging, my skin felt pretty sticky and that wasn't comfortable. In fact, I woke up in the night and practically had to peel my check off the pillowcase!
Would I try it again? Yes, but not regularly. As someone with oily skin, next time I think I'll only be slugging areas outside my T-zone, and saving the beauty hack for winter, when my skin is a little drier.
Benefits of slugging
Helps to retain moisture, keeping the skin soft and supple
Enhances the skin's protective barrier, preventing water loss
Especially helpful for soothing irritated or sensitive skin
Helps to reduce the appearance of wrinkles
Allows the skin to repair and heal overnight
Gives an extra layer of protection for those with compromised skin barriers or skin conditions like eczema
Drawbacks of slugging
May lead to clogged pores for those with oily and/or acne-prone skin
Potential skin irritation resulting from a reaction to the ingredients in the products used
Some people may find the occlusive layer uncomfortable or dislike the greasy texture
Slugging does not provide any nourishing or active ingredients; it simply seals in existing moisture
Doesn't address specific skincare concerns like acne or hyperpigmentation
How often should you do slugging?
How often you practise slugging depends on your skin type. Those with very dry skin might want to slug several times a week, while those who have concerns about clogged pores and breakouts might want to use it only as an occasional treatment.
Dr Ejikeme explains, "If you have very dry or dehydrated skin, you may find it beneficial to slug four to seven nights per week. However, if you have oily or acne-prone skin, I would not advise this at all."
Meanwhile, Dr Joney De Souza tells us that those with extremely dry skin can try slugging as a nightly ritual during colder months, when dry skin is more common.
What products should you use for slugging?
The key to slugging is to use an occlusive product, which will create a waterproof coating on the skin. Common occlusive ingredients in skincare products include petrolatum, silicones, beeswax, carnauba wax, squalane, shea butter and castor oil.
Products containing ceramides also work well, as these are compounds that occur naturally in the skin and play an essential role in both water-retention function and barrier function in the outer layer of the skin.
You should avoid using active ingredients, such as alpha-hydroxy acids (AHAs), beta hydroxy acids (BHAs), or retinoids when slugging.
Dr Joney De Souza explains, "Petroleum jelly is a classic choice, but you can also consider alternatives like ceramide-rich creams or balms. Look for products labelled as non-comedogenic or formulated for sensitive skin if you're worried about breakouts or irritation."
He adds, "Remember, every individual's skin is unique. It's essential to monitor how your skin responds to slugging and adjust your routine accordingly. If you're uncertain, a consultation with an aesthetic doctor or skincare expert can provide tailored advice for your specific skincare needs."
Award-winning aesthetic doctor Dr Ejikeme and skincare specialist Saarah Mengrani from Landys Chemist recommend the following products for slugging:
1. Vaseline Original Petroleum
Best affordable option
Vaseline Original Petroleum Jelly is the original skin protectant that's been used to protect and help heal dry skin since 1870. It's triple-purified, hypoallergenic and dermatologically tested and has a multitude of uses, including as a moisturiser for sensitive skin or as a lip balm.
2. The Ordinary 100% Plant-Derived Squalane
Best lightweight option
A fast-absorbing oil-like serum for enhanced hydration, this product hydrates your skin while supporting its natural moisture barrier. It includes 100% plant-deprived squalane which is also found naturally in the skin's oil, and works to fight skin damage and signs of aging.
3. CeraVe Healing Ointment
Best option with ceramides
CeraVe enjoys a reputation as one of the best skincare brands out there, and it doesn't come with a hefty price tag. The brand's Healing Ointment is formulated with petrolatum, hyaluronic acid and ceramides to provide extra hydration and help restore the skin's barrier, while relieving chafed, chapped or cracked skin.
4. La Roche-Posay Cicaplast Baume B5
Best option for sensitive skin
This popular skin barrier repair is specially formulated for damaged, uncomfortable and irritated skin, and as well as being a prime product for slugging, it's also great for chapped lips, dry or cracked skin, sensitive and irritated baby skin and minor injuries, promising to accelerate the natural skin recovery process.
5. Elizabeth Arden Eight Hour Cream
Best high-end option
The Elizabeth Arden Eight Hour Cream has been hailed as a skin saviour for generations, and while it's a pricier option, you get what you pay for with this product. This award-winning skin protectant deeply moisturises and protects skin, and the versatile formula can also be used to shape brows, add shine to cheeks, soothe dry hands, smooth cuticles and nails, and more.
6. CeraVe Moisturising Lotion
Best option for eczema-prone skin
This moisturising lotion is one of CeraVe's best-loved products and known as a cult favourite. It's suitable for eczema-prone skin and enriched with three essential ceramides and hyaluronic acid to keep skin soft and hydrated, as well as reducing wrinkles and helping to heal wounds.
7. Avene Hydrance Aqua-gel Cream
Best option for oily skin
This gel-cream with a fresh aqua-gel texture gives the skin a delicate veil of water to provide comfort, suppleness and radiance. It hydrates, mattifies and brightens all types of dehydrated, sensitive skin, while protecting the skin from daily external aggressors.
8. Eucerin Aquaphor Soothing Skin Balm
Best option for very dry skin
This product is another long-time favourite among skincare lovers, and is reportedly used by Beyonce, Nicole Kidman and Meghan Markle. The water-free ointment repairs, protects and soothes dry to very dry, cracked and irritated skin, and creates the ideal protective barrier to support skin regeneration.
9. Vichy Aqualia Thermal Spa Night Cream
Best scented option
Vichy's Aqualia Thermal Night Cream targets moisture loss with technology inspired by isotonic rehydration - a solution used by athletes consisting of water, minerals and sugar designed to replenish a dehydrated body's natural fluids. But the best thing about this option? The light fragrance is perfect for getting calm and relaxed when applied at bedtime.
We spoke to the following skincare experts:
With titles under her belt including Best Aesthetic Doctor 2023, Marie Claire's Best Aesthetic Doctor 2021 and Tatler's Top Doctor 2021, Dr Ejikeme is internationally recognised for her professionalism and unparalleled knowledge. She is the trusted voice in the industry in the UK and beyond, holding the positions of global skin expert for Lamer and UK skin expert for CeraVe, Neutrogene and L'Oréal Paris, helping shape future trends in the industry. It is Dr Ejikeme's on-going mission to improve the representation of, and education surrounding, ethnic minority skin in aesthetics medicine, so that patients of all skin types and tones have access to safe and effective treatment.
Nina Prisk is a Harley Street skin expert, aesthetics nurse and independent prescriber. An educator and trusted voice in the industry with a host of celebrity clients, her expertise is regularly featured in publications from Vogue and Women's Health to the Daily Mail. She is the owner of Update Aesthetics Cosmetic Clinics, both in London's Harley Street and Cornwall. Prisk is a lecturer and ambassador for global industry brands, She advocates for the importance of a multi-faceted regime which incorporates both injectables and skincare products.
Dr Joney De Souza graduated in Medicine in Brazil, home to many of the world's most celebrated plastic surgeons and aesthetic doctors. With more than 15 years experience in aesthetic and anti-ageing medicine, he has worked and trained with many of them including the renowned Dr Mauricio Do Maio. On relocating to the UK in 2007, Dr Joney De Souza, a GMC registered Aesthetic Doctor and member of the British College of Aesthetic Medicine, continues to strive for excellence in Aesthetic Medicine through constant re-training in industry developments and improved techniques, equipment and products.
Saarah Mengrani, Health and Skincare Specialist at Landys Chemist, has a First Class Master's degree in Biotechnology. She's closely involved in the day-to-day operations at Landys Chemist and has strong expertise when it comes to skincare ingredients.
Looking for more skincare tips? We've asked the experts how to use facial cleanser and reviewed seven CeraVe cleansers - so you can find the best one for you. Plus, we've rounded up the best primers for oily skin and the best eye creams for dark circles too.
Parenting advice, hot topics, best buys and family finance tips delivered straight to your inbox.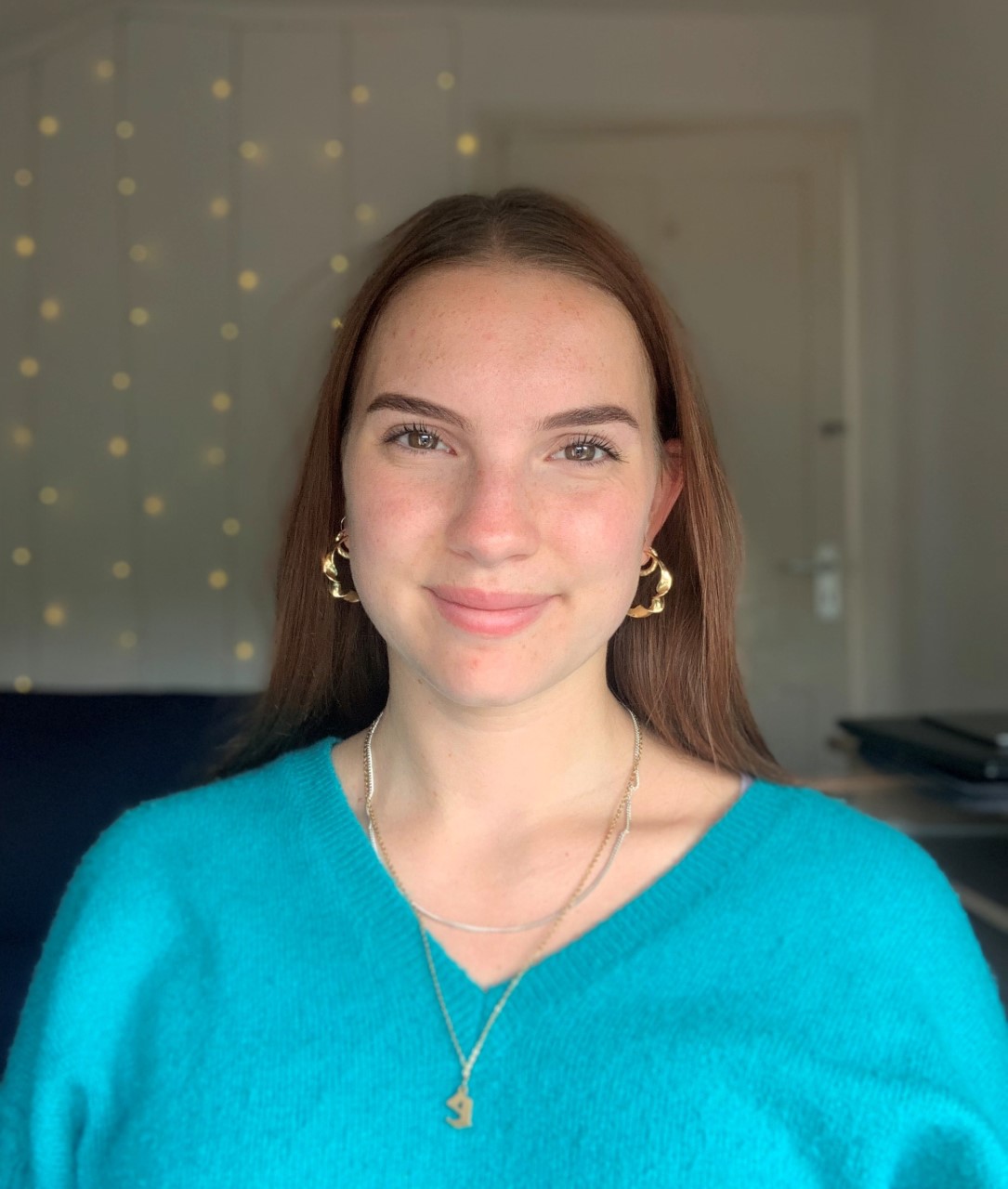 Ellie is Goodto's Feature Editor, having joined the team as a Junior Features Writer in 2022, and covers everything from wellbeing for parents to the latest TV and entertainment. Ellie has covered all the latest trends in the parenting world, including baby names, parenting hacks, and foodie tips for busy families. She has a distinction in MA Magazine Journalism from Nottingham Trent University and a first-class degree in Journalism from Cardiff University, and previously Ellie has worked with BBC Good Food, The Big Issue, and the Nottingham Post, as well as freelancing as an arts and entertainment writer alongside her studies.