'I'm consuming more calories now than ever' Caroline Flack shares her diet and exercise secrets
The TV presenter looks incredible!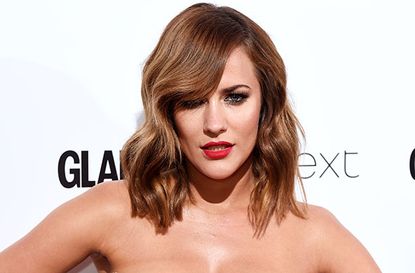 Goodto Newsletter
Parenting advice, hot topics, best buys and family finance tips delivered straight to your inbox.
Thank you for signing up to GoodTo. You will receive a verification email shortly.
There was a problem. Please refresh the page and try again.
Caroline Flack has always looked great, but her recent transformation has blown our minds.
The TV presenter is clearly a natural beauty with an amazing figure, and has never needed to lose weight, but the 36-year-old star has been working hard to make sure she's the healthiest she can be, and we've been inspired by her results! In the last three months she's lost a stone, and it's clear to see she's looking happier and healthier than ever. But how has she done it?
We've uncovered all her diet and exercise secrets, and you'll be happy to know that her number one tip involves cutting just one particular thing from her diet...
1. Strike a healthy balance (and stop counting the calories!)
Although Caroline has had a bit of a diet overhaul thanks to her new healthy lifestyle and mindset, the presenter is also keen to stress that everything in moderation is the key - and not to strike things out altogether. Speaking to Your Fitness magazine, Caroline stresses that her approach to losing weight has been balanced without ever needing to starve herself.
'I'm consuming more calories now than ever before, they're just the right calories. I'm always starving in the morning so I eat a lot for breakfast, it's usually scrambled or poached eggs, bacon, avocado, mushrooms or sometimes even steak. What made the biggest difference to how I looked and felt was cutting out all sugar.'
Caroline showing off the incredible results of her new healthy eating regime on the red carpet
Speaking to OK! magazine last month, Caroline said: 'It's important to get the balance right, because I love eating. I don't sit in the corner shaking and denying myself! I love dark chocolate with sea salt. I used to calorie count, but I've been eating more calories and still losing weight.'
2. Giving up sugar gives you results... fast!
Caroline posted a selfie on her Instagram and the only thing we could think of was 'Wow!' How amazing does she look? The star is undergoing a detox and the reason for her transformation is really quite simple. It all boils down to cutting one thing from her diet - sugar.
We all know how bad sugar can be, but sometimes we forget how much of it we actually consume in a day. There are so many foods that we eat without even realising they're packed full of sugar, including breads, sauces and yogurts.
If you're thinking of giving up sugar, or at least cutting down on it, you'll be surprised how much better it could make you feel. Looks like Caroline's certainly convinced!
3. Decide to shape up for your own reasons
In her Your Fitness interview, the Love Island presenter also explained how important it is to go into a diet and exercise regime for the right reasons. 'I'd hate to think I did this for anyone else. The truth is I did this for me to make myself feel the very best I could and this is the way I decided to do it. I don't like to weigh myself. But it was never really about losing weight,' she said.
4. Don't listen to negativity, and remember your goal
In a recent interview with Women's Health UK, Caroline has not only been revealing her incredible toned bod, but how exercise has changed her mind as much as her body. The 36 year old, who's slimmed from a size 12 to an 8, told the magazine that she learned the hard way not to look at comments about herself online. 'I ignored it for a very long time, knowing it was there, which was a weird feeling, like ignoring a bank statement on your table.
'And one time I looked. I'll never forget what night it was because it felt really sh*t. I learned my lesson not to look.'
Despite the hurtful experience, the star has stayed true to her goal: 'I didn't want to get skinny, just strong. But actually the best thing about all of this is how I feel. I didn't realise how much it would change my mindset.'
5. Trying other detoxes could also help you figure out what works for you
As well as sugar, Caroline is also cutting alcohol, dairy and gluten from her diet for a limited period of time. This can be a good way to find out if any of these are upsetting your body, causing bloating, or keeping you from achieving results.
6. But a strict diet is not always the way...
Despite her recent detox, Caroline actually revealed previously she's not a fan of diets, because they make her more food obsessed.
'Diets play with your mind rather than your body, so if I'm doing a diet, I think about food more than if I'm just eating normally' she told OK! magazine in 2013. So if you know depriving yourself from certain things doesn't work, just stick to the trusted healthy and balaced lifestyle.
7. Keeping active is key
Pilates, hot yoga, running... They're all exercises Caroline regularly uses to stay fit, so it's all about getting active any way you can. A work out is not just a way to keep fit for her: 'It helps me to sleep as well as keeping me in shape.'
Plus, her motto is - 'exercise, then you can eat what you want'. If you have an active lifestyle, your metabolism will naturally be faster so your burn more calories even when you're not exercising.
She also credits her exercise successes with having found forms that she enjoys, rather than dreads. In an interview with OK! magazine Caroline said, 'I've found something that suits me and makes me happy. I didn't know exercise was something you could become addicted to, but I definitely am!' Although she does admit: 'It's been hard work, though.'
'When I was doing my 12-week regime I was doing three sessions a week with my personal trainer, Sarah, but now I do two. We do weight training and then I do hot yoga.' Caroline added.
8. Don't be too hard on yourself
Speaking to Cosmopolitan in 2014, Caroline admitted she never weighs herself to avoid becoming obsessed. 'It takes over your mind', the self-confessed foodie said. 'Sometimes you have to just think "screw it!" I'd hate to not enjoy food. Sometimes food is better than sex... sometimes.'
9. And always have a secret weapon against cellulite
Ah cellulite, every woman's number one enemy. To get rid of the unwelcomed bumps, Caroline revealed running helps her tone up, as well steps-ups, which you can easily do at home in stairs or using a bench or chair.
'I do have cellulite, but running really helps me tone up. I work with what nature gave me!' Caroline told Heat magazine. For a more immediate solution, Caroline revealed she applies foundation to her whole body, not just her face, to make sure she looks her best in special occasions: 'I put it everywhere, not just my face. It works.' One trick to keep in mind...
Parenting advice, hot topics, best buys and family finance tips delivered straight to your inbox.
Trusted, informative, and empathetic – GoodTo is the ultimate online destination for mums. Established in 2007, our 15-year-strong archive of content includes more than 18,000 articles, 1,500 how-to videos, and 7,000 recipes.