'I'd rather have a belly than not be a mum!' Claire Sweeney's refreshing diet and exercise secrets revealed
Including working out, cutting sugar and hypnotherapy!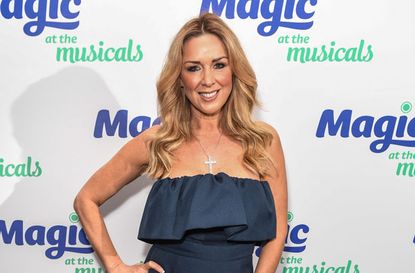 Claire Sweeney has made no secret of her changing figure over the years, telling the press that she gained around three stone while pregnant with her son Jaxon.
The former Brookside star mum-of-one, who is currently starring in the touring musical Hairspray, said at the time, 'After Jaxon was born I weighed 12st 4lbs and was a size 16. I ate pasta, curry, Chinese and sweet stuff. I wasn't bothered about being bigger – I'd rather have a belly than not be a mum – but it did make me feel older.
'I craved avocado and chocolate, and in my second trimester I couldn't stop eating. I noticed the weight on my face and stomach.
However, since Jaxon's arrival in September 2014, Claire has been working hard and looks happier and healthier than ever. So what are her diet and exercise secrets? We investigate...
Motivation
In an interview with OK! magazine, Claire spoke about the moment she realised she had to do something about her weight.
'It was at the end of Chitty and one of my friends said to me: 'Claire, you're looking fat.' He was that blunt with me and he said it was upsetting him. He encouraged me', she said.
To motivate herself into succeeding in her weight loss journey, the actress said she used a picture of herself looking how she wanted to look to visualise her goal.
'I looked back to when I used to host 60 Minute Makeover and I didn't realise what good nick my physique was in. That was my goal. I had two pictures on my phone. One of me fat and one of how I wanted to look', she said.
Hypnotherapy
After developing a particularly sweet tooth during her pregnancy, Claire turned to hypnotherapist Susan Hepburn, who has also worked with Lily Allen, to help her kick her sugar cravings.
'I went to see a hypnotherapist for the first time and told her that I needed to sort out my binge mentality. It was a bit like having a good night's sleep - it was so relaxing,' she told Closer magazine in 2015, and after just one session she claimed to see results.
'I saw a girl eating doughnuts and I felt sick just looking at them,' she added. 'I know it will take more than one session but I already feel more disciplined.'
Calorie control
Claire pictured during her pregnancy in 2014
Unlike some new mums, Claire didn't find that breastfeeding helped her to slim down. 'It's nonsense when people say breastfeeding helps you lose weight quickly,' she told OK! magazine in 2015.
'I feel good but I'm constantly hungry. I've probably got about two stone to lose but it won't come off overnight and I'm not going to starve myself. It's important for me to be healthy.'
In addition to help through hypnosis, Claire ended up losing most of her baby weight following a diet plan with Closer magazine, which focused on high fibre carbs, lower fat options and plenty of protein, fruit and vegetables, totalling around 1,300 calories per day. A typical day on the plan would have included porridge with fresh berries, a quinoa and bean salad and a chicken stir fry with noodles, supplemented with fruit and veg-based snacks.
In the past, Claire has also said that she's a fan of Weight Watchers point system, crediting it with keeping her a svelte 10 stone in 2010, so it seems like focusing on the numbers works for her.
Toning up
During her pregnancy, Claire told the Huffington Post, 'I've always loved hot yoga and Pilates, but during the first trimester I was too terrified to exercise, so I avoided everything except walking and swimming.'
However, she later met up with Vicky Holmstock, a yoga instructor, who taught her techniques for yoga during pregnancy, and started training with her.
Claire also took up extra exercise during her post-pregnancy weight loss, using a circuit workout devised by personal trainers Brian Gilgeous and Sarah Williams that took just 20 minutes to complete.
'I love this workout, because you can do it anywhere - you only need a chair,' she said. 'It's made me so much stronger.'
The regime included a mixture of squats, lunges, press ups and chair dips, repeated five times daily. The easy moves were designed to strengthen and tone the body without the need for a gym membership or fancy equipment.
As Jaxon got older, she managed to incorporate walks with him into her workout regime, pounding the pavements while using the Bugaboo runner buggy.
Stopping stressing
Claire with her son Jaxon in 2015
Although Claire's worked hard on her body, she says that motherhood has made her far less concerned about having the 'perfect' physique.
'I don't think about my weight as much,' she says. 'I look at myself and think I need to lose some, but now I have Jaxon I don't obsess as much and I know my stomach is not as flat,' she says.
That sounds like a pretty healthy attitude to us, Claire!
Trusted, informative, and empathetic – GoodTo is the ultimate online destination for mums. Established in 2007, our 15-year-strong archive of content includes more than 18,000 articles, 1,500 how-to videos, and 7,000 recipes.