New Covid-19 variants: Do the vaccines work against them?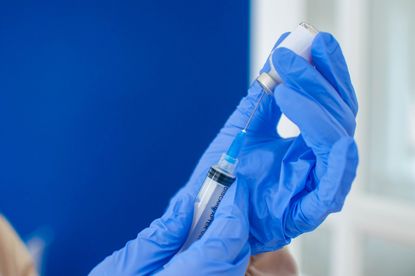 (Image credit: Getty Images)
Since the end of last year, news of Covid-19 variants and updates on the roll-out of the UK vaccination programme have occupied the headlines.
The country breathed a huge sigh of relief when the first Pfizer vaccine (opens in new tab) dose was administered in December, as it was starting to look like we were on the road to recovery and 'normal life' could resume soon. However shortly afterwards, scientists revealed that a new mutation of the Covid-19 virus had been discovered in Kent, England, and a third lockdown (opens in new tab) was announced for the whole country.
Two new Covid-19 variants were then found elsewhere in the world by scientists in South Africa and Brazil. To combat the spread, the government tightened the travel lockdown rules (opens in new tab). Now, all but strictly non-essential travel is prohibited and anyone coming into the UK has to produce a negative coronavirus test before they fly. From February 15, travellers coming back from countries on the new UK quarantine list (opens in new tab) will have to self-isolate in a hotel at their own expense.
But until recently, we didn't know to what extent the vaccines we have were protecting people against these new, more infectious strains. This is what we know now...
What is the new variant of coronavirus?
The new variant of coronavirus is a mutated form of the original SARS-COV2 (Covid-19) that first appeared in Wuhan, China, last year. But the variants we're hearing about now aren't the first ones to come about since the beginning of the pandemic (opens in new tab).
The first variant, called D614G (opens in new tab), emerged in Europe over February last year before becoming the most prominent form of the virus as it spread around the world through international travel. There was then the A222V variant which also spread across Europe and was linked to people's summer holidays (opens in new tab) in Spain over the summer last year.
Each new variant has differences in its spike protein, which is an important part of the virus that binds to the receptors in our bodies. These receptors are also the main area for antibodies to attach to, when they are produced either after infection or after the vaccine.
We're only now hearing about variants from the UK, South Africa and Brazil due to sophisticated genome sequencing, which helps to identify new forms of Covid-19. Genome sequencing also helps scientists understand Covid-19, along with how it spreads and mutates, so we have a better understanding of it than we did in March last year.
Viruses of all kinds, including the common cold and flu, mutate all the time. It's a normal process for viruses, says Professor Lawrence S. Young, virologist and professor of molecular oncology at the University of Warwick.
"Variants of SARS-CoV-2 have been around since the beginning of the pandemic and are a product of the natural process by which viruses develop and adapt to their hosts as they replicate. Most of these mutations have no effect on the behaviour of the virus but very occasionally they can improve the ability of the virus to infect and/or become more resistant to the body's immune response. Many thousands of these mutations have already been identified in isolates of the virus with around 4000 spike mutations being found in different viruses from around the world."
Is the South African variant resistant to the Oxford vaccine?
The Oxford/AstraZeneca (opens in new tab) vaccine provides "minimal protection" against mild disease from the South African variant, scientists have revealed.
This certainly doesn't mean that it's ineffective against this variant however, as it will decrease mortality and serious illness, which is essential for healthcare systems.
Results from the early trials, which have not been peer reviewed yet, involved about 2000 people who were 31 years old on average.
Professor Sarah Gilbert, Oxford lead vaccine developer, told the Andrew Marr Show that the current vaccines "have a reduction in efficacy against some of the variant viruses".
"What that is looking like is that we may not be reducing the total number of cases but there's still protection in that case against deaths, hospitalisations and severe disease."
However she has also said, "Efforts are underway to develop a new generation of vaccines that will allow protection to be redirected to emerging variants as booster jabs, if it turns out that it is necessary to do so."
"We are working with AstraZeneca to optimise the pipeline required for a strain change should one become necessary. This is the same issue that is faced by all of the vaccine developers, and we will continue to monitor the emergence of new variants that arise in readiness for a future strain change."
It's also thought that the Pfizer vaccine will be effective against new Covid-19 variants, but further research is needed to confirm this.
What is the South Africa variant and are there cases in the UK?
In South Africa, another variant of coronavirus was widely reported at the end of last year, called the 501.v2 variant. The 501.v2 variant is not the same variant as the UK one, but there are now 77 confirmed cases of it in the country as a result of international travel.
It's been identified as a new strain by scientists in South Africa. As confirmed by the National Institute for Communicable Diseases (opens in new tab), "It is definitely not the same variant [as the UK one], but there are similarities as they both share the same change in the spike protein at the 501 position. What it does tell us is that if we do not control the spread of the virus then it is likely to evolve in similar ways in different parts of the world."
The institute has also confirmed that while they don't know whether this new strain is more severe than others, it does spread in the same way.
In response to the outbreak, South Africa was put into lockdown in late December by the president as it was admitted that the variant was "more contagious" than the original virus, which circulated around the world during the first wave.
As of December 23, there were two cases of the South African strain in the UK. The cases and their contacts were quickly identified and quarantined, with the government placing strict restrictions on travel from South Africa.
What is the new Brazilian variant?
The Brazilian variant is another new form of the Covid-19 that's been identified this year. It was first found in four people who travelled from Amazonas state in Brazil to Tokyo, where scientists detected it amongst positive tests.
It reportedly shares similar traits to the other new, highly infectious Covid-19 strains found in the UK and South Africa. There's currently little to no evidence to suggest that it's more deadly or dangerous in any way than the other variants.
This Brazilian variant was the reason that the government stopped travel from 15 countries in South America though. No one from Argentina, Bolivia, Cape Verde, Chile, Columbia, Ecuador, French Guiana, Guyana, Panama, Paraguay, Peru, Suriname, Uruguay, Venezuela or Brazil itself is currently allowed to enter the UK. The same restriction was extended to Portugal.
Sir Patrick Vallance commented on the emergence of this newer variant. He said, "If you've been exposed to the old variant or you've had a vaccine, it looks like that's going to work just as well with this new variant for the UK one."
Japan's National Institute of Infectious Diseases (NIID) confirmed this as they said there is currently "no proof showing the new variant found in those from Brazil is high in infectiousness".
Is the Kent variant more deadly?
The Kent variant of Covid-19 (aka, the B117 variant) is the strain of Covid-19 first discovered in Kent, England, last year. Its presence forced much of the south-east of England into stricter lockdown restrictions, as early studies predicted it would spread much faster than the original strain.
New research has suggested that it might be "associated with a higher degree of mortality" as well as "spreading more quickly" throughout the country, compared to the original strain, according to the prime minister.
Speaking at a press conference on January 22, Prime Minister Boris Johnson said,"It is largely the impact of this new variant that means the NHS is under such intense pressure, with another 40,261 positive cases since yesterday." He said,
"We have 38,562 COVID patients now in hospital, that's 78 per cent higher than the first peak in April and, tragically, there have been a further 1,401 deaths.
"So, it is more important than ever that we all remain vigilant in following the rules and that we stay at home, protect the NHS and thereby save lives."
Public Health England, Imperial College London, the London School of Hygiene and Tropical Medicine and the University of Exeter are still trying to figure out to what extent this UK variant is more deadly than the original strain.
While their evidence (opens in new tab) has been reviewed by the New and Emerging Respiratory Virus Threats Advisory Group (NERVTAG), the group of scientists have concluded that there was a "realistic possibility" that the variant was more deadly. But this is far from concrete evidence, as the government's chief scientific adviser explained at the press conference.
Sir Patrick Vallance said that the data was "not yet strong" and "there's a lot of uncertainty around these numbers and we need more work to get a precise handle on it".
But he added, "Obviously is a concern that this has an increase in mortality as well as an increase in transmissibility."
This backs original theories from an earlier NERVTAG report that the new variant transmits significantly fast. As Boris Johnson said in his statement on December 19, "NERVTAG's early analysis suggests the new variant could increase R by 0.4 or greater.
"Although there is considerable uncertainty, it may be up to 70% more transmissible than the old variant."
There are also two other Covid-19 variants, now with positive cases in the UK as well as abroad. They were first identified in South Africa and Brazil, as both countries have advanced genome sequencing similar to the UK.
Where did the Kent variant come from?
Emerging from around London, the south and south east of England, it's thought that the virus could have come from one individual who was chronically infected with Covid-19.
Professor Paul Hunter is a professor of medicine at The Norwich School of Medicine at the University of East Anglia. He explains (opens in new tab), "The suggestion that the variant arose in a chronically infected individual is plausible but unless we have sequences from that individual it would be difficult to prove.
"It is known that viral variants are more likely to arise in people who are chronically infected, though the evidence for this primarily comes from those viruses that routinely cause chronic infections such as HIV and Hepatitis B.
"Indeed in these infections the generation of what are known as immune escape mutants are an important part of how the virus may cause continuing disease. We do know that in immunocompromised patients SARS-CoV-2 can shed COVID for quite a long time, but so can immunocompetent patients.
"Nevertheless mutation in viruses are a random event and the longer someone is infected the more likely a random event is to occur."
This means that the new Covid-19 variants are likely to come from someone whose immune system was suppressed and so not able to function effectively and fight off the virus.
"But, we may not be able to provide this for certain," Professor Hunter adds.
Which other countries have the new Covid-19 variants?
In total, 45 countries have reported cases of the B117 UK variant. As well as New Zealand, which identified 6 cases of the variant in their isolation centres, the USA, Denmark, Australia, Turkey, Belgium, Canada, Chile and China have also reported cases.
13 of these 45 countries then reported community transmission of the variant, meaning that it's spreading through the country.
Cov-lineages.org (opens in new tab) is currently recording all the known cases of the UK variant throughout the world.
New Zealand has reported their first cases of the South African variant as well, at the same time that the UK reports 77 cases of the variant.
What are the symptoms of the new variant?
It's thought that the new variant of Covid-19 displays exactly the same symptoms as the standard variation of Covid-19 which has been spreading widely in the UK over the last year.
It shows up in coronavirus tests just the same, is spread in exactly the same way and people can protect themselves against it using exactly the same methods.
READ MORE: What to expect after Covid vaccinations are available (opens in new tab)
However the new Covid-19 variants are transmissible, so it's more likely to slink through any chink in the armour of our anti-bacterial defences. This means that it's more important than ever to ensure that solid social distancing is maintained, thorough hand washing is carried out and masks are worn in all densely populated areas where social distancing can't be maintained.
Grace Walsh is a Features Writer for Goodto.com, covering breaking news health stories during the Covid-19 pandemic as well as lifestyle and entertainment topics. She has worked in media since graduating from the University of Warwick in 2019 with a degree in Classical Civilisation and a year spent abroad in Italy. It was here that Grace caught the bug for journalism, after becoming involved in the university's student newspaper and radio station.