Are we having another lockdown? Here's what we know about the third wave of coronavirus in the UK
It's been discussed as a possibility for a while...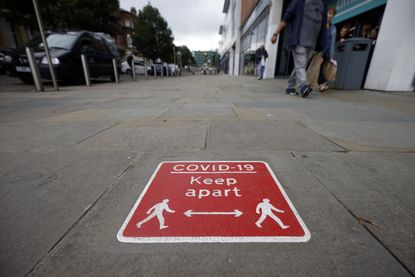 (Image credit: Getty Images)
A new variant of coronavirus has emerged in the UK and as such, new lockdown restrictions have been imposed in many parts of the country.
Wales, Northern Ireland and Scotland are facing another lockdown in January with England adding additional tier 4 lockdown restrictions to cope with the rising levels of coronavirus in the UK, due to this mutated strain of Covid-19.
It's not thought to be more dangerous than the original strain, nor is it thought to be resistant to any of the coronavirus vaccines now in distribution. However, health officials have warned that it is significantly more infectious - by up to 70%.
So far a lockdown like that seen in March, which covered all areas of the UK over successive months, has not been implemented again. While England took on another lockdown in November, Wales, Northern Ireland and Scotland all took on their own, separate restrictions, some of which included the alternative circuit breaker lockdown.
Cases are doubling weekly in some areas of the UK and numbers of positive tests are now at their highest ever but the Oxford vaccine is now being distributed.
Are we having another lockdown in the UK?
England is now in a third, January lockdown with new rules and restrictions in place from January 6 until mid-February at the earliest. It includes schools closing, school exams for 2021 cancelled and a general 'stay at home' order issued to everyone.
Prime Minister Boris Johnson had already said earlier in the week that harsher national restrictions could be coming in the next few days, after cases around the country have reached new and alarming levels. He said, "It may be that we need to do things in the next few weeks that may be tougher. I'm fully reconciled to that. I think the whole country is fully reconciled to that."
While Scotland's first minister, Nicola Sturgeon, is was set to make an announcement on stronger measures this week and Wales, which has been in a national lockdown since December 20, isn't currently set to relax any rules until the end of the month. Northern Ireland also took on harsh restrictions in December, where from Boxing Day people were told to "stay at home".
However, largely each of the UK governments are taking their own approach to another potential national lockdown after the emergence of the new Covid-19 variant. In fact, none of the governments have issued a united response to coronavirus since early 2020 (and briefly, in the Christmas rules) so it's thought that this approach will continue into next year.
Eight in ten people living in the UK were under the highest tier 4 level restrictions as of New Year's Eve before the general lockdown was announced.
Scotland has their own lockdown rules as does Wales and Northern Ireland, as localised lockdowns have become the norm in many parts of the UK instead of a whole national lockdown. By taking on this approach, which England has also taken in the re-emergence of the tier system post-November lockdown, some areas that have lower numbers of cases have been able to retain some freedoms.
What does a national lockdown mean?
The difference between tier 4 and a national lockdown is mainly whether schools can open and certain activities, including outdoor exercise, can take place.
During the first national lockdown, all schools closed their doors to pupils and online learning became the norm. This was the case for all students from primary school children to those at university. While in tier 4, schools, colleges and universities have remained open and the government has urged people to still send their children into schools.
In lockdown, outdoors sports such as golf and outdoor swimming were strictly off the cards. There was even a point back in 2020 when people weren't allowed to leave their homes at all apart from for essential purposes. However, in tier 4 there have been allowances, including keeping golf courses and outdoor swimming pools open.
In both tier 4 and a national lockdown, the general order is to "stay at home" where possible.
However, during the second national lockdown in November, those in England under the restrictions were encouraged to still go to school, college and university, while there were no restrictions on exercise. It marked a change from the first lockdown, so if we were to take on the harsh restrictions again, there's no guarantee that children would be forced to stay at home.
Is there a third wave coming to the UK?
In the strictest sense, the third wave of coronavirus has already landed in the UK due to the prevalence of the new Covid-19 variants. However, some experts argue against referring to each spike of infections as a 'wave' as it's older and confusing language, taken from the Spanish influenza outbreak of 1918.
Additionally, the most recently spike in infections is currently not being widely referred to as a third wave, as the last wave which saw England go into a lockdown in November was. This may be because although infection rates have dramatically spiked, it's not anymore dangerous than the original Covid-19 and the coronavirus vaccine will be equally as effective at offering protection against it.
Due to the new variant, most of the south and south east of England including London, Essex and Kent went into tier 4 restrictions. On Boxing Day, further areas took on the highest level of restrictions with other regions, including Cornwall, moving up into higher levels.
Will schools close again if there is another lockdown?
In January 2021, schools have closed and all learning has been taken online for pupils in primary and secondary school, as well as those doing A-levels and equivalent qualifications in sixth forms and colleges.
The closure of schools was a relatively last-minute decision however, as cases had surpassed the peak they were at in April before the government decided to close schools for the month. It was thought that schools would be the last institutions to close due to the importance of education being highlighted last year, but already by New Year's Day, schools were being told to stagger their return.
According to government sources, the plan to stagger the return came as ministers were torn between following the science behind the spread of Covid and the warnings from the Department for Education, who have suggested that a return to remote learning in January would make it harder for schools to reopen again before Easter, putting summer exams at risk. However, the government's scientific advisors had concerns over the increased spread of the Covid-19 variant, as the statistics from the festive season emerged with devastating numbers.
Over the last lockdown, schools didn't close as coronavirus cases rose. As a result, more than 50% of all schools in England and Northern Ireland sent children home from school to isolate.
Is there a third wave sweeping across Europe?
With shops closed, Christmas plans changed and borders closing for many parts of Europe, it looks very similar to how it did in March when the first wave of coronavirus emerged. Experts have concluded after new spikes in infections across Europe, that many countries are seeing a third wave.
Germany was one of the first countries to take on a Christmas lockdown as infection rates spiked across the country. Figures from just before the restrictions revealed that there had been 20,000 more positive cases, bringing Germany's total to more than 1.3 million, along with a further 321 deaths as a direct result of Covid-19.
It comes as David Nabarro, the World Health Organisation's Covid-19 special envoy, warned that Europe was likely to experience a third wave of the pandemic in early 2021 before the vaccine could be introduced.
He added that European governments still have a lot to learn from Asian countries about how to handle the spread of the virus.
France saw a peak in October with cases totalling 86,852 in the first week of November. Since then, they have dramatically dropped thanks to another lockdown and increased testing in problem areas. However, cases in the country haven't been falling as fast as officials hoped and as of December 15, a nighttime curfew was mandated from December 15 right through until after New Year's Eve to prevent mass gatherings.
Spain, much like the UK, has seen a dramatic rise in infections over winter. Even though cases in the country rose to well above 500,000 as of December 10, the health minister confirmed that "total confinement" was certainly off the table for the future, as measures had been previously implemented to prevent this from happening.
Like elsewhere in Europe, Poland's rate of coronavirus increased in December but has been nowhere near the dangerous levels seen elsewhere. As of December 10, the country had just under 1,250 cases. However, the country will be entering a lockdown as of December 28 to quell infections that are certain to rise up over Christmas.
It comes as the government's quarantine list of countries where you do not have to self isolate upon your return to the UK is being changed every week, with popular holiday destinations removed from the list recently.
Could smaller lockdowns continue to be the way forward for the UK?
The localised lockdowns across the country, which started with Leicester in July, have been largely cited as a success by the government and been given as a reason for the country not going into another lockdown. When Leicester was first put under the new restrictions, the rate of cases per 100,000 people fell in particular areas and come October, one in three people are currently under regional guidelines of varying degrees.
But progress has slowed and it turns out that Leicester was the only city to see a drop in cases after going into a smaller lockdown and in some areas, positive cases have dropped momentarily only to spike again in the weeks after. Manchester, for example, was under restrictions for nine weeks and in that time, the city saw the number of cases more than triple. While some attribute this to an increase in testing, which is true in some cases, the number of tests coming back positive has risen so it suggests that the virus is in face more common in the population than it was some weeks before. The mayor of Greater Manchester has said the reason for this could be two-fold: the local test and trace initiative wasn't operating correctly and the population lacked the initiative to follow the rules as there was a huge disassociation between national and local lockdown rules, with neither being particularly clear. So what does it take for local lockdowns to work?
Medical epidemiologist at the University of Oxford, Lakshmi Manoharan, wrote in The Conversation that certain criteria need to be met for lockdown to be effective. She said that this included "clear communication and data-sharing between all levels of government, including local authorities, the NHS, Public Health England and the UK government. Data must be made readily available to all parties, including up-to-date case numbers to help identify hotspots. In doing so, early action can be undertaken and the necessity for wider restrictive measures reduced.
"A robust testing and tracing strategy must also be in place. Tests should be easy for people to access with results rapidly provided. Cases and their contacts who are required to self-isolate should be supported by central government to assist with accommodation and cover loss of income.
"Finally, local authorities must be involved at every step with clear community messaging that gives people ample opportunity to prepare for increased restrictions."
Importantly, Lakshmi also said that local lockdowns do work, "As recent evidence from a study of these measures in the Italian city of Vo' has demonstrated – and they remain our best option if there is continued viral transmission in the community."
So while there is no definite to whether the UK will have another lockdown in 2021, there are promises from the government that further local lockdowns will be introduced and by no means should we rule out the possibility of a second lockdown if cases begin to significantly spike.
Grace Walsh is a Features Writer for Goodto.com, covering breaking news health stories during the Covid-19 pandemic as well as lifestyle and entertainment topics. She has worked in media since graduating from the University of Warwick in 2019 with a degree in Classical Civilisation and a year spent abroad in Italy. It was here that Grace caught the bug for journalism, after becoming involved in the university's student newspaper and radio station.