UK lockdown rules: The dos and don'ts of the lockdown rules in the UK
It's vital for people to stay at home as much as possible.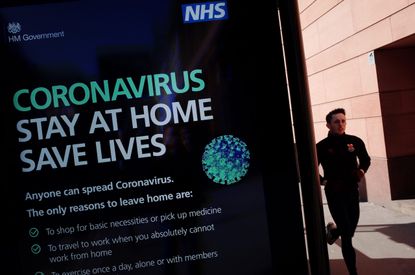 (Image credit: Getty Images)
Since Tuesday 24th March, the UK has been in lockdown, as a result of the ongoing coronavirus pandemic. And on 16th April, these measures were extended for a further three weeks at least.
We all know it's vital to stay at home as much as possible, but what are the lockdown rules in the UK at the moment?
The UK is currently in a state of lockdown after Boris Johnson announced measures to protect the NHS and fight the spread of coronavirus in the country.
The Prime Minister has instructed us all to stay at home as much as we can, only leaving to stock up on essential items (as infrequently as possible), for medical reasons, to go to work if your work is essential and you can't work from home, or for a daily form of exercise.
But since the UK lockdown rules were revealed, there has been confusion for some over what exactly that entails.
Here, we attempt to clear up any questions around the lockdown rules currently in the UK...
What has Boris Johnson said about how long lockdown will last in the UK?
Today, (Monday 27th April), Boris Johnson returned to work after his own battle with coronavirus.
And in his first task back, he made a public address to the nation outside Downing Street, suggesting the lockdown wouldn't be lifted anytime soon.
Referencing the lowering infection and death rates, he said that whilst progress is positive, it is not the time to start easing restrictions.
He told the public, "I know there will be many people looking at our apparent success, and beginning to wonder whether now is the time to go easy on those social distancing measures."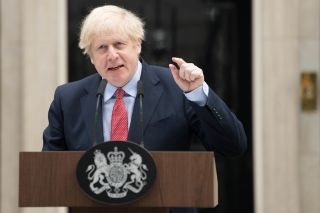 He continued, saying, "But I refuse to throw away all the all the effort and sacrifice of the British people", before warning that this is the time of "maximum risk", with concerns about a second peak of the virus.
The Prime Minister also urged people to "contain your impatience", over the lockdown.
He finished his speech by hinting that more would be said on the matter this week, though. The PM explained, "We simply cannot spell out now how fast or slow, or even when those changes will be made though. Clearly, the government will be saying much more about this in the coming days."
What are the UK lockdown rules?
Are we on full lockdown?
Yes - what the UK is currently experiencing, for an extended three weeks from the evening of the 16th April (after three previous weeks from 23rd March), is considered full lockdown, in response to the coronavirus pandemic.
No one should leave their home for anything that isn't essential, in order to protect the NHS capacity and help to save lives.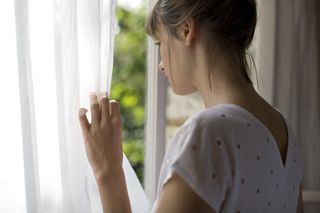 But the UK has arguably not been under as strict lockdown instructions as the likes of Italy, or China for example. At the height of the China lockdown, and currently in Italy, residents were required to present government papers explaining their reasons for venturing outside.
While you and the family are unable to go outside, read all about homeschooling (and the best educational apps) during this uncertain time, plus things to do with the kids when you've got some downtime.
New police lockdown guidelines and rules
As the UK lockdown is extended for a further three weeks, the National Police Chief's Council and College of Policing have issued an extensive list of specific things that are and are not permitted during this period - making everything a little clearer.
According to the BBC, the list details 'reasonable excuses to go outside'.
These include:
Buying food for several days, including treat items such as alcohol, and snacks
To buy tools for essential safety home maintenance - such as supplies to repair a fence "damaged in recent bad weather"
To take an animal to the vet for treatment
To drive for exercise, but only if you spent much more time exercising than driving
Travelling to work if it is not possible to work from home
They also stated that stopping to rest for a long period of time, eat lunch, or work on a bench or in a park was unacceptable.
Can you go for a drive during lockdown?
You can still drive your car during the UK lockdown, but it should be for an essential trip only. It's important to think about whether driving around for no reason is essential, if you can stay at home instead.
Public Health England advised that if you do make a journey in the car, you should drive alone or only with members of your household, and wash your hands as soon as you return.
Are DIY stores open in lockdown?
DIY stores opening hours and coronavirus policies appear to vary from shop to shop.
For example, B&Q have closed their stores to customers for browsing and purchasing, but are continuing to operate on a limited basis so people can still access essential home maintenance products. Their online store diy.com is open, where people can purchase items through their Click + Collect service to minimse social contact. They are still working on their home delivery service.
However, Homebase is open, but only for home and garden essentials.
But you should only visit if you are buying something absolutely essential.
MORE: How to keep your kids entertained at home if you're self-isolating or self-distancing
Can you buy paint in lockdown?
No - according to the National Police Chief's Council and College of Policing's new list, you should not venture outside solely to buy paint and brushes, just to redecorate a kitchen or bedroom. This is inessential and can wait until the period of lockdown is over.
Can I still move house during lockdown?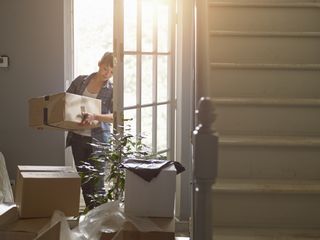 Earlier this week, Michael Gove said that for buyers, those who haven't exchanged contracts yet should put the transaction on hold.
However, he did acknowledge that those who were completing with house moves may have no choice but to go ahead. Michael Gove said, "If at all possible people should stay in their current home."
The government's housing minister also provided some clarification in a helpful Twitter thread too.
Can I go to the allotment during lockdown?
Michael Gove also clarified that people could go to their allotment, as it is considered a form of daily exercise.
MORE: Am I allowed in my garden during lockdown and are kids allowed outside to play?
He added, "It's in the very nature of allotments that there's a safe distance between people who are working on an individual allotment."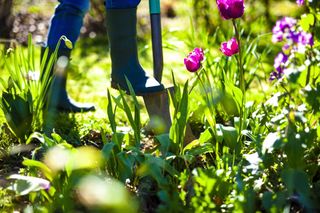 Can I go to the bank during lockdown?
Most banks are still open during the UK lockdown, but customers are being urged to use the online and telephone services unless it is absolutely essential they come into the branch.
Many banks are also operating reducing opening hours to limit social contact.
How long can I exercise for during lockdown?
Though the government hasn't issued specific guidance or rules on how much time you can exercise for outside during your one daily outing, the main thing to remember is that time spent outside should be limited in generally.
Michael Gove explained earlier this month that a maximum of one hour would be appropriate for most people's level of fitness.
He said, "I would have thought that for most a walk of up to an hour, or a run of 30 minutes, or a cycle ride between that, depending on their level of fitness, is appropriate."
The point is, to not take advantage of the daily exercise allotment to sit down in a park for hours on end - simply complete your chosen form of movement, and head straight back home. The other key thing to remember is that exercise should only be taken alone, or with a member of your household.
Can I wash my car during lockdown?
If your car is on your drive, it is probably safe to wash it, if you don't come into close contact with anyone else outside of your household.
However, it isn't necessarily essential.
Are garden centres open during lockdown?
Garden centres are not considered essential stores, so they have shut down following Boris Johnson's announcement. Some are still offering limited delivery services.
When will schools be opening again in the UK"
The short answer is that no one is absolutely certain yet.
Various government ministers have offered their opinion on when schools will re-open, but there has been no official answer yet.
Can I get my car MOT done during lockdown?
If you were due an MOT during the lockdown period, you don't need to worry about it now under the new UK lockdown rules.
The Department for Transport has announced that ehicle owners in the UK will be granted a six-month exemption from MOT testing, from the 30th March.
However, drivers should ensure their vehicles are kept in roadworthy condition, and garages will remain open for essential work.
Can I go shopping in lockdown?
You can only go shopping for essential items at the moment - food, or medicines. Given that all UK shops are now shut, you cannot go shopping for inessential goods.
MORE: Store cupboard recipes: 22 ways to use up potatoes, tins of tomato, tuna and more
Are hotels open in lockdown?
Many hotels are open at the moment, but lots have changed who they allow to stay. For example, Hilton are only allowing those who are travelling for vital work to book a stay with them during the pandemic, but noted that reservations are open for future bookings. Premier Inn are only open for NHS staff and other key workers, and Travelodge currently have the same policy.
Some central London hotels have also taken in some of the city's homeless, in order to shield them from the virus as much as possible.
When will lockdown be over in the UK?
The UK lockdown was extended for a further three weeks on 16th April, until at least the 7th May.
But as yet, there is no indication of when the lockdown will end.
Only time will tell when the UK lockdown will be over.
Parenting advice, hot topics, best buys and family finance tips delivered straight to your inbox.
Amy is Senior Digital Writer across Woman & Home, GoodTo and Woman, writing about everything from celebrity news to health, fashion and beauty features. When she isn't obsessing over the latest dress drop from Marks & Spencer, you'll most likely find Amy out running, or with a cup of tea in hand ready to dive into a gripping new Netflix series.