Where can I get lateral flow test kits and do you need one for travel?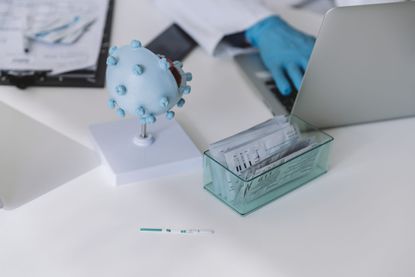 (Image credit: Getty Images/Westend61)
GoodTo newsletter
Sign up to the GoodTo Newsletter. You can unsubscribe at any time. For more information about how to do this, and how we hold your data, please see our privacy policy
Thank you for signing up to . You will receive a verification email shortly.
There was a problem. Please refresh the page and try again.
Wondering where you can get lateral flow test kits? You're certainly not the only one. While getting your hands on a Covid-19 test at the beginning of the pandemic was near impossible, the government is now urging people to take tests at home as often as possible.
It's one of the big ways to avoid another spike in infections, according to the latest government advice, as about one in three people are asymptomatic (opens in new tab) with the virus and pass it on without knowing it. There are even new Covid-19 symptoms associated with the Delta variant (opens in new tab) in particular that many people are unaware of. And even if you're vaccinated, you can pass on the virus to others.
So if you're planning on seeing lots of people this weekend, indoors or outside (opens in new tab), this is what you need to know about picking up lateral flow tests.
Where can I get lateral flow testing kits?
The easiest place to get lateral flow testing kits is via the government's website, through their home ordering service (opens in new tab). This allows people to order lateral flow tests online and have them delivered to their home address.
There are four other options for picking up lateral flow testing kits, though:
Workplace testing schemes, either on-site or at home.
Community testing sites, now being offered by all local authorities.
A local PCR test site during specific test collection time windows, for collection only.
On-site testing facilities at schools and colleges.
No matter how you order lateral flow tests, though, they are always completely free of charge.
Amid rising coronavirus cases in the UK and warnings over extended restrictions - including a circuit breaker lockdown (opens in new tab) - the government are urging people to take a lateral flow test at least twice per week.
Do you need lateral flow tests to travel?
Some countries require UK travellers to show proof of their Covid vaccine (opens in new tab) status to avoid quarantine. While France is only allowing vaccinated travellers to enter, others are also accepting negative Covid-19 tests before arrival as evidence of no infection.
These tests, however, cannot be lateral flow tests. It's vital to check the travel information for the country you're visiting but most require a PCR test, along with proof of your negative result and when you took the test. To come back into England from abroad, you must take a coronavirus test even if:
You are fully vaccinated
You're travelling from a country on the government's green list
You are a UK citizen coming back into the country
You have to take the test in the 3 days before the you leave to come back into the UK.
Proof of the negative test result can be provided in the form of a printed document, an email or a text message on your phone.
How do lateral flow tests work?
Lateral flow tests are hand-held devices with an absorbent pad at one end and a small window for the reading on the other side. Inside the test is a strip of test paper that changes colour when Covid-19 proteins (antigens) are detected.
You take a sample from the back of your throat with the swab, near the tonsils and from the nose. This swab is then dipped into a solution to extract the proteins. The solution is dripped onto the device's testing pad and the reaction on the paper gives the result.
If the result is negative, one line next to the 'C' on the external casing of the test will appear. But if the result is positive, two lines will appear. One is next to the 'C' and the other is next to the 'T'.
Results on lateral testing devices are quick - often available precisely 30 minutes after the solution is applied.
Anyone who tests positive for coronavirus with the lateral flow test must follow self-isolation rules (opens in new tab) immediately and inform the NHS of the test result. They should then confirm the result with a PCR test as soon as possible.
A negative result means that an active coronavirus infection was not found at the time of the test. But, it doesn't guarantee that you don't have the virus. It's still important to follow social distancing guidelines, wash your hands frequently and wear a face covering.
How accurate are lateral flow tests?
The Innova test - which is the lateral flow test being used in the UK - was found to be more than 95% effective at detecting Covid-19 in people with "high viral loads".
This result comes from a mass-testing pilot scheme conducted in Liverpool last year by PHE England Oxford University. It has not yet been peer-reviewed yet, but the research did suggest that the test accurately identified more than 95% of these highly infectious individuals.
When it comes to identifying Covid-19 in those who don't have high viral loads, though, the result is very different. Health Secretary Matt Hancock originally said that lateral flow tests are 70% effective at detecting Covid-19 proteins in people who are not showing symptoms of coronavirus (opens in new tab). This number came from research (opens in new tab) by the Porton Down lab and the University of Oxford, carried out in November last year.
They found that the "overall sensitivity" of the test was 76.8%. Over 95% of people with high "viral loads" were detected by the test.
However, this is disputed by a SAGE report which reveals that lateral flow tests were only 48% accurate at picking up the Covid-19 proteins. The report compared the performance of the lateral flow tests used in the mass-testing pilot scheme in Liverpool last year, with the PCR tests that the UK uses as standard for people with symptoms.
With such disparity, it's fair to ask where this huge difference comes from. And importantly, which number is correct?
The Porton Down and University of Oxford teams, who conducted the research cited by Matt Hancock, found that the lateral flow tests were most accurate (79%) when they were carried out by the lab's scientists, followed by trained healthcare workers (73%). They were the least accurate when conducted by "self-trained members of the public" (58%).
The lower percentage is a lot closer to the 48% given by the SAGE report. This suggests that lateral flow tests tend to be less accurate when they are conducted by members of the public.
This means that when the home self-tests are being conducted, they are likely to be less than 70% effective. The chances of finding a positive case will increase, however, when the second lateral flow test is conducted three days afterwards.
Grace Walsh is a Features Writer for Goodto.com, covering breaking news health stories during the Covid-19 pandemic as well as lifestyle and entertainment topics. She has worked in media since graduating from the University of Warwick in 2019 with a degree in Classical Civilisation and a year spent abroad in Italy. It was here that Grace caught the bug for journalism, after becoming involved in the university's student newspaper and radio station.