What is the difference between tier 2 and tier 3 as more cities join the highest tier lockdown list?
What is the difference between tier 2 and tier 3? Here's everything you can and can't do in the new cities on the lockdown list.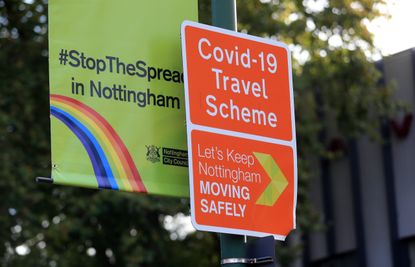 (Image credit: PA)
Now areas have gone into tier 3 as part of the government's latest system, many are worried about what this means for the next few months and what the differences are between tiers 2 and 3 of lockdown measures.
The difference between tier 2 and tier 3 restrictions in the new tier lockdown system (opens in new tab) is mainly to do with how much social mixing you can do - but there are other restrictions as well.
Since the list was first announced, areas in the south and south east of England have been introduced to harsher tier 4 lockdown restrictions (opens in new tab) to combat fast-growing rates of infection. Many high-density areas, including London and parts of Essex and Kent, went into an almost full lockdown while other areas moved from tier 2 up to tier 3.
Bristol, Gloucestershire, Somerset and Swindon are just some of the areas moving back into tier 3 on Boxing Day after a new Covid-19 variant (opens in new tab) was discovered in the south of England. It comes just days after Bristol and Northern Somerset were given the green light to move from tier 3 down to tier 2 and the Christmas lockdown rules (opens in new tab) were changed in all areas to restrict inter-household mixing.
London was in tier 4 but after infection rates started to double, Matt Hancock moved the capital up to tier 4 on December 14. The city was joined by the south and west of Essex and parts of Hertfordshire in the step up to the highest tier earlier than the review day.
Speaking about the latest changes, the health secretary said, "In some parts of these areas, the doubling time is around every seven days. This isn't just about rising rates around school aged children anymore but it's all age groups including the over-60s and we know from painful experience that more cases lead to more hospitalisations and sadly, the loss of more of our loved ones.
"Hospitals across the capital, Essex and Kent are already under pressure and we know this doubling of cases will be mirrored in hospital admissions and it only takes a few doublings for the NHS to be overwhelmed.
"Our NHS is straining every sinew to cope with the pressures as they always do but if cases continue to double, even they will be overwhelmed. So we must act now to shift the curve because when the virus is growing exponentially, there is not a moment to spare.
The harsher restrictions come as no surprise to some, however, as the government's SAGE body warned that the last set of three tier restrictions wasn't effective enough to reduce the infection rate of the virus.
So as even more cities join the highest tier, what does tier 2 and tier 3 actually mean? With Christmas and the festive season fast approaching, will we be able to get together with friends? Will pubs open? Here's what you need to know about the difference between tier 2 and 3 under the new lockdown system for December...
What is the difference between tier 2 and 3 lockdown?
The main difference between tier 2 and tier 3 is where you can meet people who don't live in your household or support bubble (opens in new tab).
In tier 2, people can meet in groups of six outside in a public space or a private garden. This could include gardens of pubs and restaurants as in tier 2, all hospitality venues are allowed to stay open as long as they offer a substantial meal (opens in new tab) with all sales of alcohol. In the lower tiers pubs and bars can stay open for drinks and food until 11pm now, last orders must be given at 10pm.
In tier 3, this is not allowed. All pubs and hospitality venues have to close except for takeaway until the region goes back into lower levels of restrictions. People in tier 3 can still meet outside, however, in public parks and spaces as long as they're not in groups exceeding six people.
In both tiers, schools will not close (opens in new tab) again even if coronavirus cases continue to rise. This is the same for all colleges and universities, as well as any workplaces where people cannot work from home.
Gyms, leisure centres and non-essential shops, along with personal care businesses like hair dressers are also allowed to stay open in both tiers 2 and 3.
What does tier 3 mean?
Now with the introduction of a new, higher level of coronavirus restrictions, tier 3 has taken on a new meaning. It's now not the harshest level of restrictions and simply means more socialising with people outside of your household than in the highest tier.
Those in tier 3 can meet with six people outside their household in a public, outdoor space while those in tier 4 are not allowed to meet with more than one other person outdoors. In tier 3, non-essential shops like clothing stores and services such as hairdressers can continue, but this isn't the case in tier 4.
Can I travel abroad in tier 3?
In tier 3, there are strict lockdown travel restrictions (opens in new tab). Travel in general is only permitted for those who have to move for either education (such as university students) or for work, which includes anyone looking to go abroad.
This means that standard family holidays and trips are off the table for anyone going into or already in tier 3 at the moment, even though there are many countries where people can go on holiday without quarantine (opens in new tab) upon entering the country or returning.
While in tier 2, there are also travel restrictions but the rules allow for holidays and stays abroad with anyone in their own household or support bubble.
Can I play golf in tier 3?
In tier 3, golf courses will stay open under the government's rules on leisure facilities. It joins the likes of gyms, swimming pools and other exercise facilities in staying open throughout all the tiers, no matter how high the restrictions become.
As it's an outdoor space as well, so there is the added benefit of a reduced chance of transmission of coronavirus. However, players must make sure that they are gathering with no more than six other players outdoors and under tier two and tier three, they should enter an indoor space with anyone they don't live with or anyone who isn't in their support bubble.
Can I stay in a hotel in tier 3?
In tier 3, hotels will stay open but that doesn't mean that anyone will be able to stay in them. Accommodation providers, including hotels and private holiday rentals are only allowed to open for essential reasons as staying overnight anywhere is off limits unless you're travelling for work or education.
Can I go on holiday in tier 3?
The government has strictly advised anyone in tier 3 to avoid going into areas that are in lower restrictions. UK destinations for those in England, including Wales and Scotland, also have travel restrictions in place that limit movement over the border and anyone that does so could be subject to lockdown fines (opens in new tab).
Although for many, this will happen over the Christmas period when the rules are lifted between December 23 to December 27. In this case, the government haven't changed their advice and have instead just suggested that families should re-consider their movements over the festive period to avoid staying over at another person's house or in a hotel and take vulnerable family members into account.
Can I move house in tier 3?
Regardless of what tier movers find themselves in, they will be allowed to complete all the steps to move house. This is partly because estate agents and other associated businesses including furniture movers are allowed to continue working throughout all tier levels over the next couple of months.
The rule only applies to people moving to a new permanent primary address, however, and doesn't allow for people move temporarily to second homes for example. Estate agents and other businesses have also been urged to put appropriate safety measure in place where possible, such as making virtual viewings available to prospective tenants and asking people to vacate properties for viewings, along with making sure that empty properties have been thoroughly cleaned before anyone moves in.
Grace Walsh is a Features Writer for Goodto.com, covering breaking news health stories during the Covid-19 pandemic as well as lifestyle and entertainment topics. She has worked in media since graduating from the University of Warwick in 2019 with a degree in Classical Civilisation and a year spent abroad in Italy. It was here that Grace caught the bug for journalism, after becoming involved in the university's student newspaper and radio station.