What is Tier 4 lockdown? The new restrictions on going to work and more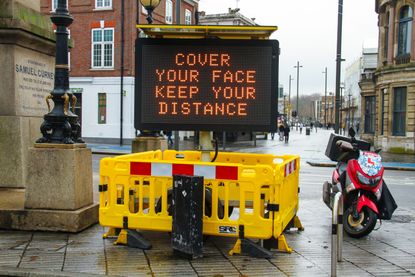 (Image credit: SOPA Images/LightRocket via Gett)
Goodto Newsletter
Parenting advice, hot topics, best buys and family finance tips delivered straight to your inbox.
Thank you for signing up to GoodTo. You will receive a verification email shortly.
There was a problem. Please refresh the page and try again.
Much of the country has been left disappointed after Boris Johnson introduced a brand new Tier 4 on Saturday in a bid to tackle the ongoing Covid-19 pandemic.
Unheard of before this month, Tier 4 lockdown is now the highest level of coronavirus restrictions and affects much of the south of England with new rules in place.
Previously, the post-lockdown new tier system had three levels and was already significantly more severe than the first attempt at the multi-level restrictions, in place before the second national lockdown in November.
However, it appears not to have been effective enough as a January lockdown is now certainly on the way for millions of people as the prime minister made a huge U-turn on the Christmas lockdown rules over the weekend, leaving many families at odds over what to do.
The decision comes just days after the prime minister said it would "inhumane" to cancel Christmas. But, with a new strain of the virus prevalent in the South, Boris Johnson has said the situation has "deteriorated" and affirmative actions must be taken.
It comes after a new Covid-19 variant was revealed to be 70% more transmissible than the strain of Covid-19 we've been experiencing since March at the latest.
According to the prime minister, "there is no evidence the variant causes more severe illness or higher mortality" and it's likely that the coronavirus vaccine would still offer effective protection, it "does appear to be passed on significantly more easily".
So what are the new Tier 4 lockdown rules in place?
What is Tier 4?
Tier 4 is now the most severe level of restrictions in England and equates to a full lockdown, similar to what we saw in the March and November lockdown when all non-essential businesses and shops closed. However, it doesn't affect the whole country and is still part of the government's localised lockdown plan to combat the virus.
The new measures call for a general "stay at home order" and reflect the intensity previously seen in March lockdown, when police were on-hand to assist and lockdown fines were a part of daily life.
What are the Tier 4 lockdown restrictions?
Under the highest level of restrictions, people must stay at home wherever possible and change their Christmas plans to only include those inside their own household or support bubble.
Other restrictions also include:
Travel rules are in place to stop people moving from Tier 4 to lower tier areas for the holiday.
Overnight stays are prohibited.
Non-essential retail, indoor gyms and leisure facilities, and personal care services must close.
Working from home is essential where possible.
People are only allowed to meet one person from outside their household, in an outdoor public space.
Places of worship are allowed to stay open but people aren't allowed to mix in these spaces with anyone outside their household.
Outdoor exercise is unlimited, under the lockdown exercise rules.
In the emergency statement given at Downing Street on December 19, Prime Minister Boris Johnson explained that the government was "learning more about this variant as we go" but knew "enough already to be sure that we must act now".
"First, we will introduce new restrictions in the most affected areas – specifically those parts of London, the South East and the East of England which are currently in tier 3.
"These areas will enter a new tier 4, which will be broadly equivalent to the national restrictions which were in place in England in November."
While this means that any Christmas or New Year plans are certainly in tatters, the restrictions are not as severe as they were in March when homeschooling was the norm and some industries, including factories and construction, were forced to close down.
When do the tiers change?
Although these measures are tough, they won't last forever as Tier 4 (and others) will be reviewed on December 30.
In the last tier review, which took place on December 16, many areas moved up and down the restriction levels with more areas joining the highest level of restrictions as cases are rising across the UK this winter.
To move down a tier, the region has to prove that cases and the infection rate is decreasing in all age groups including the over-60s. It's thought that in the future, the Pfizer and Oxford vaccine will be the main thing to take the UK out of lockdowns permanently.
However, due to rapid rises in cases around new areas of the country and the introduction of another new variant of Covid-19, the tiers are changing more often than expected and more areas will go into Tier 4 on boxing day.
Who's in Tier 4 lockdown?
All of those parts of the South and South East of the Country that were in Tier 3 have moved into Tier 4 as of Sunday December 20.
These are the Tier 4 areas in England:
Bedford
Berkshire local authorities: Bracknell Forest, Reading, Slough, West Berkshire, Windsor and Maidenhead, and Wokingham.
Buckinghamshire
Central Bedfordshire
Essex local authorities: Basildon, Braintree, Brentwood, Castle Point, Chelmsford, Epping Forest, Harlow, Maldon, Rochford, Southend-on-Sea and Thurrock.
Gosport
Hastings and Rother
Havant
Hertfordshire local authorities: Broxbourne, Hertsmere, Three Rivers and Watford.
Kent
London local authorities: All 32 boroughs and the City of London
Luton
Medway
Milton Keynes
Peterborough
Portsmouth
Surrey (excluding Waverley)
Areas going into Tier 4 on Boxing Day
Six million more people are going into Tier 4 on Boxing Day after a further 39,237 people in the UK tested positive for virus and there were 744 more deaths within 28 days of a positive test.
These are the places taking on Tier 4 restrictions on Boxing Day...
Sussex
Oxfordshire
Suffolk
Norfolk
Cambridgeshire
Hampshire (except the New Forest)
Essex (the parts not already under Tier 4)
Surrey (the parts not already under Tier 4)
These are subject to change, however, and following the next review of the tier system at the end of the month, it's likely that more areas will take on Tier 4 lockdown restrictions for the new year and into 2021.
Can you go to work in Tier 4?
Under the new restrictions, anyone who can work from home over the next couple of weeks should do so. This naturally doesn't include anyone who is unable to work from home such as key workers.
Anyone who works abroad is allowed to travel for this reason (and any educational reason) only. Although, many flights going to European countries such as France, Belgium and the Netherlands have been halted as the countries have closed their borders to the UK.
The UK self-isolation rules on return to the UK also still apply.
What are the Tier 4 funeral and wedding restrictions?
There are new rules for funerals and weddings in Tier 4, with the latter only allowed under exceptional circumstances.
Funerals can have a maximum of 30 people in attendance, while wakes and other associated ceremonial events can happen with up to 6 people. This includes stone settings and ash scatterings, however, anyone facilitating these events is not included in the limits.
Weddings, however, should not take place at all except in exceptional circumstances and even in this case, only 6 people are allowed to be present. The government's advice on this describes "exceptional circumstances" as "where one of those getting married is seriously ill and not expected to recover ('deathbed wedding') or due to undergo debilitating treatment or life-changing surgery."
Larger gatherings of 6 people are allowed for visiting someone at home who is dying or visiting someone in hospital receiving treatment, in a care home or to accompany a friend or family member to a medical appointment.
In all events, social distancing should be maintained between people who don't live together or share a support bubble. Anyone entering a Tier 4 area for these events or leaving a Tier 4 area under the guidelines should follow Tier 4 restrictions in all cases as well.
Will there be roadblocks in Tier 4 areas?
Online social media chatter has given rise to the idea that police will be enforcing roadblocks in Tier 4 areas over the next week, to prevent households from travelling across the country over the festive season.
There is currently nothing to suggest that this would be happening. Instead, the police are enforcing the new laws by consent as they have always done.
However, it is the case that more police are being deployed over the festive season in Tier 4 areas to help enforce the new restrictions and ensure that only "essential journeys" are made, according to the transport minister.
What's the difference between Tier 4 and lockdown?
Tier 4 is the highest level of restrictions and the only main difference between these rules and a full-scale lockdown is that the measures are localised, so they only apply in certain areas of the country while a full lockdown is nationwide. While some areas will be in Tier 4, others will be in lower Tier 1, 2 and 3 restrictions.
There is one difference, however. Places of worship were only allowed to open during the second lockdown for exceptional circumstances while in Tier 4 they are completely open with strict social distancing measures in place. Also unlike the second lockdown, tier 4 restrictions have no confirmed end date at the moment.
The strong similarities are why, for many of the millions of people who entered Tier 4 on Saturday December 20 and will do so later on, the new restrictions will come with a real sense of deja vu. The prime minister himself even described the highest tier as "broadly equivalent" to the national lockdown brought into England in November this year.
A general "stay at home" order has been issued, all non-essential shops and businesses must close but click-and-collect services are allowed to continue. Pubs, bars and restaurants all must close but takeaways and deliveries are still allowed to continue. Schools will stay open where they normally would over the holiday season but secondary schools and colleges will have to take on lateral testing in the new year.
Travel is also one of the main conditions of both the national lockdown and Tier 4. It's prohibited for anyone to travel out of Tier 4 and to an area with lower restrictions and strong advised that anyone in lower restrictions not travel into Tier 4.
When will Tier 4 restrictions end?
Currently, it's not known how long the new Tier 4 restrictions will last as it very much depends on whether the new variant of coronavirus can be kept under control.
Health Secretary Matt Hancock has described it as "impossible" to determine how long the restrictions would be in place and said that he didn't want them "to be in place a day longer than they needed to be" but suggested they could be around for "many months".
He told Sky News's Sophy Ridge, "Cases have absolutely rocketed, so we've got a long way to go,"
It's previously been suggested that the new Tier 4 restrictions, which see all non-essentials shops and businesses closed, could last until the vaccine is fully rolled out.
While speaking on BBC One's The Andrew Marr Show, the health secretary said that there were "currently just over 18,000 [people] in NHS hospitals with coronavirus.
"That is only just below the number there were at the first peak."
Parenting advice, hot topics, best buys and family finance tips delivered straight to your inbox.
Georgia is a Celebrity and Royal Writer working across GoodTo and Woman & Home, and the Director and Founder of communications company Farq Media. Prior to this she was Online Editor at New! Magazine – managing all of their digital content and social media accounts. Where she interviewed all of the hottest reality TV stars and spent far too much time commuting to London. She trained at Nottingham Trent University – where she achieved First Class Honours in Print Journalism whilst juggling copious amounts of work experience, freelance writing, blogging and having far too much fun with the dance society.