Kourtney Kardashian weight loss: How mum-of-three Kourtney Kardashian stays in shape at 39
She's had three kids and looks incredible!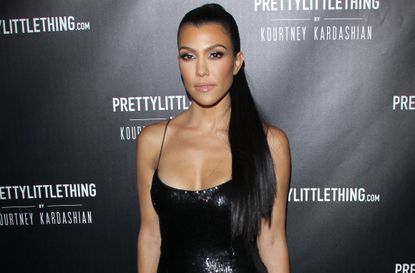 Kourtney Kardashian has had three kids and still looks incredible. But how does she do it? We investigate how the mum-of-three stays in shape at 39...
It's not easy keeping in shape after you've had kids - not only does your body change, you also have little humans to look after, which means you have less time to look after yourself.
So how does the eldest of the Kardashian clan manage to look so great after welcoming her brood of three? Of course it helps that she's part of one of the richest and most famous families in showbiz, but she also has a few tricks up her sleeve that we can all adapt to our own lives. Here they are...
Kourtney Kardashian's diet
We all know the saying that abs are made in the kitchen, so it shouldn't come as a surprise that Kourtney's diet is very healthy. These are her secrets...
She's a big fan of the keto diet
The mum has decided to give the keto diet (which a high fat, low carb diet) a try, and says she's had a 'really positive experience'.
'Keto diets are low in carbohydrates and high in protein and healthy fats', she wrote on her website. 'Once I knew the ground rules, I was very strict and really stuck to it. I ate minimal carbs and no grains, beans or legumes. Instead, I focussed my meals on fresh vegetables and lean proteins.'
Kourtney has also previously described what she eats on a typical day. She opts for an avocado pudding for breakfast - containing plenty of healthy fats - which she makes by blending one whole avocado, one cup of coconut milk, and two teaspoons of honey together.
Get more healthy avocado recipes
Kourtney says she will stick to her greens and protein for lunch, like a salad with chicken or salmon. For dinner, the 39-year-old keeps her meals light as well, usually eating a soup made of fresh vegetables.
'I love fresh, simple soups made with asparagus, sweet potatoes, or beets' she said, also adding that 'it's really important to have something sweet'.
When discussing her snacking habits, Kourtney revealed that she'll keep herself energised throughout the day by munching on unprocessed foods like fresh vegetables with avocado hummus, raw almonds, or a bit of fresh fruit.
She has one trick to curb sugar cravings
While the mum's diet is not that easy to follow, as she usually goes for gluten-free meals and a sugar-free diet, she does have one easy trick that she claims curbs her sugar cravings.
While discussing her keto diet last month, Kourtney revealed she takes one tablespoon of apple cider vinegar, mised with water, and and another tablespoon before dinner.
We'd be lying if we said you could achieve a body like Kourtney with just a good diet - although it helps! This is how she achieved and keeps her toned physique...
https://www.instagram.com/p/BYgtiz2DRJp
She sticks to a strict workout routine
According to E! News, Kourtney exercises at least five days a week, usually in the morning.
'Most days she'll warm up with a quick run or a jump rope session before leaping into strength training. Some days that means using a stair master or Pilates reformer, but she also has a series of go-to exercises that involve less intense equipment such as leg kick-backs using a resistance band (a move she says she swears by for toned glutes) and weighted squat cleans using a kettlebell or sandbag', E! News reports.
Obviously consistence is important when getting into shape, so seeing how many hours you can realistically dedicate to exercise and then sticking to it is an important step for anyone trying to be healthier and fitter.
She relies on the buddy system to keep herself motivated and accountable
Although now this might not apply as her sister has just had a baby, Kourtney sticks to the buddy system with Khloe, which means they workout together to keep themselves motivated and accountable.
If one is feeling lazy, the other one will give her a pep talk - so get yourself a gym buddy and make sure you both reach your goals!
She's consistent
It's not just fancy equipment and a personal trainer though - it's more about consistency than anything else.
While the reality TV star has plenty of resources available to her, she keeps her routine going even when she's away from home by doing simple exercises anyone can do anywhere - like walks and equipment-free exercises like 'lunges, tricep [sic] dips, push-ups, and endless squats'.
Will be you following any of Kourtney's exercise or diet secrets? Head to our Facebook page and let us know your thoughts!
Mariana is a lifestyle writer who has written for Goodto.com and My Imperfect Life. She joined the Goodto.com team as an intern after completing her journalism MA at City University. After six months spent writing about food, celebrity news, and family trends, Mariana left to write for Healthy Food magazine - but returned in 2017, to join the Future team once again. In her spare time, you'll find Mariana in the kitchen cooking for her friends.