Is gin good for you? These are the 8 health benefits of the UK's favourite spirit
We'll cheers to that.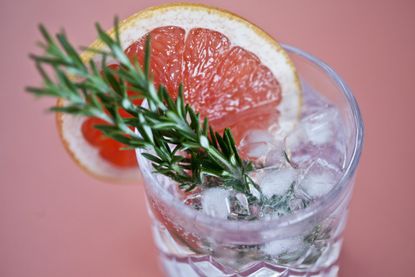 When Julia Child, who lived to the age of 91, was asked about the secret to her longevity, she replied, "Red meat and gin." And while we can't responsibly advocate chasing your steak and chips with a glass or seven every night, there is some truth to the idea that gin is good for you.
It's safe to say that the UK is experiencing one hell of a Gin-aissance right now, with over 10 million bottles of the stuff being bought in 2020 alone. But much like the age old question: is wine good for you, many are wondering if this beloved British spirit boasts some health benefits of its own.
"As with other types of alcohol, there is some evidence to suggest that moderate consumption can help reduce the risk of heart attacks, for instance," explains nutritionist Jackie Lynch, starting with the positives. "This relates to one small glass per day, as studies have shown that as you increase your intake to three glasses per day the risk of cardiovascular disease increases dramatically. Training yourself to ask for a single rather than a double measure could make all the difference."
Not only will consuming in moderation help to prevent a hangover, but it could also mean that you won't have to consider not drinking alcohol completely...
It can help with hay fever
It might not be the most obvious hay fever remedy, but according to Asthma UK, switching to gin in the summer months could help to soothe your coughs and sneezes.
The theory is that drinks like beer and cider have a higher histamine content due to their fermentation process, often making hay fever symptoms worse. So opting for clear spirits like gin instead can, in a roundabout way, curb them. Okay, so it's not a magic cure for hay fever, but every little helps...
It's low in calories
Some people making an active effort to lose weight often stop drinking alcohol due to its high calorie content. But gin is one of the least calorific spirits you can choose, with a mere 97 calories per shot.
Add it to a low calorie mixer - diet lemonade or tonic water are our personal recommendations - and you're still hitting a far lower total than you would with the average glass of wine (160 calories) or pint of beer (208 calories).
And relatively low in sugar
'Gin only contains traces of sugar which makes it a smart choice if weight management is your goal, especially if you choose your mixer with care,' Jackie explains in her book, The Right Bite. So that's gin, tick, but sugary fizzy drinks no, got it?
It keeps wrinkles at bay
The core ingredient in gin is juniper berries, which are jam-packed full of antioxidants. These in turn can help to promote the appearance of healthy, youthful skin, which means that a regular intake of cocktails could hypothetically be responsible for your smooth, line-free face...
It eases bloating
Juniper berries also act as a natural diuretic, and - double whammy - the herbs used to make gin are known for their role in aiding digestion. So if you find that alcohol often bloats you, switching to gin will give you a much flatter stomach than your usual beverage and help reduce bloating.
There's also a particular way to make a gin and tonic to get the most out of the benefits.
https://www.youtube.com/watch?v=gLoVMF6q1X0
It's the 'best' drink for diabetics
Research published in the Journal of Diabetes Nursing in 2008 looked into the safest drinks for people with type 1 diabetes to consume, and guess what? They found that gin and tonic came out on top.
Of course, you should always consult with a medical professional if you are diabetic and concerned about your alcohol consumption, but it might be handy to bring that little nugget along to your appointment, no?
It calms joint pain
In addition to its host of other benefits, juniper was actually an old-world remedy for the pain of conditions like arthritis and rheumetism. Of course, a daily Bombay Sapphire isn't a substitute for proper medication, but there are those who insist that gin-soaked raisins can reduce inflammation, and who are we to argue?
It helps you live longer
One study found that 'moderate consumption of alcoholic drinks seems to reduce the risks of developing cardiovascular disease, stroke, and cataracts', and it's said that the ingredients in gin (yes, juniper again) can help strengthen the connective tissue in your veins, and contain flavonoids, which help to prevent clogged arteries.
It's for this reason that some people even suggest that gin can help extend your lifespan - and we'll definitely cheers to that.
Emily Stedman is the former Features Editor for GoodTo covering all things TV, entertainment, royal, lifestyle, health and wellbeing. Boasting an encyclopaedic knowledge on all things TV, celebrity and royals, career highlights include working at HELLO! Magazine and as a royal researcher to Diana biographer Andrew Morton on his book Meghan: A Hollywood Princess. In her spare time, Emily can be found eating her way around London, swimming at her local Lido or curled up on the sofa binging the next best Netflix show.