SlimFast review: How one mum lost five stone with SlimFast products
'I'm still going strong!'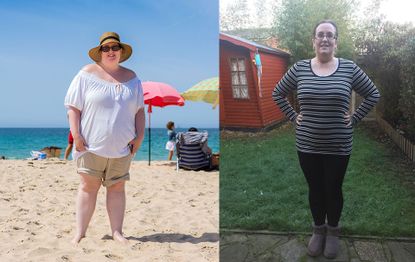 If you're hoping to lose weight without feeling deprived, you might be surprised to hear that the SlimFast diet isn't one to discount, one mum offers her Slimfast review on how it worked for her.
Although the Slimfast diet (opens in new tab) brand became famous for their meal replacement shakes in the 1980s and 1990s, quickly becoming known as one of the diets that work fast (opens in new tab), there are now lots of other snacks and meal options available as part of the plan. And there are plenty of SlimFast reviews out there that suggest that you can shed a substantial amount of weight on the programme.
One person who did just that is mum-of-one Sarah Nairn, who's lost five stone using SlimFast products. Here, she gives us her honest review of the SlimFast plan, and tells us what she loves, what she's not so keen on, and why it works for her...
Slimfast review: why I chose SlimFast
Sarah pictured before her weight loss
It was the end of 2015, and at a dress size 28, I couldn't believe I'd got to this point. It wasn't just my weight that was worrying me - when I was pregnant with my daughter in 2012, I'd put on four stone and developed gestational diabetes. The weight had stayed with me after she was born, and with a history of Type 2 diabetes in my family, I was scared that if I didn't do something now I might not be around to see my little girl grow up.
On 2nd January 2016, with the support of my partner and now six-year-old daughter, I started the SlimFast plan. I chose it because it was relatively cheap, simple and fit into my lifestyle well. Since then, I've stuck to it 100%, and learnt so much about food and drink in the process.
A typical day on the SlimFast diet
Before I started the SlimFast diet (opens in new tab), I would skip breakfast, maybe picking at a bit of chocolate at around 11am. Lunch would be a sandwich, chocolate bar, cakes and crisps, followed by tea with biscuits (I could eat a whole pack!). Tea was one of my biggest weaknesses - I would drink eight or nine cups a day and have milk and sugar in each one.
Dinner was typically nuggets, chips and beans or a takeaway, and then a pudding, like ice cream or cake and custard. I'd also have chocolate and cakes in front of the TV in the evenings - but my diet on the SlimFast plan couldn't look more different...
Breakfast: SlimFast Caffe Latte powder shake Lunch: SlimFast Caramel shake, SlimFast snack such as pretzels Snack: Cup a Soup Dinner: Couscous, chicken and salad Snack: Hot chocolate with a SlimFast chocolate bar Drinks: Two litres of water, green tea
Sarah's diet now includes shakes, healthy meals, and snacks like SlimFast pretzels
I also started walking more, and began cooking more things from scratch as I became mindful of calories in everything. At the start I found it difficult as it was such as change to the way I used to eat, but after I had dropped my first stone and a dress size it motivated me to keep going.
The pros and cons
SlimFast fits around my busy life with a six year old, and I like the taste of the shakes - lots of other brands don't taste as good or are watery, but I find them thick and filling. I've also found it to be affordable - I spend around £30 a week on SlimFast products, but lots of shops have regular deals on the range, so I stock up to save even more.
I would love them to do even more flavours and more products like perhaps soups and maybe some ready meals so if you run out of time you have something to grab. I'm also not a huge fan of the chocolate powder but I have found that if I mix one spoon of this with one spoon of another flavour it's yummy!
The results
Sarah is now a dress size 14
To date I have lost over five stone, taking me from 18st 10lbs to 13st 10lbs, and I'm still going strong. I've gone down to a dress size 14 and can now shop in 'normal' shops - I haven't been able to do that in years. Having my partner compliment me is a great feeling, and I have made sure I have taken lots of pictures I can really see the difference - people have been asking me what I have been doing, which really makes me smile!
As a family we now do so much more together, we love to go for long walks or visit the local farm together - I'm so proud that I did this for my family and I think my daughter is really proud of me as well.
My family and friends are now using SlimFast too, and I think it fits in really well for busy mums that often have everyone else to think about and end up going without breakfast and lunch because they are sorting everyone else out. I'd definitely recommend the plan - and I'll keep using the products myself too!
Trusted, informative, and empathetic – GoodTo is the ultimate online destination for mums. Established in 2007, our 15-year-strong archive of content includes more than 18,000 articles, 1,500 how-to videos, and 7,000 recipes.