What is the Placebo Diet?
What is the Placebo Diet - and can it work for you?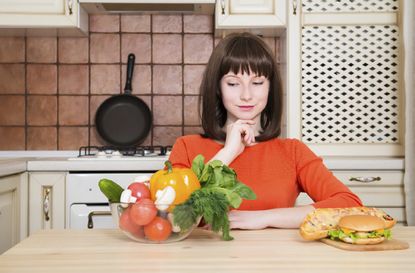 Think you've tried everything to lose weight? Welcome to a whole new way of dieting.
The Placebo Diet was created by Janet Thompson, a life coach and expert in the field of nutrition and exercise science, and is unlike any other weight loss plans you may have come across before. In fact, the only reason it's referred to as a 'diet' is because if you follow the principles of the plan, you should still lose weight without diet or exercise.
Similar to the Noom diet, this method is all about changing your mind, not your meals (although of course, nutrition comes into play too).
What is the Placebo Diet?
The idea for the Placebo Diet was sparked when Janet, who was head of training for a national slimming chain, had an encounter with a woman who has successfully dropped from a UK size 22-24 to a UK size 8-10. The pair met at a photoshoot, but when the lady in question was asked to select an outfit, she came back with a size 14 outfit.
'I could see in that moment that she was still thinking like a fat person,' Janet explains. 'I knew that if she was still buying clothes with that mindset then it was only a matter of time before everything else reverted back to exactly the same old fat-thought process. I realised that without the right mental approach, it was virtually worthless.'
She then went about developing a new strategy for weight loss, centred on mind-changing exercises. The Placebo Diet teaches you to 'change your brain and transform your thoughts so that weight loss is a happy, inevitable consequence,' she writes in the accompanying book.
How does it work?
If you want to follow the Placebo Diet, it's recommended that you use the online resources at theplacebodiet.co.uk and the Placebo Diet book (Amazon, £12.99) alongside it. Subscription to the online programme doesn't come cheap - for a seven-month package, you can either make a payment of £47 monthly, or make a one-off payment with a 10% discount of £297.
Clients receive:
- Two informative and instructive video lessons every week for the first seven weeks, along with a guided re-patterning meditation to reinforce the changes - A personal journal to enhance their experience and record progress - 'The Colour Code Nutrition System' and 'How Your Body Works explaining exactly how and why your body stores excess fat and how to change it, on audio and as a PDF book - Weekly tips and reminders and bonus features for additional support sent via personal emails for six months
The word 'placebo' refers to the way our beliefs and expectations can have an impact on our physical circumstances, despite the fact there is no scientific evidence behind the change. In terms of weight loss, this reflects the fact that many of us have trained our brains to associate certain (usually unhealthy) foods with comfort, thereby using food as a placebo to avoid facing physical or emotional pain.
This can lead to unhealthy food cravings, as well as emotional eating and turning to 'comfort food'.
However, while eating a slice of cake or a tub of ice-cream might make you feel better short-term, long-term it could actually end up being damaging to your health.
The Placebo Diet retrains your brain and forms new habits, breaking down your associations with unhealthy foods and instead creating positive associations with the kinds of foods you should be eating. You decide on your goals, and the Placebo Diet teaches you how to visualise them and achieve them.
You then use the Colour Code Nutrition System to inform your food-based decisions.
Green (7-10 portions per day): Vegetables and fruit and most foods (excluding starchy carbs) that grow in the soil. Pink (1-3 portions per day):Starchy carbohydrates e.g. grains, pasta, breads, rice cereals, potatoes. Blue (up to 5 portions per day): Fats and proteins, including fish, meat, dairy, nuts, seeds and oils. Red: (optional or irregularly): Sweets, cream, ice cream, alcohol, sugar, refined honey, pastries, cakes, crisps, takeaways - as Janet describes it, 'food that has no nutritional benefit whatsoever'.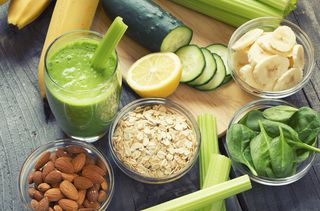 Who is it good for?
The Placebo Diet can work for anyone, but you do really have to be prepared to put your mind to it.
As Janet says in the opening chapter, 'If you can't be bothered to keep your personal journal, then maybe stop reading right now and pick this book up again when you are ready to put the effort in. If that sounds rude, it's not my intention - but it's my intention to be brutally honest with you. A coach isn't a best friend - you already have those!'
Also, as mentioned previously, the full plan with the online subscription can add up cost-wise, so it's worth checking your budget before you commit.
What does a typical day look like?
Janet explains, 'On waking our brains are in a very 'plastic' state so the first thoughts we have for the day can form the basis of our behaviours throughout the whole day.'
'On the Placebo Diet we make best use of this natural process by visualising ourselves doing the things that make us slimmer and happier. Another great morning exercise it to use the recommended Tapping (TFT) sequence whilst visualising as this helps to prevent negative thoughts of self-sabotage.'
Breakfast In line with the simple colour-code system, this includes a slow releasing carb (PINK) to get our brain function going for the day, and some protein (BLUE) to satisfy us, and some fruit (GREEN) such as berries to give us a shot of antioxidants and vitamins as well as fibre. An example might be porridge oats (PINK) made with almond milk (BLUE) and berries. Alternatively it may be a smoothie made with spinach leaves, banana and berries, (GREEN) with fresh almonds and almond milk (BLUE) and a handful or porridge oats (PINK).
Lunch This would consist of a mixture of BLUE and GREEN foods with an optional small portion of PINK. An example would be wholemeal pitta bread stuffed full of salad leaves including spinach and watercress and some tuna or other fish or chicken, drizzled with olive oil and balsamic vinegar. Alternatively, a wholesome soup made from Vegetables (GREEN) with some lentils or meat (BLUE).
Snacks Could include crunchy fruit or berries (GREEN) or a handful of fresh mixed nuts with a small banana (depending on hunger levels).
Dinner This would consist of a mixture of GREEN and BLUE choices with no or minimal starch carbs (PINK). Bolognese made with a smaller amount of lean mince and plenty of chopped vegetables cooked in to replace the extra meat, maybe served with courgetti (a replacement for spaghetti). Alternatively a chicken and vegetable curry may be served with cauliflower rice.
Drinks It's a good idea to give up alcohol and minimise caffeine - limit to one or two cups per day and replace with green or other fruit teas. Drink plenty of water, especially water with freshly squeezed lemon which helps keep the body alkaline.
At night the visualisation and tapping exercises are repeated just before bed. Listening to one of the Guided Meditations will also help to imbed the new thoughts and suggestions.
What kind of results can I expect?
One of Janet's clients, Nikki, lost six stone following the Placebo Diet, and has managed to keep the weight off for 18 months.
Prior to starting the regime, Nikki was a classic comfort eater. She used food whenever things got tough, and when she began working in a hotel the long unsocial hours led to even more poor food choices. By the age of 21 she was 13st 7lb, and at only 5ft it was just too much to carry around. Numerous diets followed, each one failing miserably. Then she met and moved in with a chef and her weight crept up to over 14 stone, and dress size 22-24.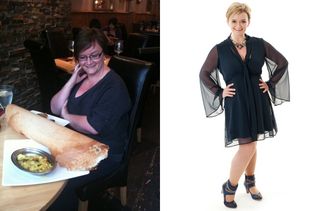 Nikki heard about Janet's approach after a friend had seen Janet on TV and she signed up for the course. It was here Nikki learned how her past habits had been formed and why it had been so hard to change them. Over the next six months Nikki put the practical mind exercises into practice and followed the colour code system, and the weight began to come off. She couldn't believe it and kept telling Janet she wasn't even dieting! That was the beauty of the programme, it never felt like a diet.
Nikki went back for a refresher course to learn even more techniques and continued to lose weight until in less than 18 months she had gone from dress size 22 to a size 10. And lost over six stone. The best part of the story is that four years on Nikki is still a size 10! And has a totally different relationship with food, and her body.
What are the pros?
This is a diet plan that allows you to make your own choices about what you'd like to eat, and educates you about the importance of health and happiness - something many modern diets forget.
The main aim of the book is to change how you think and feel about food – but you may well get a lot more than you bargained for – and start feeling good about many other things and make better more positive choices in all areas of your life.
What are the cons?
If you prefer a diet that gives you a more prescribed idea of what to eat and how to exercise day-by-day, you might find the lack of prescribed 'plan' harder to stick too. As mentioned before, it's all about self-motivation!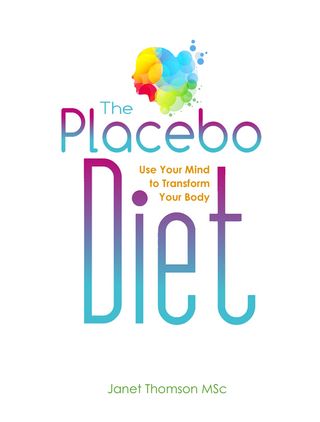 The Placebo Diet is available now as an interactive online package at theplacebodiet.co.uk. The Placebo Diet book, published by Hay House, is also out now, £12.99.
Parenting advice, hot topics, best buys and family finance tips delivered straight to your inbox.