Vicky Pattison's three stone weight loss secret revealed!
She reveals the number one change that helped her shed the pounds...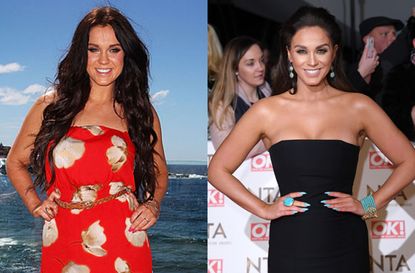 Vicky Pattison's weight loss journey has amazed us since the start, and the gorgeous brunette looks almost unrecognisable since her Geordie Shore days.
Vicky has revealed that she's lost an incredible three stone, going from 12 to nine stone to reinvent herself as a health and fitness role model. But how has she done it?
The former Queen of the jungle, who's dropped four dresses sizes to slim down from a size 16 to a size 8, credits her impressive results to a mixture of HIIT workouts and a high-protein diet.
Talking about her motivation to slim down, Vicky said she didn't lose weight to then obsess over everything she eats, and instead prefers to have a healthy diet and the occasional treat.
'I didn't lose all this weight and I don't train hard to sit at home in my gorgeous size eight dress staring at my boyfriend, who's eating a Dominos. I've done this so I can have a life and enjoy myself', she told Heat magazine.
So how exactly did Vicky achieve such an impressive weight loss? We've compiled all of her weight loss tips, and you might be surprised by how achievable they are!
Ditch the sugary drinks
Talking to The Sun, the former Geordie Shore star said the number one piece of advice she would give to her younger self would be to ditch the sugary drinks.
And even though she now considers alcohol to be a treat and does not have it as often as she used to, she does have the occasional slimline G&T.
'There's no need for Jägerbombs, WKD or vodka Red Bulls. Instead, a gin and slimline tonic or vodka soda will do', she recommends.
During the day, Vicky opts for green tea and plenty of water to keep herself hydrated, which is a key factor in any healthy lifestyle.
Be prepared to make better choices
Speaking of her big diet downfalls, Vicky confessed to often making the wrong food choices out of convenience in the past.
'If I was on a train and I'd not picked up a salad, then I'd stop that trolley and get that shortbread and hot chocolate.
'And before you know it you think: "What's the point?" and you're deep in a Domino's by eight o'clock.'
Now the TV star makes sure she follows a healthy and balanced diet throughout the day, relying on protein shakes or bars if she's on the go to keep her going.
According to Daily Star, a typical day for Vicky starts with a protein-packed breakfast of scrambled eggs with veg and green tea or a green smoothie.
For lunch, she'll have a superfood salad with chicken and sweet potato, a wrap or a chunky soup.
For dinner, Vicky enjoys a protein-rich meal with chicken or salmon, along with a side of complex carbs like brown rice or butternut squash and lots of veg.
Move any way you can (first thing in the morning!)
Vicky initially lost a lot of weight using a fitness DVD, which is something you can easily replicate at home.
The 29-year-old also revealed she prefers to work out first thing in the morning, because it helps her make better food choices during the day.
Vicky credits her 7 Day Slim DVD, which you can buy from Amazon, with her initial weight loss
'I get up and train straight away. It puts me in a good mood and it's much easier to make the right food decisions when you've put your body through something, rather than hitting the snooze button', Vicky said.
Mix it up
Even though Vicky kick-started her weight loss using a fitness DVD, she now likes to mix it up at the gym.
Talking about her fitness routine, the Loose Women panellist said she likes to do a mixture of boxing, spinning and HIIT training, to make sure her body is not getting used to a routine.
Keep up the good work
Even though losing the weight took motivation and effort, the real struggle came when Vicky had to keep it off.
She told Heat magazine that when she left the jungle in 2015, she was just over nine stone, but by the end of the year she had gained two stone.
'The real difficulty started when I went back to normal and real life got in the way. I saw the weight creeping back on and panicked', she said.
'I came out of the jungle a lean, mean Queen, I was just over 9st. But then I was sucked into a life of daytime TV, night-time panel shows, evening events, late restaurant dates and very little sleep with a lot of drink. I ended up being over 11st by the end of the year.'
It's important that you also have a plan for when you've lost the weight, so you can enjoy a balanced and healthy life without letting the pounds pile back on.
Will you be trying any of Vicky's tips? Let us know in the comments!
Anna Bailey is the editor of GoodTo. She joined the team in June 2018 but has been a lifestyle writer and online editor for more than 14 years. Anna graduated from Bournemouth University in 2004 with a degree in Multimedia Journalism and went on to gain her NCTJ and NCE journalism qualifications. She began her career in local journalism, working as a reporter for the Basingstoke Gazette in Hampshire. As Lifestyle Editor for ITV.com she managed the websites for the broadcaster's best-loved shows including This Morning, Loose Women, Coronation Street, Emmerdale, Coleen's Real Women, and Britain's Best Dish. Before joining Goodto.com she was also a Features Editor at MSN UK and Digital Lifestyle Editor for the broadcaster UKTV. She's also contributed to The Mirror, The Sun, LoveFood, LoveExploring, and TBSeen.