Can I get my second Covid vaccine early? What the experts say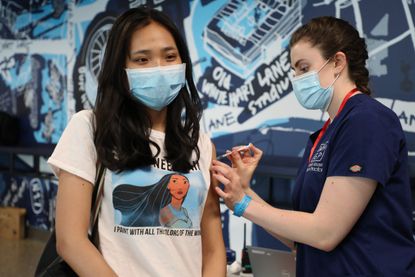 (Image credit: Tottenham Hotspur FC via Getty I)
Can I get my second Covid vaccine early? It's the question many are asking this week as more people become eligible for the jab.
Throughout the pandemic, both the government and health officials have stressed the importance of a double Pfizer (opens in new tab), Moderna or Oxford vaccine (opens in new tab) dosage. As well as helping to encourage herd immunity and cut transmission, all evidence points to a double vaccination as the best way to avoid serious illness and death. Data from this year shows that a double jab can reduce the risk of death by up to 80% in those over 80-years old (opens in new tab).
It's more important than ever before, some experts say, as the government have now scrapped restrictions in England. This includes the requirement to wear a face covering, despite not all o the population actually being double jabbed yet.
Can I get my second Covid vaccine early?
Unfortunately, advice (opens in new tab) from NHS England and Joint Committee on Vaccination and Immunisation (JCVI) says that second doses of the vaccine have to be at least eight weeks after the first.
Studies show that shorter intervals between doses offer a high level of protection - but "eight weeks is the sweet spot". Having the second dose earlier than this could even result in less protection from the vaccine.
Oxford University's Pitch study (opens in new tab) compared the immune responses of 503 NHS staff who had had their two doses at different intervals in late 2020 and early 2021. This was when the Alpha variant was the dominant one in the UK.
After one month and their second vaccine dose, they measured the staff members' antibodies. Researchers found that both short and long dosing intervals of the Pfizer vaccine created a strong immune response overall. However, they discovered that a three week wait between doses created fewer of the antibodies that bind the virus and stop it infecting cells than a 10 week wait.
Those who had the vaccine with less time between doses still developed high levels of T-cells, which are a different type of immune cell. Those with a longer amount of time between doses had fewer T-cells but a higher amount of "helper T-cells". These support overall immune memory according to the researchers.
Prof Susanna Dunachie, the joint chief investigator in the study, said that given the UK's current situation, "Eight weeks is about the sweet spot...because people do want to get the two vaccine [doses] and there is a lot of Delta out there right now."
"Unfortunately, I can't see this virus disappearing. So you want to balance that against getting the best protection that you can," she added.
Professor Anthony Harnden is the deputy chair of the Joint Committee on Vaccination and Immunisation (JCVI). He told The i paper (opens in new tab) that people receiving their second doses may have "less protection against infections in a potential fourth wave". And if you have the second jab early, "you're definitely less protected against asymptomatic (opens in new tab) disease if you have a shorter dose interval".
Another study published in May 2021 by the University of Birmingham found that older people (80 to 99 years old) who waited longer between doses (12 weeks) had an antibody response 3.5 times greater than those who only waited three weeks between doses.
The research project was the very first one to compare the effect of short and longer waiting times between doses.
"Our study demonstrates that peak antibody responses after the second Pfizer vaccine are markedly enhanced in older people when this is delayed to 12 weeks," Helen Parry, author of the study, said.
A similar study published in June 2021 by Oxford University showed that a longer waiting time of 45 weeks between the first and second doses of the Oxford-Astrazeneca vaccine produced a better immune response as well.
The research on the vaccine also indicated that a third booster jab would continue to create antibodies against Covid-19.
Having the vaccine a few days early is fine if it avoids wastage, Professor Harnden said recently. However, shorter intervals between doses were "not in the person's best interest or in the population's best interest".
He added, "Our policy is eight weeks so they shouldn't be having [the second dose] early and if they're having it early to get off on their holidays, it's not a sensible idea really."
However, despite NHS guidance being clear on the subject, some people have managed to get their second vaccine early. With growing concerns over the transmissibility of the new Delta variant amid lockdown ending, some centres defied the rules and offered second vaccinations as early as 21 days after the first.
Over the government's "Grab a Jab" weekend in June, many pop-up vaccination sites offered early second doses. Evidence on social media also suggests that walk-in clinics in England were offering second jabs. Some were providing vaccines with a gap of only three weeks between the first and second doses.
An NHS England spokesperson has now confirmed that they are contacting vaccination centres to ensure this doesn't happen again. They said that "every site should vaccinate in line with JVCI guidance". This means that "second doses should take place eight weeks after the first".
Can I choose which Covid vaccine I get?
No, you cannot normally choose your Covid-19 vaccine.
When you book an appointment online, the NHS will only offer appointments for vaccines that you can have. If you're pregnant or under 40, then you will have the Pfizer or the Moderna vaccine. And following the approval of the Pfizer vaccine, if you're under 18, the service will only offer the Pfizer vaccine. The Oxford and Moderna jabs haven't been approved for this age group yet.
Will the government shorten the waiting time between jabs?
Getting the second Covid vaccine early could become a common practice, though. The government may halve the waiting time to four weeks anyway.
Number 10 officials have reportedly (opens in new tab) asked the JCVI to offer urgent advice on reducing the time between doses from eight weeks down to four, in order to speed up the administration of second doses. It comes amid a general rise in Covid-19 cases across the country, which has led to some politicians to consider a circuit breaker lockdown (opens in new tab).
If the government approves the decision, it will be younger people who primarily benefit. If they are eligible under strict criteria, 12 to 15 year olds can get the Covid vaccine (opens in new tab) in the UK and so can those aged 16 and 17 years old, following changes to the guidance.
Most of those aged 40 and over have now been offered both doses of the vaccine. So as well as providing better immunity for those who could be at risk of illness and conditions such as long Covid, it opens up the idea of quarantine-free international travel for more people.
According to an ONS report (opens in new tab), 62% of adults between 16 to 29 years old were looking forwards to booking a holiday abroad when the legal restrictions ended. Currently, anyone going abroad to a country that isn't on the green list has to quarantine if they are not able to prove a double vaccination (opens in new tab).
Those who can prove that they have had both doses of the vaccine will be able to travel to country on the amber list without having to quarantine on their return to the UK.
The government has also urged many venues to consider using the NHS Covid Pass scheme as a condition for entry. If they do, only those who have had both doses (or proof of a negative test instead) can enter.
How long should you wait between vaccines?
The JCVI and other medical experts recommend that you wait 8 weeks between your first and second doses.
As Professor Anthony Harnden has said, "There is very good immunological and vaccine effectiveness evidence that the longer you leave that second dose the better for Pfizer and eight weeks seems to be a reasonable compromise."
At the start of the vaccine roll-out, health officials said a 12 week gap between doses is ideal for maximum protection. However, Deputy Chief Medical Officer, Professor Jonathan Van-Tam, explained that the changing nature of the new Delta variant (opens in new tab) led to the government decreasing the gap from 12 weeks to 8 weeks.
"In the absence of any growing variant, the UK would have stuck to its plans to vaccinate with a 12-week interval."
"However, we now know that two doses of the vaccine are very much better than one dose for protection against infection with the Delta variant," he said. "We now find ourselves in a straight race between finishing the vaccination programme and how quickly the Delta variant will continue to grow."
He added, "That is why JCVI has now shortened the dosing interval back to 8 weeks as a response to an ever-changing situation."
Those eligible for a third vaccine must book a Covid booster jab (opens in new tab) a minimum of six months after their second dose.
How to find a walk in centre
There are walk in centres around the country where you can get your second dose. You can go to one of these even if you have an appointment booked in the future.
Go to the NHS website (opens in new tab) and type in your postcode. This will give you a drop-down selection of sites where you can get your first or second doses.
Some sites are only vaccinating with one type of jab (Pfizer, Oxford or Moderna). So, you'll have to go to a different one to get the second dose of the jab you had before. Others are only offering walk-in vaccinations to those in higher priority age groups, such as people over 40.
Advice from NHS reads, "If you live in England and are aged 18 or over, you can get a COVID-19 vaccine from a walk-in COVID-19 vaccination site without an appointment.
"You do not need to be registered with a GP or bring any ID. It might help to bring your NHS number, if you know it.
"If you've already had your 1st dose, you need to wait 8 weeks before having your 2nd dose."
Can I mix and match my covid vaccine?
The government have not made a final decision as to whether people can mix and match Covid jabs. You must have the same vaccine for both, unless you had a serious allergic reaction to the first jab.
The effect of mixing Covid-19 vaccine is still being explored.
Mixing and matching Covid jabs means having different vaccines for your first and second dose. This might be a Pfizer vaccine for your first dose. Then, eight weeks later, a shot of the Oxford-Astrazeneca vaccine for your second dose.
At the moment, there are several ongoing studies looking into the impact of mixing and matching Covid-19 vaccines. Data has been released from trials in Spain (opens in new tab) and at Oxford University (opens in new tab) in the UK. Both suggest that mixing vaccines leads to a good immune response. Occasionally, mixing the vaccines produced a higher immune response than two does of the same jab as well.
A German study (opens in new tab) found that mixing jabs produced a better immune response than two doses of the Oxford-Astrazeneca vaccine. They also found that mixing vaccines was just as good as having two shots of the Pfizer vaccine.
Many countries are already mixing vaccines, due to unstable supplies of one type in many cases. These include:
Thailand
The United Arab Emirates
South Korea
Italy
Canada
Bhutan
Bahrain
Public Health England quietly approved the method in January when there were questions over supplies in the UK. This could be an option in the future, especially for those eligible for a third jab.
Over in the States, the Centers for Disease Control and Prevention allowed (opens in new tab) mixing "in exceptional circumstances".
However, experts say there isn't enough clinical data to confirm mixing the vaccines is completely effective. Both the Spanish and English studies suggest that side effects from the vaccine are more severe when mixing jabs too.
The World Health Organisation (WHO)'s chief scientist Soumya Swaminathan also confirmed that people should wait for more information before going ahead and mixing vaccines.
She said, "Individuals should not decide for themselves, public health agencies can, based on available data. Data from mix and match studies are awaited - immunogenicity and safety both need to be evaluated".
So for now, it looks as though mixing and matching vaccines is not an option in the UK.
Will there be a third dose?
The government is currently creating the vaccine programme for "booster" third doses. These will be available to those particularly at risk from Covid-19 at the moment. This includes those in more vulnerable age groups and those who are more likely to be affected by the virus (opens in new tab).
There are no plans to offer a third dose to anyone who had their second jab early, though. Responding to the question on BBC's Andrew Marr Show, Professor Harnden said that the programme is "designed to prevent hospitalisations and deaths."
Therefore, he added, "targeting boosters with the most vulnerable first is clearly the right strategy."
Grace Walsh is a Features Writer for Goodto.com, covering breaking news health stories during the Covid-19 pandemic as well as lifestyle and entertainment topics. She has worked in media since graduating from the University of Warwick in 2019 with a degree in Classical Civilisation and a year spent abroad in Italy. It was here that Grace caught the bug for journalism, after becoming involved in the university's student newspaper and radio station.