Who can get the Covid booster - and can you get the vaccine if you have a cold?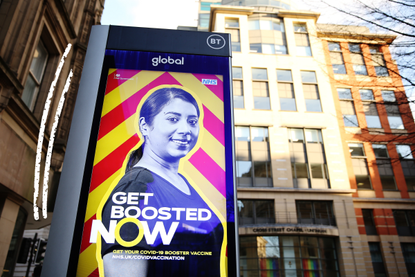 Following a change in the guidance, the number of people who can get the Covid booster jab has dramatically increased again.
While initially only available to those over 50-years-old, a decision to widen the booster programme was made following data which showed that two doses of the Pfizer (opens in new tab), Oxford or Moderna vaccine were not enough to stop people becoming unwell. The study, published by the UK Health Security Agency (opens in new tab), suggests that a booster is necessary to maintain protection against the virus, preventing 3 in 4 people from developing any symptoms.
Anyone over the age of 18 became eligible for a jab late last year, after the emergence of new Omicron symptoms (opens in new tab), but now another age group is being invited to have their booster jabs.
Who can get the Covid booster jab?
Those eligible for a third dose of the vaccine are:
All adults (those over 18) living in the UK
All teenagers aged between 16 and 17 years old
Those between 16 and 17 can book their booster jabs or go to a walk-in site from Monday January 17, NHS England has said. The NHS will send an invite to around 40,000 teens who had their second vaccine dose at least three months ago.
Appointments have been available for this younger age group since August last year but the Joint Committee on Vaccination and Immunisation (JCVI) only recommended that 16 and 17-year-olds who were clinically vulnerable have the vaccine at this time. Now, it's open to anyone aged 16 or over.
However, the wait time between the second and third dose of the jab remains at three months.
Children aged between 12 and 15 can also now have a second dose of the vaccine, with the NHS also making appointments now. While anyone who is immunosuppressed can have a fourth jab as well as the booster.
Anyone eligible for a booster jab will have either the Pfizer vaccine or a half-dose of the Moderna vaccine.
Deputy Chief Medical Officer Professor Jonathan Van Tam urged people to take up their booster jab in December. Following the arrival of the new variant, he said it "has never been more vital than at this point in time."
"We are asking everyone to play their part in the urgency now of the booster programme."
The urgency came as data from the UK Health Security Agency (opens in new tab) found that two weeks after receiving a booster dose of the vaccine, protection against symptomatic infections in adults 50 years and over who had the Oxford vaccine was at 93.1%. For those who had the Pfizer vaccine, protection levels were a little higher at 94%.
Professor Van Tam also reassured the public that the situation wasn't all "doom and gloom" quite yet. "I want to be clear that this is not all doom and gloom at this stage. I do not want people to panic at this stage," he said.
"If vaccine effectiveness is reduced as seems pretty likely to some extent, the biggest effects are likely to be in preventing infections. And hopefully there will be smaller effects on preventing severe disease.
"But that is something that is there for scientists to work out in the next few weeks."
Health Secretary Sajid Javid also confirmed that the country was not going back into lockdown this year (opens in new tab) - at least for the moment as the government was enabling Plan A restrictions. This means that face masks are no longer compulsory (opens in new tab) in many public indoor spaces and the work from home rule has ended (opens in new tab).
Can I have the booster vaccine with a cold?
If you have a cold, you should not go to your vaccine appointment. According to guidance from the UK Health Security Agency (opens in new tab), it's better to wait and have your vaccine at a later date if you feel unwell before your appointment.
But if you just have a mild cold, and have a negative Covid-19 test, you should go to your vaccine appointment.
If you do test positive for Covid-19, you have to wait four weeks (28 days) before getting your booster jab. This time starts from the day you had symptoms or the day of the positive test if you were asymptomatic.
It is vital that you rebook the jab after your recovery time as although there is evidence that having the virus can boost immunity, the extent of this is not fully understood (opens in new tab).
Following updated guidance from the UKHSA, the self isolation rules have changed (opens in new tab) for England. Now, those who test negative on day five and six don't have to quarantine for the full 10-day period.
Which vaccine will they use?
Most people will have the Pfizer vaccine or the Moderna vaccine, the NHS says.
Some people might have a booster dose from the Oxford vaccine. However, this will only be in cases where they cannot have the other two jabs.
If the booster dose is a different vaccine from the first and second one, that's completely normal.
How long will it take for the booster to be effective?
It takes one to two weeks for the booster jab to be effective, according to recent studies.
A new trial by Pfizer (opens in new tab) found that from seven days onwards, a booster Pfizer jab is very effective at preventing symptomatic illness from Covid-19.
Another study, the first real-world research (opens in new tab) on the booster, looked at the Pfizer vaccine as well. They found that those who had the Pfizer booster were 10 times less likely to be infectious with the virus. And they were also nearly 18 times less likely to suffer with a severe infection.
They only began to measure protection levels against illness from two weeks after the booster. But, they found that protection levels were at a great level after this inoculation period.
Experts have also backed up the two-week theory. Dr Dan Barouch is the director of the Center for Virology and Vaccine Research at Beth Israel Deaconess Medical Center (opens in new tab). He told ABC News that the body begins to increase its antibodies against the virus within a few days. However, the best response happens after a fortnight.
He said, "There is a meaningful increase in antibody titers by one week. And peak responses at two weeks following mRNA boosting."
This is one of the reasons why health officials have continued to urge people to test for Covid-19. While lateral flow tests can be false positive or negative (opens in new tab), this is not very likely according to new data. So, the government has urged those without symptoms to use the LFT for testing over the festive season.
There haven't been any trials of a similar scale looking at the Moderna vaccine. This is the other jab in the UK's booster programme. However, we know that the vaccines work in similar ways so the results are likely to be comparable.
Grace Walsh is a Features Writer for Goodto.com, covering breaking news health stories during the Covid-19 pandemic as well as lifestyle and entertainment topics. She has worked in media since graduating from the University of Warwick in 2019 with a degree in Classical Civilisation and a year spent abroad in Italy. It was here that Grace caught the bug for journalism, after becoming involved in the university's student newspaper and radio station.