How old is Kylie Minogue and does she have kids?
How old is Kylie Minogue and does she have kids? Here's what we know about the Australian pop icon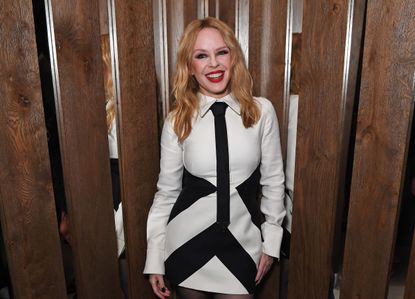 (Image credit: Photo by Dave Benett/Getty Images for Perfect X Valentino)
There aren't many people who have achieved world domination like Kylie Minogue.
Appearing on our screens back in the 80s as Charlene Robinson on the iconic Australian soap, Neighbours, the actress established herself as a singer with breakout single Locomotion that topped global music charts, so if, like us, you just can't get her out of your head, you may be wondering how old is Kylie Minogue and does she have kids?
As glowing reviews are streaming in for the pop star's latest album Tension – with some fans claiming it's her best yet – here are the details we know.
How old is Kylie Minogue?
Kylie Minogue is 55-years-old. Embracing a big bunch of roses and wearing a floor-length red dress to match, the Australian singer posted on Instagram in May 2023 to express her gratitude for all the birthday wishes from friends and family, confessing that she felt, "overwhelmed, grateful and sending all the love you can imagine" with a string of heart emojis.
It felt only right, then, that her latest single Padam Padam reached number one on the Big Top 40 with messages of congratulations pouring in from friends and fans alike. Pixie Lott, Kim Petras and Denise Van Outen commented on the singer's post: "Too deserved" and "You are timeless". Now that's a birthday present to remember!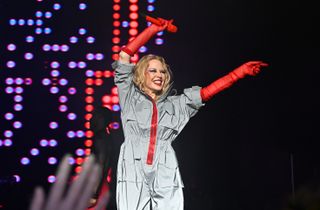 Does Kylie Minogue have kids?
Sadly, Kylie was diagnosed with breast cancer in 2004 and has revealed that this prevented her from having children.
In an interview with Hello! Magazine in 2019, she said: "I was 36 when I had my diagnosis. Realistically, you're getting to the late side of things."
Although having children wasn't part of her plan at that time, she said the diagnosis "changed everything" for her.
She added: "I don't want to dwell on it, obviously, but I wonder what that would have been like."
Who is Kylie Minogue's husband?
Kylie Minogue does not have a husband. She's split with former Creative Director for GQ Paul Solomans in early 2023 after five years together.
The two met through mutual friends in 2018 but were forced apart due to the pandemic with Kylie staying Down Under and Paul residing in London.
Fans really thought she'd found 'the one' even though she admitted they were "making it up as they go", on Australian radio programme The Kyle and Jackie O Show.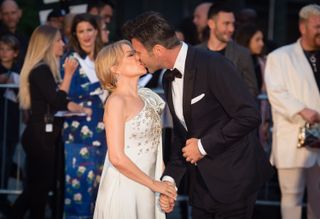 Talking about how they met, she told You magazine: "One day, we went to the bar and my friend said, 'Right, I'm calling him now'."
"Two minutes later, Paul was on his way. I wasn't looking glamorous; I was in a T-shirt and denims. He came and we talked, drank wine, laughed and got on.
"What I wanted was a good guy and he was a good guy. We swapped numbers; went on a date and that was it."
It's thought that the long distance forced the couple to call it quits, but we're yet to see an official statement from either of them.
The hit Aussie dating show Married at First Sight has kicked off the latest series in the UK – find out where you can catch up here. Keeping things Down Under, friend of Kylie's, Jason Donovan, has opened up about his daughter joining the Neighbours cast – and this is what he really thinks.
Parenting advice, hot topics, best buys and family finance tips delivered straight to your inbox.
Daniella is a qualified journalist specialising in fitness, nutrition and women's health. She has written for a number of consumer titles including Health & Wellbeing, Stylist, Women's Health UK, and Fit & Well.
With four years' experience in the wellness space, Daniella has tried and tested the best fitness kit on the market worth buying and has a keen eye for up and coming brands to look out for. She's also interviewed celebrities and co-produced a wellbeing podcast.