25 of the best Christmas movies on Disney+ in 2022
There's something for all the family with new releases and festive classics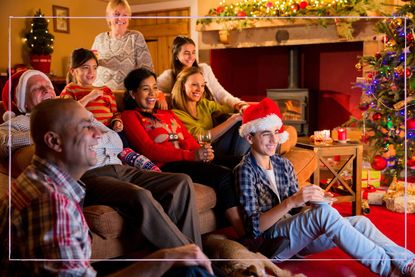 (Image credit: Getty Images)
Looking for the best Christmas movies on Disney+ this year? Disney have some great festive films for you to stream, so there's plenty for you and the family to enjoy.
It's just not winter without the Christmas traditions (opens in new tab) of cosy festive films, and there's plenty of great offerings across the streaming services this season, from Christmas movies on Netflix (opens in new tab), Amazon Prime and, of course, Disney Plus.
We've rounded up our favourite options from the latter, so with plenty of fun, family movies at your finger tips, is tip to pop on your Christmas pyjamas (opens in new tab) and snuggle up on the sofa to enjoy the best Christmas movies on Disney+.
The best Christmas movies on Disney+ in 2022
1. Miracle on 34th Street
Six-year-old Susan Walker is skeptical of the Christmas myth surrounding Santa, after her mother, Dorey, told her the "secret" about Santa many years ago. When tasked with hiring the Santa who will pose with kids at Macy's, Dorey enlists a man with the curious name of Kris Kringle, who claims to be Santa himself. A young lawyer, along with Susan and Dorey, come to his defence when his claims are scoffed at, giving Susan the most precious gift of all - something to believe in.
2. While You Were Sleeping
Lonely subway worker Lucy pulls saves the life of Peter, a man she's had long crush on, from the path of an oncoming train. At the hospital, doctors report that he's in a coma, and a misplaced comment from Lucy causes Peter's family to assume that she is his fiancée. When Lucy doesn't correct them, they take her into their home, and things get even more complicated when she finds herself falling for Peter's sheepish brother, Jack.
3. Ice Age: A Mammoth Christmas
When Sid accidentally ruins one of Manny's Christmas traditions, he's told that he will now be on Santa's naughty list. Sid heads to the North Pole with Crash, Eddie and Peaches in tow to plead his case directly to Santa Claus himself.
4. Ernest Saves Christmas
When Santa Claus decides to retire he gets into unexpected trouble when travelling to Florida to pass on the mantle. It's up to Ernest, a hapless taxi driver, along with teenage girl Harmony, to assist Saint Nick with his important mission, or the future of Christmas could be in jeopardy.
5. The Nightmare Before Christmas
Jack Skellington, Halloweentown's Pumpkin King, has become bored with the same annual routine of frightening people in the real world. When he accidentally stumbles on Christmastown, he plots to bring Christmas under his control by kidnapping Santa Claus and taking over the role.
6. Prep and Landing
After working for 227 years preparing homes for Santa's arrival, elf Wayne wonders if all his efforts actually make any difference. His patience is put to the test when he is paired with Lanny, an idealistic rookie who embraces the holiday spirit. The elves encounter unexpected challenges on their mission, and Wayne learns that his job does indeed have impact in a very surprising way.
7. The Ultimate Christmas Present
After their plan to make it snow in Los Angeles goes awry, two youngsters join forces with Santa Claus to set things right.
8. Lego Star Wars Holiday Special
Rey leaves her friends to prepare for Life Day as she sets off on an adventure to gain a deeper knowledge of the Force. At a mysterious temple, she is hurled into a cross-timeline adventure. Will she make it back in time for Life Day?
9. Once Upon A Snowman
Based on the hit film Frozen, snowman Olaf takes his first steps as he comes to life and searches for his identity in the snowy mountains outside Arendelle, in the previously untold origin story of the innocent and insightful, summer-loving snowman.
10. Noelle
Santa's daughter must take over the family business when her father retires and her brother, who is supposed to inherit the Santa role, doesn't return from the break Noelle suggests after he gets cold feet.
11. Godmothered
A young and unskilled fairy godmother discovers a letter from a 10-year-old girl named Mackenzie Walsh and decides to help her, venturing out on her own to prove her worth by tracking down the young girl whose request for help was ignored.
12. High School Musical: The Musical: The Holiday Special
The students from the school where the High School Musical films were shot stage a musical production based on the franchise in which they perform their favorite Christmas, Hanukkah and New Year's songs and share anecdotes from their memorable holidays, best – and most embarrassing!
13. On Pointe
To pursue their dreams, these dancers will have to rise above the barre. Follow the real-life stories of students from the School of American Ballet in this Disney+ Original Documentary Series.
14. Olaf's Frozen Adventure
Another Frozen spin-off, Olaf's Frozen Adventure sees the kingdom of Arendelle empty out for the holiday season - leading Anna and Elsa to realise they have no family traditions of their own. Olaf sets out on a merry mission to bring home the very best traditions and save Christmas.
15. The Nutcracker and the Four Realms
All Clara wants is a key, a one-of-a-kind key that will unlock a box that holds a priceless gift from her late mother. A golden thread, presented to her at godfather Drosselmeyer's annual holiday party, leads her to the coveted key which promptly disappears into a strange and mysterious parallel world.
16. Home Alone
We're sure you already know the story of the eight-year-old troublemaker who must protect his house from a pair of burglars when he is accidentally left home alone by his family during Christmas vacation. And if you can't get enough of this Christmas classic, Home Alone 2, 3, 4, and Home Sweet Home Alone are all also available on Disney+.
17. The Santa Clause
When a man inadvertently makes Santa fall off of his roof on Christmas Eve, he finds himself magically recruited to take his place. Fans of the original films will also love the new 2022 series The Santa Clauses (opens in new tab), and you can watch The Santa Clause 2 and 3 on Disney+ too.
18. The Muppet Christmas Carol
A true Christmas classic, the Muppet characters tell their version of Charles Dickens' tale of an old and bitter miser's redemption on Christmas Eve, with Kermit the Frog, Miss Piggy, Gonzo, Fozzie Bear and Sam the Eagle all making appearances.
19. Mickey's Once Upon a Christmas
Mickey and his friends star in 3 heartwarming stories of Christmas past, featuring Donald, Goofy and Mickey Mouse himself. Check out Mickey's Twice Upon a Christmas too, which sees Mickey and all his Disney pals star in an original movie about the importance of opening your heart to the true spirit of Christmas. While stubborn old Donald tries in vain to resist the joys of the season, and Mickey and Pluto learn a great lesson about the power of friendship.
20. Disney's A Christmas Carol
An animated retelling of Charles Dickens' classic novel about a Victorian-era miser taken on a journey of self-redemption, courtesy of several mysterious Christmas apparitions. Starring Jim Carrey, Gary Oldman and Colin Firth.
21. Winnie The Pooh: A Very Merry Pooh Year
Ring in the season with Winnie The Pooh in a holiday adventure, which sees the beloved bear celebrate the festive season alongside Piglet, Tigger, Eeyore, Roo, Rabbit and the rest of the familiar Winnie the Pooh characters.
22. Beauty and the Beast: The Enchanted Christmas
Astonished to find the Beast has a deep-seeded hatred for the Christmas season, Belle endeavours to change his mind on the matter. Meanwhile, the castle's pipe organ becomes opposed to Belle's holiday decorating, and schemes to put an end to both her relationship with Beast and the Christmas festivities.
23. The Search for Santa Paws
Santa Claus and his faithful canine companion Santa Paws leave their chilly home at the North Pole on an important mission. They must try to persuade the heir of one of their greatest benefactors, toy store owner Mr Hucklebuckle, to continue with his grandfather's good works. You can also watch The Search for Santa Paws 2 and Santa Buddies: The Legend of Santa Paws on Disney+ too.
24. One Magic Christmas
A mother struggles to embrace the true meaning of Christmas. But when her daughter goes to deliver a letter to Santa she meets an angel who's intent on saving Christmas from her mother's bad attitude by teaching her the holiday isn't just about presents and materialistic things, but the people she cares about.
25. I'll Be Home For Christmas
A college student faces an impossible journey when he is left stranded in the desert, thousands of miles from home, with no money and only a few days left until Christmas.
---
Video of the Week
Ellie joined Goodto as a Junior Features Writer in 2022 after finishing her Master's in Magazine Journalism at Nottingham Trent University. Previously, she completed successful work experience placements with BBC Good Food, The Big Issue and the Nottingham Post, and freelanced as an arts and entertainment writer alongside her studies. In 2021, Ellie graduated from Cardiff University with a first-class degree in Journalism.