Who is still together from Married At First Sight Australia 2022? Season 9 couples revealed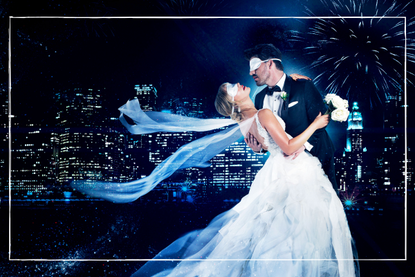 Everyone's talking about Married At First Sight Australia and whether couples like Domenica and Jack and Olivia and Jackson are still together. We've done some social media snooping to give you an idea.
Shouting matches, smashed wine glasses, a nude photo leak - and that's just from the dinner parties. The down under version of Married at First Sight UK (opens in new tab)has plenty of drama to keep viewers entertained. And it's safe to say that UK audiences have become quite taken with season 9's set-up couples. Whether it's the hideously attractive Ella and Mitch, the fiery Tamara and Brent or the surprise pairing of Carolina and Daniel.
Similar to Netflix's popular Love is Blind season 2 (opens in new tab), many want to know who is still together from this year's Married At First Sight Australia. In addition to whether the marriages are legally binding (opens in new tab). And we've finally been able to confirm the contestants' current relationship statuses.
Married at First Sight Australia: Who is still together from season 9?
1. Olivia and Jackson
Did they say I Do? Yes | Are they still together? Definitely!
Yes, we can confirm that Olivia Fraser (opens in new tab) and Jackson Lonie (opens in new tab) have gone the distance and are still together from Married At First Sight Australia. Fans were taken by the two's strong connection that began pretty much as soon as they first locked eyes on each other on their wedding day. Yet whilst these two have arguably been the most solid of the experiment, there have been times when their commitment has been questioned. Though Jackson did prove to have Olivia's back in a few situations when his bride's behaviour was called out by other members of the show.
During the reunion episode, the loved-up pair confirmed that the pair are now also living together. The Daily Mail (opens in new tab) exclusively reported in February that Melbourne-born Jackson has in fact moved to Sydney and is living with the 27-year-old in the beachside town of Avoca. "Jackson is in awe of Olivia," a source told the publication. "She is honest and will say exactly what she is thinking and he just totally loves that."
The 30-year-old groom also inadvertantly confirmed their together status in an interview with Now To Love (opens in new tab). When asked about his gym habit - which proved to be a source of contention between the two on the show - Jackson replied: "To this day I go to the gym and she's cool with it."
The controversial bride has also credited her husband Jackson with having helped her with negative public perception following the show. The 27-year-old lost her teaching assistant job and was the subject of an online petition (opens in new tab) for her involvement with the leaked nude photo.
"I'm a shell of a person, honestly" she told 2Day's Hughesy, Ed & Erin. "Thank God for Jackson, as I would not have survived this without him, and my mum and brother. It's been hell."
2. Domenica and Jack
Did they say I Do? Yes | Are they still together? No
It's safe to say that Domenica Calarco (opens in new tab) and Jack Millar (opens in new tab) seemed pretty smitten from day one with each other. Bride Dom even went so far as to call Jack "perfect" as they bonded over their love of dogs, vegetarianism and Italian family heritage instantly.
They encountered a few bumps along the way though. Most notably THAT leaked nude photo scandal which came to light at one group dinner party. Though Jack admirably defended his wife - even when the two were on less than great terms.
Sadly the reunion revealed that the two were no longer together. And it was one coupling that fans were particularly sad about as the pair still showed strong signs of chemistry. Dom even admitted that she was "sad" seeing Jack that night and them not being together. A quick scroll on their Instagram accounts show that Dom and Jack have not rekindled - but they've been hanging out with other cast members together - proving that they are two friendly exes at least.
3. Ella and Mitch
Did they say I Do? Yes | Are they still together? No
On-off-on-off. Ella May Ding (opens in new tab) and Mitch Naud (opens in new tab)'s relationship was a real rollercoaster ride on the show. And just when we thought they'd finally decided to stay together once and for all - post-experiment insights speak otherwise.
According to Ella, Mitch "cut her off" around two months ago. "I haven't seen Mitchell since the reunion," she told radio Nova's Fitzy & Wippa. Though it wasn't "straightaway" she said things started to "fizzle out" when "articles hit the media".
She elaborated on The Handbags podcast, that it was an article showing photos of her and fellow groom Brent (opens in new tab) hanging out at the beach that proved to be the final nail in the coffin.
"The article came out of Brent and I at the beach. Mitchell was waiting for one little thing for me to do wrong for him to just tap out," Ella said. "As soon as they came out, he showed a really ugly side".
Ella has since clarified that friend and fellow bride Domenica was with Brent and Ella that day. And nothing romantic occured. Nonetheless Mitch went on to block her "on every platform".
Ella recently welcomed in her 28th birthday with some of her MAFS friends - though Mitch was notably not present in pictures. Meanwhile Mitch has uploaded a number of solo photos to his Instagram, possibly hinting at his new single status.
4. Tamara and Brent
Did they say I Do? Yes | Are they still together? Absolutely not!
Opinionated bride Tamara Djordjevic (opens in new tab) certainly put husband Brent Leon (opens in new tab) through his paces on Married At First Sight Australia. And things ultimately looked like they fell apart between the two during the final romantic date before their renewed vows.
Asked if she had any regrets whilst appearing on the show, Tamara quipped: "Probably this whole experiment. From start to finish". It went from bad to worse from here when Brent said that his wife was "always moody". To which she replied: "If you don't want to be somewhere with someone, of course you are going to get p**sed off." Unsurprisingly Brett disembarked the yacht after this admission telling her "I think I'm done, mate."
Any hopes of a reconciliation between the two looked unlikely when the two arrived separately during the reunion filming. And further hopes were dashed when it came to light that bride Tamara had tried to hook up with another groom...
During the final dinner party, a jilted Brent revealed to the group: "Tamara, you tried to pick up Mitch when we got out of the experiment and he rejected you! We saw the call logs and we saw the messages!"
Off-screen Ella also confirmed that Tamara had tried to come between her and Mitch.
"She did a few things in the experiment that didn't make it to air," Ella shared. "One example, at the retreat it was the final dinner get together and you know, we were all having a drink and stuff and by the end of the evening she's like, 'Ella and Mitch you guys haven't had any drama this whole retreat... What about if I said that Mitchell grabbed my a** in the pool today when you weren't around'."
Tamara denies ever going after Mitch - and it appears the blonde bride is still single in real life. As for Brent, well he was recently spotted returning to work (opens in new tab) as bar manager at Sydney hotspot Sinaloa.
5. Cody and Selina
Did they say I Do? Yes | Are they still together? No
For Cody Bromley (opens in new tab), it wasn't instant love - or attraction - with bride Selina Chhaur (opens in new tab). And it proved to be quite the hurdle in the couple's first few weeks together, as Selina struggled to come to terms with his confession. But never-the-less intimacy week proved to bring a breakthrough for these two, and by the 7th day the pair happily shared that they had successfully consummated the marriage. Hurrah!
Whilst the rest of their journeys did involve some additional ups and downs - *cough Cody and his untidy dwellings cough*. The two seemed to be really solid by the end of the experiment. But sadly there's no happy ever after to report...
Cody and Selina put on a united front at the reunion dinner party. However groom Cody was the one to call it quits just hours after the cameras stopped rolling.
"I'm gonna call it," he told Selina in the car ride back to the hotel. The words came as a shock to Selina who said that the two had been discussing living together. She told Yahoo: "I was a little bit rattled, like, 'Wait, what's going on? What did you just say? What do you mean you're calling it? Calling what?'And he's like, 'Yeah, I've decided we're just going to break up.'"
Cody confirmed his decision to the experts on the couch, adding that he felt the relationship felt 'forced' and he wanted to end it. In a Instagram post later, he wrote: "The path we walked wasn't an easy one but it was our story and all I'll ever wish for her is happiness."
Selina similarly confirmed her single status in an Instagram post and reflected on her journey. "Although I didn't find my soulmate I ended up finding the greatest love of all which is Self Love. This #MAFS journey has been an incredible one, to say the least, and I am so grateful for all the blessings and lessons I've learnt along the way."
6. Carolina and Dion
Did they say I Do? Yes | Are they still together? Absolutely not
Brazilian bride Carolina Schimidt (opens in new tab) certainly made her mark in season 9 of Married At First Sight Australia. And fans of the show will know that her and Dion Giannarelli (opens in new tab) did not make it as a married couple after she fell for another contestant. Eeek.
In a shock MAFS twist, the 33-year-old got cosy with co-star Daniel Holmes. And the two hit it off on a few secret behind-the-scenes dates. During a particularly awkward episode the two came out to their fellow contestants and asked if they could rejoin the experiment as a new match. But alas after a cast-wide walk out, the experts agreed that this wasn't to be.
Whilst they weren't matched together, Daniel and Carolina have defied the odds and are still together in real life. In a recent Instagram post, the mum-of-one shared that she "would do it all again".
As for Dion, he's also moved on since the show. Daily Mail Australia (opens in new tab) reports that the 34-year-old has renkindled his relationship with ex Nikki Walton. The two called it quits mere weeks before Dion's stint on the programme. And many accused the entrepreneur of having her as a 'secret girlfriend' whilst filming.
Dion denies this to be the case though. He told Yahoo in March: "No, that's definitely not the case at all. I was single when I entered the show and I was single when I signed up."
7. Jess and Daniel
Did they say I Do? Yes | Are they still together? Absolutely not
Unsurprisingly Jessica Seracino (opens in new tab) and Daniel Holmes (opens in new tab) are not still together from Married at First Sight Australia. With Jess losing her groom to fellow contestant Carolina.
Though the two were the last to say 'I Do' in the series, they were one of the quickest pairings to fall apart. At their first dinner party outing, Jess slammed the car door on her husband. And the rest of the night pretty much went downhill from there. Jess came to blows with fellow bride Domenica for calling Daniel a "little bitch". To which Dom replied that Jess was being 'petulant'.
At a later commitment ceremony they called it quits. Jess told the experts: "It clearly isn't working, and I'm not going to fake it and it's never going to work." The florist has been keeping a low-profile since the show, but the Daily Mail (opens in new tab) papped her out with a mystery man in March.
Reflecting on his brides and current relationship Daniel said that the energy with Carolina was "completely different to being around Jess".
"To me, Carolina's vibe is kind of warm. We have a bit of flirtatiousness towards each other, I like that," he said on the show. "There's just chemistry, I don't know." They were last spotted at Sydney airport sharing a kiss (opens in new tab) in early March - proving their relationship was still going strong.
8. Sam and Al
Did they say I Do? Yes | Are they still together? No
Bride Samantha Moitzi (opens in new tab) was looking for a rugged, older gentleman as her perfect partner in the experiment. Instead, the experts paired her with the young but loveable Al Perkins (opens in new tab). And it was their age difference and Sam's concerns around his maturity levels that was ultimately the nail in the coffin for these two.
A final make-or-break date led to the couple leaving the experiment at the following commitment ceremony. But it seems that the split is amicable and the two have remained friends.
Whilst he didn't get his happy ending, Al admitted to learning a lot through the process. He told 9Entertainment (opens in new tab): "After coming out of the experiment, I do feel confident that I will be a great husband one day."
"I've grown as a person in this experiment. I need to talk a lot more deep, I've got to be not so surface level," he added. "I've got to compromise as well, that's a big thing. That's something that Sam and I did have a few problems on."
9. Selin and Anthony
Did they say I Do? Yes | Are they still together? Absolutely not
With such a strong start at the aisle and throughout their wedding day, fans were hopeful these two would make it. But things started to crumble on the honeymoon after a few disagreements. Anthony Cincotta (opens in new tab) accused Selin Mengu (opens in new tab) of bullying behaviour, emasculating him and his vulnerability by calling him "Princess" and asking if he needed a "boo hoo". This was followed by the first dinner party, where a solo Selin gained the girls support for having being 'left' by Anthony on their honeymoon. And let's just say a few co-stars - Tamara and Domenica - weren't afraid to get vocal with Anthony.
Despite the tense situation, the two layter apologised to one another. And they decided to stay and work on the relationship at the first commitment ceremony. During intimacy week the two grew close again, with Anthony even moving back in with his bride. But sadly it was antics at another dinner party which proved to be the last straw.
Both voiced their frustrations on the sofa, with expert John Aitken agreeing their outburst at the dinner was "heated" and "full on". Anthony revealed he wanted to leave, as did Selin who said: "Honestly, I don't know what else I can say. I wrote 'I'm done'."
10. Holly and Andrew
Did they say I Do? Yes | Are they still together? Absolutely not
Holly Greenstein (opens in new tab) and Andrew's union was the first to come to an end on Married At First Sight Australia. And so ugly was the parting that motivational speaker Andrew decided against returning to the sofa to let his bride know he was leaving.
Things turned sour on the honeymoon when Andrew said that he wasn't feeling the intimacy and connection with Holly in the bedroom. In one brutal blow he told her he had experienced more passion with a one night stand than with his new wife between the sheets. Ouch.
Hurt but willing to overlook his comments for the sake of the relationship, Holly gave Andrew another shot. But it was during confessions week when Holly shared her desires to have children ASAP that Andrew realised it wasn't for him.
A blazing row followed. And at the dinner party, Andrew managed to persuade his fellow contestants that Holly was the one in the wrong. Which made for some uncomfortable viewing. A solo Holly at the next commitment ceremony shared how she was disappointed that the group didn't have her back and shared her side of the story. In a heartfelt letter she shared that Andrew "took her voice" and that she was now reclaiming it by leaving the experiment.
Safe to say the two haven't reconciled. And rather interestingly Holly's Instagram doesn't feature a single photo of Andrew or her together. But in good news, it seems Holly has found someone and is now happily dating. Good for her!
11. Matt and Kate
Did they say I Do? Yes | Are they still together? No
No sadly, Kate Laidlow (opens in new tab) and Matt Ridley (opens in new tab) are not still together from Married At First Sight Australia. The marriage was awkward with a capital A from the offset - with the two having very different tolerance levels when it came to being affectionate and intimate. And it's safe to say that Kate - whose never been in a relationship - felt it was moving too fast.
The blonde bride accused Matt of being delusional when he surpised her with perfume to to celebrate their "three-week anniversary". They struggled through another week but a rejected Matt hit the booze hard one night, which left Kate furious.
At the commitment ceremony, Kate and Matt both wrote to leave. Matt told the experts he was a "realist" who didn't see how the two could make it work.
Kate has since reflected on her journey on Instagram. "Despite not having the fairytale ending I hoped for I am still proud of myself for having the courage to take myself out of my comfort zone," she wrote. "It has been an experience of a lifetime that I will never forget."
She added that she also wishes ex-husband Matt "all the best" and hopes he finds his "perfect match" in the future.
Video of the Week: