Who is still together from Love is Blind season 2? After the Altar update
All the relationship updates post-After the Altar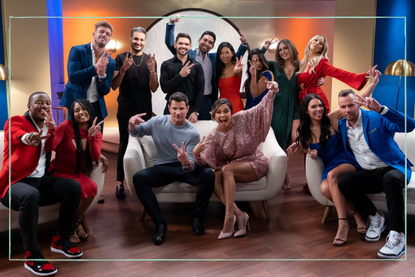 (Image credit: Future/Netflix)
Everyone's talking about Love is Blind season 2 and whether couples like Iyanna and Jarrette and Nick and Danielle are still together following After the Altar. We've done the detective work and shared the inside scoop.
Tears, heartbreak, relationship drama - there's a reason why the cast of the second series proved just as popular as the Love is Blind season 1 couples when it dropped last year. And now the season 4 cast has been revealed, we're just as invested as ever. So unsurprisingly, fans are keen to know how these happily ever afters pan out. Plus whether new couple Deepti and Kyle are together following a switch up in partners.
Sadly one or two didn't get the chance to say 'I Do' at the altar, but there were plenty who did. And we've been following their journey since the series, reunion special and recent After the Altar episodes to help give you an idea of their present relationship status.
READ MORE: Love is Blind is coming to the UK - here's how to apply
Love is Blind season 2: who is still together?
1. Iyanna McNeely and Jarrette Jones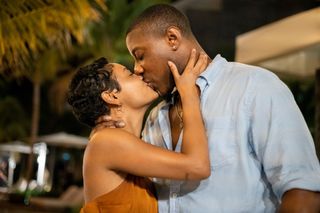 Did they say I Do? Yes| Are they still together? No
It's safe to say that Jarrette and Iyanna were a fan favourite from Love is Blind season 2. And many thought that these two were set for forever and beyond, especially after Jarrette confirmed during the reunion episode that he "wouldn't ride this rollercoaster with anyone else but this woman right here."
Viewers were therefore shocked when news of their split was announced in August 2022 with a joint Instagram statement from the pair. "After much thought, we're saddened to share that we have separated and will begin the process of divorcing," read the statement.
The arrival of After the Altar season 2 on Netflix has however given reasons as to why these two sadly didn't make it. With Jarrette's former bachelor lifestyle proving to be a source of contention between him and his bride.
Iyanna opened up to fellow cast-member Natalie about Jarrette not 'having the ability to say no' when it came to drinking and being on a night out. And how Jarrette would sometimes not arrive home until 7am, after partying with friends. This behaviour upset Iyanna - to the point where she moved out temporarily to her parents during the marriage.
In an interview on We are the Brand podcast, Jarrette gave his side of the story. He stated that the two had tried counselling since December 2021 and that he was working on himself. But he felt that Iyanna didn't allow enough time for him to make the lifestyle changes she wanted from him.
"I need somebody that's going to be honest with me. And I also need somebody that's going to grow and compromise," he said. "And somebody that's going to be patient… Change takes time. I have to train myself, i have to train my mind."
2. Nick Thompson and Danielle Ruhl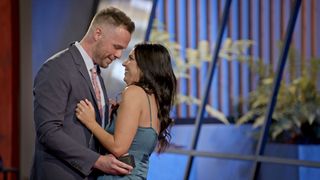 Did they say I Do? Yes | Are they still together? No
August 2022 signaled the end for another Love is Blind season 2 couple - Danielle and Nick. Whilst neither has publicly commented or shared details of their split, PEOPLE magazine reported that Danielle filed for divorce in mid-August.
The publication obtained court documents filed with the Cook County Circuit Court in Illinois. Danielle has also changed her name back from Ruhl to Thompson on Instagram.
Viewers might be struggling to get their heads around this split as the two seemed very happy together during recent episodes from After the Altar. And those that have been following their love story via social media will have seen snaps of the two with their fellow Love is Blind cast having fun at Lollapalozza at the beginning of August.
In July the two also threw a birthday party together for Nick's adorable pet pooch Mr Greyson. Danielle also shared a number of loved up shots from a couple's photoshoot in July too.
We don't know the reasons behind the split, but both Nick and Danielle's Instagram profiles still show posts of the couple together. Which certainly has our hopes up for a reconciliation. AFter all, we didn't shed a happy tear for nothing when Nick recipricated Danielle's 'I Do' at their stunning outdoor wedding ceremony in 2021.
3. Shaina Hurley and Kyle Abrams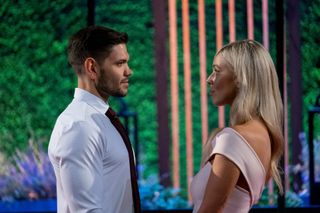 Did they say I Do? No | Are they still together? Absolutely not
Fans of the show will know that these two called it quits after episode 6 of Love is Blind season 2. And the two definitely haven't reconciled. PEOPLE Magazine reported in March that Shaina was engaged again (to another suitor). And four months later she and Christos Lardakis wed in a romantic Greek ceremony.
Christos was introduced to audiences in After the Altar, when Shaina and her new man join Nick and Danielle for a double date dinner. Shaina explained on camera that the two knew each other from before, but only started dating seriously in the year between the show's premiere.
Shaina has confirmed that Christos shares the same religious and family values as her - something that previously proved to be the kiss of death for Shaina and Kyle's doomed relationship. Though many also credit Shaina's continued pining for pod friend Shayne as another spanner in the works.
In the reunion episode, things got very honest between the two. Kyle admitted he did not know about Shaina's feelings towards Shayne and said "you wasted my time". Shayna took responsibility for her actions on the show and agreed that "I should never have said yes".
Whilst Kyle didn't get his happy ending, he revealed he did not regret his experience in one Instagram post. "No matter the outcome, this special bond I share with Shaina will be forever kept in mind, until the end of time," he wrote.
Kyle hasn't been a totally solo bachelor since the show though, with After the Altar showing him and a fellow Love is Blind co-star getting very close indeed...
4. Deepti Vempati and Abhishek 'Shake' Chatterjee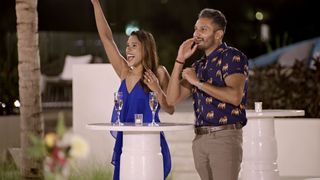 Did they say I Do? No | Are they still together? Absolutely not
Yeeesh. Fans will recall the reunion episode proved hard viewing with these two. Deepti summed up her feelings towards Shake in one brutal line: "The fact i ever respected you as a person - I'm mind blown." The Vet received some flack from fans online for comments made about his partner during the Love is Blind season 2 episodes. Including one less than complimentary one that she reminds him of his aunt - ouch.
We're guessing relations between these two hasn't improved since, with Shake not appearing in the After the Altar update. But we do know that the controversial cast-member has a new girlfriend called Emily.
As for Deepti, she had a fairly recent romantic connection with another Love is Blind cohort during the After the Alter reunion. And whilst she hasn't yet found a husband, she has been vocal about making some life-long friends on the journey instead. In early August she shared a post of her hanging with her fellow female cast members at Lollapalloza. She's also a celebrated TEDX talk speaker, sharing her experiences as a South Asian and Chicagoan woman.
5. Shayne Jansen and Natalie Lee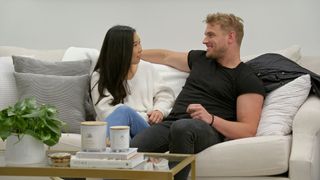 Did they say I Do? No | Are they still together? No
After the Altar episodes confirmed that these two sadly haven't reconciled. There was a brief glimmer of hope during the reunion when the two revealed they did try to date again after the wedding. But Shayne confirmed that "it was too fresh" and Natalie agreed she "couldn't move on" to make it work.
Fast forward to After the Altar and a still-hurt Natalie claims that Shaina once again got in between any hopes of a second chance. She stated that flirty messages had been exchanged between the two - whilst Shayne and Natalie had tried again. And this ultimately led to this love match being over for good. Both Shayne and Shaina have denied these allegations. They instead claim that Natalie is "playing the victim".
It's certainly divided their fellow co-stars and viewers online. And at the end of After the Altar several cast members claimed that they haven't see physical evidence of these messages - but it's safe to say the majority of girls have Natalie's back. The gang got together for Natalie's 30th birthday party with a surprise weekend away - and unsurprisingly Shayne was nowhere to be seen.
As for their relationship status now - both Natalie and Shayne appear to be single. During After the Altar, Shayne admits he isn't seeing anyone and mentions he is considering dating apps to help him find the one.
6. Mallory Zapata and Salvador Perez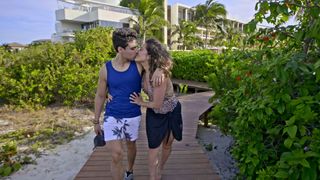 Did they say I Do? No | Are they still together? Definitely not
It was dear, sweet, Ukulele-playing Sal who called an end to the proceedings on their picture perfect wedding day. "I cannot. I feel like I just need more time," he told his bride-to-be. Thankfully Mallory took the news quite well, replying: "That's okay". And wiped his tears away, before making a swift exit down the aisle.
Viewers learnt in the reunion episode that the two had not rekindled their relationship. When asked to comment on his thoughts and why things didn't work out, Sal shared that he didn't want to air any dirty laundry and that it was a private matter. This being said, he told Mallory the one thing to say was that he "felt unheard" during the two's arguments.
After the Altar provided further confirmation that the two were no longer together - as Sal introduced his Love is Blind co-stars to his new girlfriend Jessica...
We also hear more of Sal's side of the story in the new episodes, with him telling his siblings that it was Mallory hanging out with a guy before their wedding that led to him calling it off. "I was like, 'Wow, that sounded a lot like Mallory.' I look into the car, and Mallory's in there with some random guy, just drunk," he said, adding. "That was the night that I actually came and stayed with you all, 'cause I couldn't stay at that apartment that night."
Mallory commented on Sal's version of events in the closing episode of After the Altar. She claims it was a male friend who she was just catching up with.
"This is somebody who I've known most of my life, and who is one of my closest friends. And I don't know if Sal thought that this was like — you know, because it's my guy friend — he misunderstood the situation, but I didn't stand Sal up that day at all... I don't know why this is even being brought up," Mallory said. "Wow, anything to just play the f*****g victim."
Safe to say this is one relationship that is dead and buried.
Where were the weddings in Love is Blind season 2 filmed?
The Love is Blind season 2 weddings were filmed at the Ravisloe Country Club and it's sister hotel La Banque located in Homewood, Cook County, Illinois. The stunning Spanish mission-style clubhouse and outdoor areas appear in the show's finale and fans will be pleased to know it's an established wedding venue in real life.
Ravisloe Weddings confirmed their part in the Netflix show with a post on their official Facebook page. "What a fun and awesome experience it was to work with the Team at Kinetic Content," said Ravisloe director of marketing and events, Johanna Morawski.
Netflix released the wedding episode on February 25, 2022 much to viewer's delight, who wanted to learn the couple's fate.
Related features:
Video of the Week
Parenting advice, hot topics, best buys and family finance tips delivered straight to your inbox.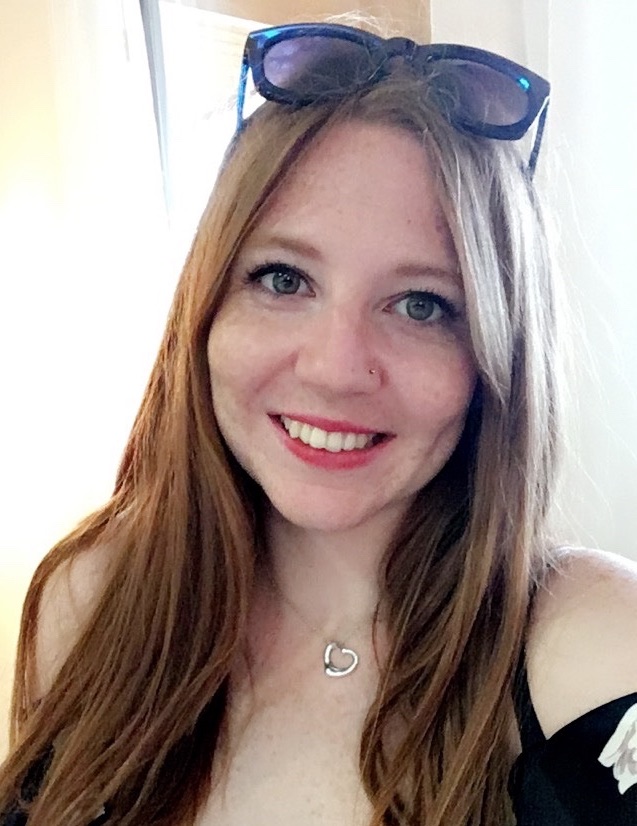 Emily Stedman is the former Features Editor for GoodTo covering all things TV, entertainment, royal, lifestyle, health and wellbeing. Boasting an encyclopaedic knowledge on all things TV, celebrity and royals, career highlights include working at HELLO! Magazine and as a royal researcher to Diana biographer Andrew Morton on his book Meghan: A Hollywood Princess. In her spare time, Emily can be found eating her way around London, swimming at her local Lido or curled up on the sofa binging the next best Netflix show.