Where is Holly Willoughby? The reason behind Holly's This Morning absence revealed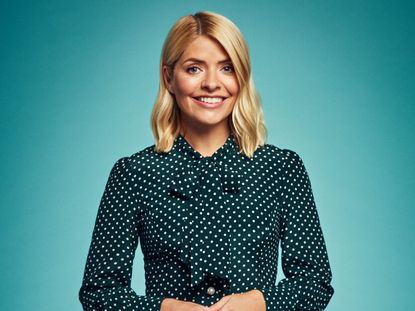 (Image credit: ITV)
Holly Willoughby (opens in new tab) is absent from This Morning and it has not gone unnoticed by fans, who have been asking: 'Where is Holly Willoughby and why is she not on This Morning?'
The TV star has hosted This Morning with Philip Schofield on Monday to Thursday for the past 12 years, usually only taking breaks during the school holidays when the duo are replaced by hosts like Alison Hammond and Dermot O'Leary (opens in new tab).
She and Phil had been presenting together last week, but on Monday she was absent, (Monday 14th March), with Josie Gibson (opens in new tab) stepping in to the main hosting role at the last minute alongside Phillip.
This is the sixth time Holly's been mysteriously absent from presenting This Morning in recent months, she was previously filming her new reality TV show (opens in new tab) Superstar Survival, but once more she's left viewers in the lurch at the last minute as she was also missing from Dancing On Ice Semi Finals (opens in new tab).
Where is Holly Willoughby and why is she not on This Morning today?
Holly Willoughby is missing from This Morning today as she has contracted Coronavirus after testing positive on a lateral flow test. The TV presenter was forced to pull out of hosting duties for the semi-final of Dancing on Ice last night, leaving co-host Phillip Schofield to present on his own. Phillip addressed Holly's absence at the start of the show, which came hours after she was forced to bow out.
Announcing the news on Monday's episode of This Morning, Phillip said, "Well we were absolutely convinced, both Holly and I, having worked all the way through everything that we might be immune, and then it got me a few weeks ago, and over the weekend it's got Holly. So she's tested positive and she is at home watching and it's the weirdest thing in the world when you can't do it and you're watching it from home. It's the same with Dancing On Ice last night.
"So Holly get well soon, get back as quick as you can but I'm in very safe hands so we're going to have a good day and we miss you."
"Get well soon Hols, sending you lots of love," Josie added.
Meanwhile, making a solo appearance to host DOI, Phillip said last night that he knew 'what it's like to watch this show from home', adding it was 'weird', referring to his own absence last month (opens in new tab) after he too was struck down with the virus.
Phillip also sent a get well soon message to Holly. Gesturing to an empty space beside him, he explained about Holly's positive test, and added, "I know what it's like to watch this show from home, it's weird! Holly, get well soon, lots of love."
A Dancing On Ice spokesperson previously said, "Unfortunately, Holly Willoughby is unable to host tonight's show after testing positive for Covid-19. We look forward to Holly returning for the Dancing on Ice Live Final."
Rochelle Humes was unable to stand in for Holly on Monday as she revealed she jetted off for filming The Hitlist Series five. Vernon Kay has also previously stood in as host (opens in new tab).
Holly will be self-isolating at home for the next few days and will likely miss most, if not all, of her This Morning duties this week.
Co-presenter Phillip shared a snap of the two together on his stories and wrote, "Gutted that my mate won't be with me on Dancing on Ice tonight. Get well soon darlin."
Those with Covid must stay at home until they are no longer infectious to others which can be for up to 10 days from when symptoms start.
However, many people will no longer be infectious after five days.
Holly's absence comes after she had an extended Christmas break that saw both her and Phil have four weeks off work.
And in November Holly was forced to pull out of presenting duties when she came down with a stomach bug.
How long is Holly off This Morning for?
Holly is expected to be off This Morning for the rest of the week self-isolating as Philip Schofield told viewers why Holly was absent.
When is Holly Willoughby back on This Morning?
It's thought that Holly Willoughby is likely return to host This Morning with Phillip Schofield next week, as the pair host Monday to Thursday shows, as ITV bosses hinted that she would back to presenting duties in time for the Dancing One Ice final on Sunday.
"We look forward to Holly returning for the Dancing on Ice Live Final," it read.
Until then you can watch Holly and Phil laugh their heads off with the most naughty innuendos of all time on This Morning, in the clips below...
https://www.youtube.com/watch?v=ahvpobG_Hbg&t=3s
This Morning is on ITV weekdays from 10-12.30pm, and available to watch on the ITV hub.
Georgia is a Celebrity and Royal Writer working across GoodTo and Woman & Home, and the Director and Founder of communications company Farq Media. Prior to this she was Online Editor at New! Magazine – managing all of their digital content and social media accounts. Where she interviewed all of the hottest reality TV stars and spent far too much time commuting to London. She trained at Nottingham Trent University – where she achieved First Class Honours in Print Journalism whilst juggling copious amounts of work experience, freelance writing, blogging and having far too much fun with the dance society.