Where is Kay Burley and why isn't she on Sky News this morning?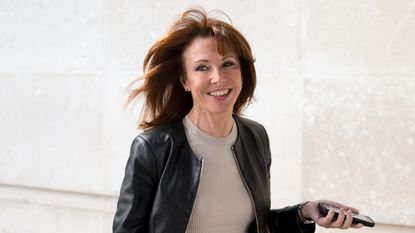 (Image credit: Alamy)
Where is Kay Burley and why isn't she on Sky News this morning?
Kay Burley has been notably missing from presenting her breakfast show on Sky News and viewers have started asking where she is. The 61-year-old broadcaster returned to the channel following a six-month suspension over breaking Covid rules for which she later apologised. But she was notably missing from her show on Monday (21st March).
We look at why the TV host is not on-air and where she might be...
Where is Kay Burley?
Kay Burley is enjoying some annual leave telling fans she is on an African Bush Safari holiday with Virgin Limited. On Sunday she shared a video selfie of her exotic holiday location and captioned it, "Back in my spiritual home @ulusabaprivategamereserve Who fancies a safari with me?"
She admitted she was having the "time of my life" and that she had not been able to come for a while due to lockdown restrictions but since they've lifted she has returned to Game Drive.
Kay revealed, "My son's not come with me this time but i'll do my best to take videos and photographs for you."
After admitting it was a long flight, Kay shared a video of a herd of giraffes running by, and captioned it, "Well, that's not something you see every day. Want more cool images from the African Bush then do feel free to check out my Instagram story this week @KayBurley_ You're welcome @VirginLimitedEd #africanBush #safari"
And then another video of an adult elephant and young elephant, which she captioned, "Maybe this one. Young elephant thinking he's the king of the jungle"
It's the second time this month that Kay Burley has been missing from screens, she previously returned to present Sky News on Monday 7th March after announcing she had "been away" but just 24 hours later she was absent from her show after suffering from a 'cold'.
The day before her return, Kaye uploaded a cartoon image which read, "I was going to be magnificent again this week, but I've got a little bit of a cold, so I think I'll just be quietly fabulous." and she captioned it, "Back in the morning. See you then? Do hope so x"
Why isn't Kay Burley on Sky News?
Kay Burley isn't on Sky News this morning because she is on African Safari in Ulusaba, Sir Richard Branson's private game reserve in the Sabi Sand, South Africa. Kay is sharing clips and photographs from her African adventure on her social media as she travels without her son this time.
She shared a snap of a beautiful sunset and captioned it, "Africa: Beautiful sunset but breaks my heart when the animals are injured and suffering. I'm reminded by our ranger its the cycle of life and to see the cubs playing lifts me up again. Also, hippos out of the water are hilarious @virginlimitededition."
Some of the animals she got up close to on her trip are elephants, she told fans, "Cocky little elephant; leopard cub coming when her mum calls and a Temporary Association of racing giraffe. More on my story. You're welcome."
And shared, "Lions everywhere @ulusabaprivategamereserve @virginlimitededition."
Kay also got some great footage of a leopard cub, she explained, "11 months old waiting for his mum to return with breakfast. Check out the giraffe, 🦒a giant snail 🐚 and my very favourite animal 🐗 on today's story. Also news on the injured lion 🦁 from a couple of days ago. @ulusabaprivategamereserve @virginlimitededition."
Who has replaced Kay Burley?
Journalist Nialll Patterson stood in for Kay Burley on Monday, 21st March show. He tweeted, "Happy Monday from Westminster! Join me, @tamcohen, @sajidjavid, @JonAshworth and many others from 0700." Niall is one of around 600 staff Sky News has and one of 50 who speak on camera. Niall has recently returned from annual leave himself as he tweeted, "Tan topped up, so make sure and join me as I cover for Kay this week from 0700. Ukraine, Spring statement from the Treasury, P&O, COVID-19, and absolutely nothing about the Six Nations. More beaver stories as we get them."
The Kay Burley show on Sky News is aired from 7am on Sky Freeview: 233, Freesat: 202, fSfS: 875, and online.