Where is Silent Witness filmed? Plus season 26 cast members
We look at the latest locations featuring in the new series of Silent Witness.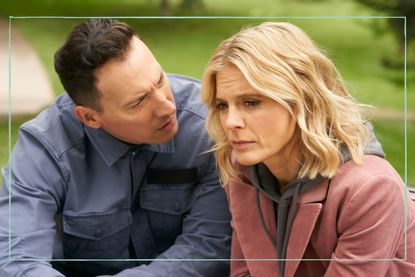 (Image credit: Future/BBC)
The best-loved BBC One show is back with another series and viewers are wondering where is Silent Witness filmed and what characters are returning.
Murder, poison, suspicion, dead bodies - Silent Witness has it all. Which is no doubt why this clever crime drama is now into its 26th season. Emilia Fox returns as Dr Nikki Alexander, alongside David Canes and co for more crime-solving and we sure are happy to see it back on TV.
Returning to screens alongside Happy Valley season 3 (opens in new tab) and new ITV drama Maternal (opens in new tab) - the new series promises plenty of action and a fair few filming locations that will be familiar with loyal fans of the show.
Where is Silent Witness filmed?
BBC One's Silent Witness is filmed in London. The long-running crime drama was originally filmed in Cambridge until 1999, but the set later moved to Acton in London.
Back for Series 26, viewers can expect to see scenes take place in the familiar Lyell Centre - the forensic lab known as Silent Witness HQ. The Lyell Centre is a permanent set based in a warehouse at BBC Park Western. And it's expanded significantly since it was first constructed in 2013.
📣 Airing TONIGHT on @BBCOne is Series 26 of #SilentWitness!Scenes for the new series were filmed on the Isle of Sheppey, in #Leysdown, #Minster, #Shellness, #Warden and under the New Sheppey Crossing 🎥🔎 #filmedinkenthttps://t.co/eA3WY2ZaWQ pic.twitter.com/zzEUAyBM8WJanuary 2, 2023
See more
"We opened it up a little bit," producer Kieran Murray-Smith told the RadioTimes in 2019. "We wanted to give them an extra room to do the forensics in, and a few more bits of machinery. Bit by bit, more and more investment is needed in Silent Witness."
The Acton warehouse is also home to the show's art and props department - enabling essential equipment like their trusty cadavers to be on hand when filming.
Some of series 26 has required Silent Witness to be filmed on location too. Kent Film Office revealed that the Isle of Sheppey was used for scenes in the first two episodes of the new series.
Eagle-eyed viewers also took to Twitter, having spotted a very similar looking set in the recent Silent Witness series. A former BBC favourite going by the name of Holby City. (opens in new tab)..
Just noticed that on #SilentWitness, I recognise the hospital surroundings, #HolbyCity used to be filmed there. I really miss that programme (probably more than Casualty)January 9, 2023
See more
Relative newcomer Ashley Michael opened up on what it was like filming with long-standing Silent Witness cast members Emilia Fox and Jack Hodgson: "They're brilliant to watch and learn from because they have done it for so long and they're so good at what they do.
"Joining a team that is already so familiar with each other can seem a little daunting, but they were so welcoming and open and supportive to work with and really fun to act with," he added. "Because Emilia is an executive producer, she was great at carving out time and making sure that we actors had time to explore the material and talk and rehearse and feel comfortable and know what we were doing before we shot a scene."
Silent Witness: Cast
Emilia Fox plays Dr Nikki Alexander
British actress Emilia Fox returns as Dr Nikki Alexander - a role she has been playing since 2004.
Emilia - a member of the Fox acting dynasty - has appeared in TV series such as Delicious (Sky 1), The Tunnel (Sky Atlantic), Home From Home (BBC comedy) and The Wrong Mans (BBC Comedy) with James Corden. She also appears regularly in stage productions and had a role in Roman Polanski's award–winning film The Pianist.
David Caves plays Jack Hodgson
Lead Forensic Scientist at The Lyell is Jack Hodgson played by actor David Caves.
The Northern Irishman has made a splash in the theatre - performing in the Royal Shakespeare Company alongside other productions at Southwark Playhouse and Regents Park Open Theatre.
Most recently you will have seen him in Jackie - a biopic about Jackie Kennedy, played by Natalie Portman.
Alastair Michael plays Velvy Schur
Actor Alistair Michael joins as the Lyell's new Anatomical Pathology Technologist trainee (or APT) who came recommended by none other than ex-character Clarissa Mullery.
"I'm delighted to be joining the cast of Silent Witness," says Michael. "We meet my character Velvy as he is on a really interesting journey from within an Orthodox community into a wide secular society."
Michael has previously appeared in BBC drama Ridley Road (opens in new tab) and limited series Snatch based on the original Guy Ritchie film. Passionate about theatre, he's also the co-founder of the Ransack Theatre in Manchester.
We're SO excited to announce that our extraordinary Alastair Michael (@A_L_astrMichael) has joined Silent Witness. He plays Velvy Schur, an Anatomical Pathology Technologist trainee. Velvy has recently left his ultra-Orthodox Jewish community and is now finding his own path. https://t.co/IKfLj9NKbONovember 16, 2022
See more
Aki Omoshaybi plays Gabriel Folukoya
The Pursuit of Love actor Aki Omoshaybi is the second newcomer to Silent Witness. He appears as Gabriel Folukoya, a neurologist, pathologist and all-round academic who is big on data analysis.
Omoshaybi has also had roles in Queens of Mystery and REAL. Of his new role and character, he says: "We find Gabriel at a juncture in his life, realising that it's possible to marry those two sides. He has to understand he's dealing with humans, and not just computer screens. His new colleagues have to coax him out of his comfort zone. And during the series, he learns how to compromise a bit."
Rhiannon May plays Cara Connelly
Jack's niece Cara Connelly has cropped up on the series before, but now The Riley Sisters actress Rhiannon May is joining the cast as a full-time regular. Arriving at the Lyell all the way from Belfast - Cara announces she here and studying a Criminology course.
"It's exciting that the BBC and Silent Witness want to show a wonderful deaf character," she says of the promotion. "They want to show her in lots of different lights and take the opportunity to show a lot of different kinds of ways of communicating."
Who has left Silent Witness?
Sadly viewers said goodbye to two key characters in series 23 - Dr Thomas Chamberlain (Richard Lintern) and Clarissa Mullery (Liz Carr).
Actress Liz Carr said of her departure: "Originally only employed for four episodes as Jack's side kick, I am incredibly proud that I leave as a main character in one of the BBC's landmark dramas. Silent Witness has given me such an amazing opportunity to develop as an actor but I know this is the right time to take a leap of faith, leaving what I know and seeing what other opportunities await."
For those wanting to relieve the old days and rewatch their old cast favourites, they can catch up with previous series of Silent Witness (opens in new tab) (all 200+ episodes!) on BBC iPlayer now.
Video of the Week
Emily Stedman is the Features Editor for GoodTo covering all things TV, entertainment, royal, lifestyle, health and wellbeing. Boasting an encyclopaedic knowledge on all things TV, celebrity and royals, career highlights include working at HELLO! Magazine and as a royal researcher to Diana biographer Andrew Morton on his book Meghan: A Hollywood Princess. In her spare time, Emily can be found eating her way around London, swimming at her local Lido or curled up on the sofa binging the next best Netflix show.