When does Maternal start on ITV, and how many episodes are there?
Not long to go now, before the anticipated drama lands on ITV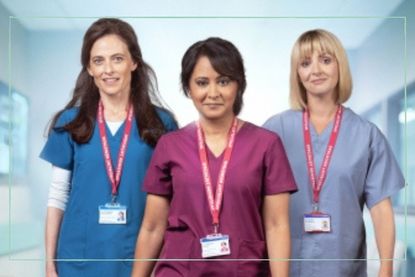 (Image credit: ITV/Future)
Audiences are keen to know when Maternal starts on ITV, as motherhood and healthcare politics collide in Jacqui Honess-Martin's new must-see drama.
There's been a buzz growing over ITV's latest medical drama, Maternal. The series is set to cover themes that will strike a chord with most of the nation, and the current state of healthcare in the country. The series follows three doctors returning to work after maternity leave, into a post pandemic NHS. Not only is each woman battling their individual circumstances and reasons for needing or wanting to go back to work, they're also propelled into a chaotic working environment. Working hours are long, stress levels are high, funding and staffing levels are low, and the juggle for any semblance of work-life balance is real. For those keen to get their teeth into the drama, read on to find out when Maternal starts on ITV, along with other important intel.
Maternal is filmed (opens in new tab) in one of the most exciting cities in Northern England - although set in Manchester, that's not actually where it was shot. It joins Dancing on Ice 2023 (opens in new tab) and the upcoming drama Nolly on ITV (opens in new tab) as the broadcaster's line up of must watch entertainment in early 2023.
When does Maternal start on ITV?
Maternal starts on ITV and ITVX on January 16, 2023 at 9pm. Immediately after after the first episode has aired on ITV, the remaining episodes will be available as a complete boxset to view together on ITVX.
ITVX has replaced original ITV catch up service, ITV hub. Viewers who already had ITV Hub downloaded didn't need to do anything to switch to ITVX, as this happened automatically. For audience members who don't have ITVX, the basic platform can be accessed for free - all you need to do is sign up for an account (opens in new tab). Functioning as an entry-level tier, signing up offers viewers access to an extensive back catalogue of ITV shows, and anything they might've missed on ITV that they'd like to catch up with.
There is an option to watch live TV available with the free option, with the only downside being that all shows will include adverts to make up for the service being free. To view the catalogue without ads, ITVX will have a premium subscription service for £5.99 per month or £59.99 per year. A benefit of ITVX is that many new series will have their entire set of episodes put on the streamer immediately after the first episode has aired, for those who don't want to wait weekly for episodes.
How many episodes of Maternal are there?
There will be a total of 6 episodes of Maternal on ITV. A new episode will air weekly on Mondays at 9pm, with the final episode set to air on Monday, February 20.
Polly Smith, head of drama at ITV, made her feelings about the drama known. She said "Jacqui's scripts are brilliant, and they perfectly capture how difficult it can be for women juggling family life, whilst under pressure at work, making critical life or death decisions. It's hard to believe this is her first television drama."
Writer Jacqui Honess-Martin added "I am thrilled to bring this funny, warm and quietly political story to ITV. It's been humbling to have the opportunity to hear the stories of so many brave and brilliant female doctors working in the NHS over the past two years and I know the incredible team working on this show will do them proud."
Maternal on ITV: Meet the characters
Parminder Nagra as Dr Maryam Afridi
Parminder Nagra first came to national attention when she starred as Jess Bhamra in the film Bend It Like Beckham. She later landed the role of Dr. Neela Rasgotra in long-running NBC medical drama series ER. More recently, she portrayed Liberty High's counsellor Priya Singh, in 13 Reasons Why.
Her character in Maternal, Dr Maryam Afridi, is returning to work after two years on maternity leave. As a mother of two children under 2, her life is already chaotic before her return to City General Hospital sees her thrown straight back into frontline care. An incident during Maryam's first week hits her hard, and combined with the sleeplessness of motherhood, the stress of juggling a job and being a parent, Maryam questions her priorities and interests.
Of the incident her character suffers, Nagra said "On her first week back, she's not supposed to see patients yet, but they're so understaffed she gets put in charge of the ward. And before she knows what's going on she's thrown in the deep end"
Lara Pulver as Catherine MacDiarmid
Lara Pulver is best known for her role as Erin Watts BBC's spy drama Spooks, and as Irene Adler on Sherlock. In theatre, she won the 2016 Olivier Award for Best Supporting Actress in a Musical for the West End revival of Broadway musical Gypsy. Her character in Maternal, Catherine MacDiarmid, is a single mother determined to achieve the success of her counterparts in the male dominated world of surgery.
Speaking to Radio Times (opens in new tab) about her role, Pulver said "It's the first time in ten years ITV has had a medical drama on its channel. It relates to any working woman who's also a parent. It's witty, it's funny, but it's also heartbreaking – it's life. Jacqui Honess-Martin, the writer and creator, hasn't shied away from any of that. I followed two paediatric surgeons in Los Angeles for two weeks. When I got to the UK, I worked alongside Zoe Barber, a breast surgeon in Wales. I ran through the surgery scenes and procedures with her in the hope that I could honour what she's done, because my character is loosely based on her life experience."
She added "Zoe gave me a lovely little nugget where she arrived at a hospital and there was a male surgeons' changing room and a female nurses' changing room and she said to her boss: 'Which one do you want me to go in?' Maternal is not afraid to show that as a female surgeon, Catherine is still totally in the minority."
Lisa McGrillis as Helen Cavendish
Lisa McGrillis came to wider public attention when she starred alongside Lesley Manville in award winning BBC sitcom Mum, as Kelly, girlfriend of Manville's son, Jason. Other television appearances include Death in Paradise, No Offence, and King Gary. In Maternal, her character Dr Helen Cavendish, is a Registrar in Acute Medicine. She wrestles with an instinct not just to be a parent, but to mother everyone in her life.
Speaking about her role, McGrillis said "She works in acute medicine, so she's got much more of a human instinct when it comes to being a doctor rather than being a textbook medic. She can diagnose problems fairly quickly from just reading the room. I think that the audience will probably like her; she's the kind of doctor that you would want to meet if you were going into hospital and you were frightened, because she's super reassuring."
In the show, her husband is having an affair with a mutual colleague. Talking about how her character deals with the affair, McGrillis added "Helen can put on a front and go, 'OK, I'm just going to swallow this for a bit. I'm going to go in and be the best doctor I can. I'm going to do my ward rounds with a woman that my husband's been having an affair with'. If that was me, I would absolutely fall apart! But Helen has an extraordinary strength."
Maternal: Reviews
From the available reviews, it appears that critics are impressed with Maternal.
Amanda Whiting from The Independent (opens in new tab) said "Maternal stands out to me for nailing its relentlessness. Working motherhood is not just the risible indignity of showing up to a meeting with milk on your blouse, or even the nasty choice between nailing the promotion-nabbing presentation and arriving at your kid's school in time for the nativity play. It's a million seemingly inconsequential things every single day. Watching Maternal was sometimes like staring into an unfriendly mirror. Like Helen, I've corralled my angry daughter into the car, more concerned with whether my neighbour is watching than with my kid's feelings. Like Catherine, I've taken on a last-minute assignment because it excited me more than the prospect of going home and relieving the babysitter. It's a cliché to say that being a working mother – or again, any stripe of mother – is about sacrifices. What Maternal depicts so brutally and convincingly is that the lived experience of "having it all" is actually a series of microscopic failures."
Rachel Cooke from New Statesman (opens in new tab) had plenty of praise for the drama. "Beneath its suds lies something a bit more edgy. In essence, Jacqui Honess-Martin's series demands to know just what it might take for a woman to make it as a doctor, particularly if she has decided to have children. I like Catherine's self-sufficiency: she is far more organised than Maryam and Helen – mostly, but not entirely, because she has to be. Having a baby has changed her the least. Her ambition isn't just intact; it's flashing like a Belisha beacon. "Someone has been stabbed!" she yelps, thrilled by the message on her pager that will enable her to escape a dreary woman with stomach ache in A&E. While Maryam and Helen are permanently knackered, she's always casting frisky looks in the direction of her ex, Jack. Her hair is immaculate. Her cheekbones are as sharp as her elbows. Dinner is a glass of red and a bowl of muesli. Yes, I really do like her."
Related ITV features:
Video of the Week
Lucy is a multi-award nominated writer and blogger with six years' experience writing about entertainment, parenting and family life. Lucy has contributed content to PopSugar and moms.com. In the last three years, she has transformed her passion for streaming countless hours of television into specialising in entertainment writing. There is now nothing she loves more than watching the best shows on television and telling you why you should watch them.