Ferne McCann says she 'desperately' wants the birth of her second child to be filmed for her reality show but her fiancé needs some convincing
"I want everyone to see me"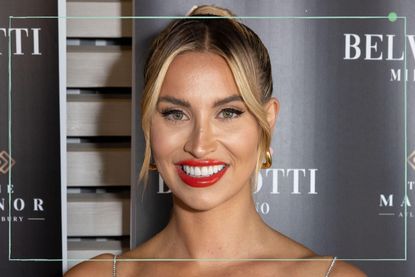 (Image credit: Phil Lewis/SOPA Images/Sipa USA) Credit: Sipa US/Alamy Live News)
Reality TV star Ferne McCann has revealed that she 'desperately' wants the birth of her second child to be filmed for her reality show on ITV but her fiancé needs some convincing on the matter.
The former TOWIE cast member confirmed her second pregnancy, the first with her fiancé Lorri Haines, earlier this year after weeks of fan speculation that she was having another baby. Ferne has been incredibly open about her experiences of motherhood since giving birth to her first child, Sunday, whose name divided fans but has a sweet story behind it, both on social media and in her ITV reality show First Time Mum.
Her candid revelations have often caused controversy, such as when she revealed she had been trying a controversial parenting technique in an effort to get her daughter into a sleeping routine, but mostly fans just appreciate her open approach to parenting.
Ferne's latest admission has proved she really is prepared to share it all. Since revealing she is expecting her second baby, not only has she revealed that she wishes to have a home birth, but also that she 'desperately' wants the experience to be filmed for her reality show.
The expectant mother shared her wish while speaking to her close friend Vicky Pattison on her The Secret To podcast. She said, "I so desperately want it [her child's birth] to be on the show. But we were sort of warming him [her fiancé Lorri Haines] up.
"I want it to be on the show. Because I've got this birth plan in my head, and I want a home birth and I want it to be positive. And I want everyone to see me like, pull the baby out. I've just got this vision and he's just like, 'No, that's just weird', but I'm like, 'It's beautiful and it's amazing!'
"Reality stars get a bit of a bad name, but I saw that Ronaldo and his Mrs were doing a reality show. Everyone's doing it, so just go for it! Like, I love to see what everybody's getting up to! I would absolutely watch the birth of your child as long as it's not the business end."
The new baby will be Ferne's first child with her fiancé Lorri and comes after the pair got engaged back in July 2022. Speaking about their relationship Ferne told Vicky, "I feel so happy that it's him. It feels like when I met him, it just felt so right.
"And without doing all this sort of cringy s***, but it really did feel like we were meant to meet each other at that time...He's got a child. I've got a child. We bonded over our trauma. Like we literally like laid everything on the table. I was like, 'here's all my s***' and he had the same, and yeah, it's worked out."
While her due date creeps closer, Ferne has been juggling her pregnancy with a variety of work projects though she admitted that throughout this pregnancy she has 'thankfully' felt 'really good.'
Speaking to OK! Magazine, she revealed, "Thankfully this pregnancy has been - I don't want to say a breeze because pregnancy is never a breeze - but I feel really good in this pregnancy.
"I've had a few moments where I'm like, absolutely exhausted like this, this run up to the last two weeks - I've been so so tired and having my afternoon lay downs, which is really unlike me. But yeah, it's been a massive juggle."
Another things she's had to juggle with both work and her pregnancy journey is wedding planning. While she has not yet confirmed a date for her upcoming nuptials, Ferne has given a few hints as to what we can expect from the ceremony.
She told MailOnline, "My vision for my wedding has definitely changed over the years. I would have previously said that I want a big wedding with everyone there, but my circle is very small now and I want something intimate and beautiful, definitely abroad, friends and family.
"I know people say this all the time, but you want to look back and say everyone there are still in our lives."
Royal News and Entertainment writer
Charlie Elizabeth Culverhouse is royal news and entertainment writer for Goodto.com. She began her freelance journalism career after graduating from Nottingham Trent University with an MA in Magazine Journalism, receiving an NCTJ diploma, and earning a First Class BA (Hons) in Journalism at the British and Irish Modern Music Institute. She has also worked with BBC Good Food and The Independent.