Ginny & Georgia season 1 recap: Everything that happened in the first season ahead of the season 2 release
Refresh your memory before the hotly anticipated season 2 lands!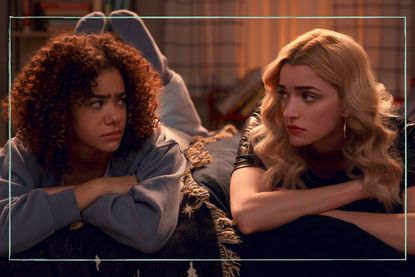 (Image credit: Netflix/Future)
With season 2 just around the corner, a Ginny & Georgia season 1 recap is in order - we have this covered!
Netflix's Ginny & Georgia was a runaway hit when season 1 was released last year, with audiences comparing it favourably to cult classic Gilmore Girls. Angst ridden teen Ginny Miller acts and feels more mature than her young and dynamic mother, Georgia Miller. Hiding many secrets and a complicated past, Georgia has moved her young family - including son Austin - across numerous cities. She finally decides its time to put down some roots, and the family settle in New England - and Ginny finally finds a crew of friends that can become real BFFs. But just when Georgia has decided to give her children a normal life, her mysterious past threatens to catch up with her, and destroy the family's new lifestyle. Georgia has to decide what she will do to protect her family. Season 2 is set for release on January 5, so buckle up for a full recap of season 1 before the season 2 ride begins.
If you want to know what time Ginny & Georgia season 2 (opens in new tab) will be on Netflix, and other exciting info, look no further. Fans looking for news of Ginny & Georgia season 3 (opens in new tab), need also look no further.
Ginny & Georgia season 1 recap
Season 1 of Ginny & Georgia begins with Georgia uprooting her family, and bundling Ginny and Harry Potter obsessed son Austin into a car to begin a new life, after her husband Kenny's sudden death.
15-year-old Ginny is upset about the move, as it's not the first time her mother has disrupted her life - she and Austin have been moved around several different North American cities, for most of their lives. Despite protestations, the family arrive for a new life in Wellsbury, Massachusetts - but Georgia quickly makes friends. Her first friend is Maxine, soon followed by her twin brother, Marcus - the first complication happens when she develops feelings for him. At her new school, Maxine introduces Ginny to Abby and Norah, and they form a crew they name MANG - their first name initials grouped together.
Despite her feelings for Marcus, Ginny ends up dating a guy named Hunter, but remains close to Marcus while exploring her feelings for him. Ginny eventually cheats on Hunter with Marcus, but the inevitable happens and everyone finds out. Not the only one to move quickly in starting relationships, Georgia immediately finds work in the (single and handsome) mayor Paul Randolph's office on arrival in Wellsbury, and ends up falling for him. The feeling is mutual, and it's not long before the pair are engaged. Georgia also befriends Joe, the owner of the local Blue Farm cafe where Ginny later finds more work. Joe falls in love with Georgia, but doesn't admit this due to her relationship with Paul.
It comes out that towards the end of the show that Kenny's death wasn't accidental. When Georgia witnesses him sexually assaulting her daughter under the guise of checking her posture, she decides to poison him. Her response to his actions are to slip the poison into his smoothie, which later causes him to crash his car and die. Having hired a private investigator to look into her mother's dodgy past, Ginny finds out the real reason Kenny died. The pair already have a strained and dysfunctional relationship, and this knowledge pulls Ginny even further away.
Austin's father Gil is in prison for embezzlement, and Austin writes regular letters to him. However, it transpires Georgia has intercepted all his letters and forged return letters instead. Freed from prison, Gil turns up at Austin's school, but tells him not to tell Georgia he's seen him. Finding out the truth about the letters, Austin believes his mother has been keeping him from his father for no reason, and conspires with a similarly angry Ginny for the pair to run away - they believe Georgia to have no morals. However, the truth was that Gil had been abusive to Ginny and she'd lived with it and hidden it from the children for many years. She'd eventually made another of her poor decisions to sort the situation herself by framing Gil for embezzlement to get him out of their lives.
The series ends with Ginny and Austin unaware that everything Ginny has done is to protect them, and running away to an unknown destination.
How old was Georgia when she got pregnant with Ginny?
Georgia was 15-years-old when she got pregnant with Ginny. Ginny's father is Zion, and he remains a part of her life, despite his relationship with Georgia not working out.
Audiences first meet Zion when he arrives at Ginny's sixteenth birthday party. He buys her a piano, and she is overjoyed to see him. He later meets her after school, where she introduces him to boyfriend Hunter. However, on meeting Marcus, Zion tells Ginny it's clear the pair of them have chemistry.
Despite Georgia being engaged to Paul, and having split up with Zion many years previously, a sexual tension between the pair remains. Their spark is a constant source of worry for Ginny, who is concerned that her parents will do something reckless that would end Georgia and Paul's engagement and force the family on the move again - she finally feels settled and wants to stay in Wellsbury.
Why did the girl tape her thighs in Ginny & Georgia?
Abby tapes her thighs to make them appear smaller, and to fit her legs into some jeans.
There is a charity sleepover happening at Ginny's school, and the pupils are buzzing with excitement about it. Abby feels that to make her legs appear better in some jeans, they need to be thinner. To do this, she tapes them with duct tape. Later, Abby and Nora leave the sleepover with their boyfriends and a game of truth or dare commences. When someone suggests a dare to be swapping clothes, Abby realises she can't take part because the others will see what she's done - to avoid being found out, she leaves the group.
Some audience members felt the storyline was poorly explained, and came out of nowhere. One person wrote on Twitter "is Abby's storyline supposed to be insecurity? (trying to find the right words) cause her taping her thighs when she's a standard shape doesn't make sense?? They need to dive into that". Another added "What was the point of that scene of Abby taping her thighs in the middle of the texting scene in episode 3? I mean yes bring awareness to these situations but it just seemed random when no one was talking about clothes???"
is abby's storyline supposed to be insecurity? (trying to find the right words) cause her taping her thighs when she's a standard shape doesn't make sense ?? they need to dive into that- https://t.co/t1ssSSXjEsMay 10, 2021
See more
What mental illness does Abby have in Ginny & Georgia?
Abby is suffering from body dysmorphia, which causes her to believe her body has flaws that aren't necessarily there.
According to the NHS (opens in new tab), body dysmorphic disorder (BDD), is a mental health condition causing an individual to spend a lot of time worrying about perceived flaws in their appearance. The condition can occur at any age, but most commonly occurs in teenagers and young adults.
Symptoms include worrying about a specific area of the body, and spending a lot of time comparing your looks with that of others. Sufferers also often check their appearance in mirrors, or avoid mirrors altogether. They can also go to a lot of effort to conceal flaws – this can be through excessive hair combing, or spending lots of time applying make-up or choosing clothes. The condition can seriously affect daily life, work, social life and relationships. Anyone who believes they are suffering from BDD are urged to contact their GP for a specialist referral.
Related Netflix Features:
Video of the Week
Lucy is a multi-award nominated writer and blogger with six years' experience writing about entertainment, parenting and family life. Lucy has contributed content to PopSugar and moms.com. In the last three years, she has transformed her passion for streaming countless hours of television into specialising in entertainment writing. There is now nothing she loves more than watching the best shows on television and telling you why you should watch them.