Is there a Ginny & Georgia season 3? Speculation, and everything we know about a potential return for the Netflix hit show
Fans of the show need season 3 news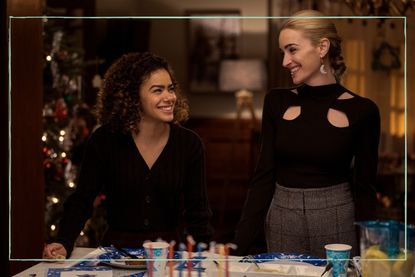 (Image credit: Marni Grossman/Netflix/Future)
Season 2 of Ginny & Georgia rocketed straight to the top of the Netflix top 10, and with that ending, there has to be another season!
It didn't take long after the release of Ginny & Georgia season 2 (opens in new tab), for fans to have devoured the series and start asking for more. Apart from season 2 ending (opens in new tab) on a massive cliffhanger that fans need resolution for, the hugely relatable characters and fantastic acting all contribute to the popularity of the show. Although Netflix currently have a reputation for being cancel happy, there could be riots if the die-hard Ginny & Georgia fandom don't get the news they deserve about the show's return. Read on for all of the speculation, and everything we know about Ginny & Georgia season 3.
Also on Netflix, fans are asking when is season 2 of Wednesday coming out (opens in new tab)? The renewal was welcomed with open arms, and we take a look at when we can expect the non-blinking, hug hating protagonist to make a return. The Bank of Dave true story (opens in new tab) is sure to warm everyone's hearts - Netflix have turned the life of legendary Dave Fishwick into a fantastic film. With a cameo from Rock legends, viewers have also asked did Def Leppard play for Bank of Dave (opens in new tab)? We have the answers to that, and more burning questions.
Will there be a Ginny & Georgia season 3?
There has been no official announcement about a Ginny & Georgia season 3, however, show creator Sarah Lampert has stated that 4 season have been pitched to Netflix.
Speaking to Hollywood Reporter (opens in new tab), she said "Just from doing it in season one with Netflix, they wait 30 days to get all the numbers and before we have a talk. What's great is that we all have TVs and we can see that we're number one. I think Netflix did tell us we're number one in 84 countries and that was a few days ago, so maybe more. I will say that certainly bodes well for us in 30 days if that keeps going the way that it is. But Netflix's policy is they wait 30 days to see all the data, and then fingers crossed, they will give us a season three."
Fans of #ginnyandgeorgia if your hoping for a season 3 listen to the producer/show runners of @ginnyndgeorgia for a better chance of getting a season 3 as many people as possible need to watch it again within the first 30 days of it being out I'm currently rewatching season 2! pic.twitter.com/66jFZ1kYInJanuary 10, 2023
See more
She continued "but we know where we want to go. We would love to get in a writers room up and running to get going with this. Seeing everybody watch the show and seeing all the excitement for the show, I will say that it's been hard to not think about season three and where we want to go. Because when Sarah and I pitched the show to Netflix, we did pitch four seasons, so we know what we want the end game to be. We know what we want the last episode to be."
If the series is renewed, it is unlikely that episodes will appear on Netflix for some time. Production on season 2 completed in April 2022, landing on the streamer on January 5, 2023. There is a lengthy post-production process before the complete season is ready to drop on screens and according to Marie Claire, it also takes Netflix quite some time to translate the series into 180 different languages prior to global release. Rough estimates based on securing a renewal, filming, and editing, put an approximate season 3 arrival time at late 2024.
Ginny & Georgia potential season 3 cast
Unless there are any major behind-the-scenes changes, the major cast members would be expected to return for season 3 of Ginny & Georgia. These include:
Brianne Howey (The Exorcist, The Passage) as Georgia Miller
Antonia Gentry (Candy Jar, Raising Dion) as Ginny Miller
Diesel La Torraca (Lambs of God, Sweet Tooth) as Austin Miller
Jennifer Robertson (Schitt's Creek, Comedy Inc.) as Ellen Baker
Felix Mallard (Neighbours, Locke & Key) as Marcus Baker
Sara Waisglass (Overruled! Mary Goes Round) as Maxine 'Max' Baker
Scott Porter (Friday Night Lights, The Good Wife) as Mayor Paul Randolph
Raymond Ablack (Teenagers, Narcos) as Joe
Mason Temple (iZombie, Six) as Hunter Chen
Katie Douglas (Mary Kills People, Pretty Hard Cases) as Abby
Chelsea Clark (Good Witch, Kung Fu) as Norah
Jonathan Potts (The Strain, Rupture) as Mr Gitten
Sabrina Grdevich (Saving Hope, Kim's Convenience) as Cynthia Fuller
Colton Gobbo (Titans, Orphan Black) as Jordan
Connor Laidman (The Umbrella Academy, Polar) as Zach
Nathan Mitchell (The Boys, Supernatural) as Zion Miller
Rebecca Ablack (Luckiest Girl Alive, Awake) as Padma
Tyssen Smith (Creeped Out, Dare Me) as Brodie
Daniel Beirne (Fargo, Workin' Moms) as Nick
Aaron Ashmore (Veronica Mars, Killjoys) as Gil Timmins
Zion actor Nathan Mitchell spoke to Digital Spy (opens in new tab) about his Ginny & Georgia season 2 experience, and hopes for season 3. He said "I loved it. It was phenomenal. I love every second I get to spend with this cast. Just getting to dive more into Zion, and to explore what his dynamics with his parents are like; what the co-parenting relationship with Georgia is like; getting to see him really be there for Ginny in moments that matter. All of that was really a joy to explore."
He continued to add "I'd love to see where things go with Simone. I think it's always fun when you throw Georgia in the mix there, where you have those three together, and have them navigate this new dynamic that they exist in."
What age rating is Ginny & Georgia?
Ginny & Georgia is Rated TV-14 for language, self-harm, sexual content, and substances which means some content is not suitable for those under 14 years old.
The website Common Sense Media (opens in new tab), is where parents can go for further guidance regarding the suitability of TV shows, in relation to the given age rating. They point out that although Ginny & Georgia has been compared to classic fan favourite Gilmore Girls, it is actually a lot more graphic than the older show depicting a mother/daughter relationship.
The website says "Parents need to know that Ginny & Georgia is a series about a mother and daughter. It may seem similar to the beloved Gilmore Girls, complete with the initials, a bookish teen girl (Ginny), an outgoing young mom (Georgia). an adorable Northeastern town, pop culture chatter, and lots of junk food. But the resemblance ends there: This series is significantly more mature and faster paced.
Within a short time after arriving in the fictional Wellsbury, Mass., 15-year-old Ginny loses her virginity, smokes pot for the first time, and shoplifts with new friends. She also intentionally burns herself and has scars from cutting. All the teens in the show seem to smoke pot (it's legal in Massachusetts, they point out) and talk about sex frequently. We also see mom Georgia drink wine, smoke pot, use a vibrator, steal when her credit card is declined, and charm her way into a job in the single mayor's office. And in flashback, viewers see abuse that Georgia (then called Mary) escaped as a teen."
Ginny & Georgia: Season 2 fan reaction
With a lot of Ginny & Georgia's renewal potential riding on ratings, viewing figures, and reviews, a positive fan reaction is very important. Here's what fans said about season 2, and what they said about season 3.
One audience member wrote about season 2 on review aggregator site Rotten Tomatoes. They said "I loved season 2! This season I felt really relatable to the characters. I loved seeing so much development in Ginny. It's great that we got to see more of how Marcus is and what he is dealing with. Ginny and Georgia's relationship was something close to my heart, I loved seeing them become closer as mother and daughter. Watching the second season, it made me realize why Ginny hated her mother so much, she was going through something and her mother didn't see what was going on, and that's just how a regular teenager is, which I 100% understand.
I'm really hoping we get a season 3 to see what happens with Georgia being arrested and I'm praying that we can get Ginny and Marcus back as a couple. I loved them so much, I just hope they work everything out with their mental health first. In my opinion it was a great season, I pretty much binged it within 2 days!"
Another person added "This show captures so many particulars, it is beyond impressive. How the daughter recognised that her mother would do anything for her but cannot relate to her struggles as a person of colour. The relationship between Ginny and Georgia, that the daughter is recognising her mother as human and her mother doing what she considers to be best and the daughter having to reconcile a more idealistic idea of a mother and who her mother actually is. This show through the relationship between mother and daughter shows a parent does what they thinks is best and then the child has to navigate this having benefited from the parents actions. They grew up with privileges and so their starting point is different to their own parent but then they judge their parent on how they got there in the first place..."
On Twitter, fans came out in their droves to request season 3 of the show. Once fan said "I need season 3 of Ginny and Georgia like tomorrow. I'm not even kidding". Several social media users agree, with another adding "they have destroyed me, please renew #ginnyandgeorgia for season 3".
they have destroyed me, please renew #ginnyandgeorgia for season 3 @netflix pic.twitter.com/mloAj7YNpHJanuary 8, 2023
See more
Also on Twitter, a viewer said "Ginny and Georgia ~ An underrated series about a mother of two children -who has a dark secret- moving to a new town. The new season which came out on the 5th January definitely carried the series. I can't wait to see Season 3!" Another confirmed the show's popularity by tweeting "Just finished watching Ginny and Georgia season 2. That was such a good season. I recently found this show after seeing lots of good things about it, definitely worth the watch I love it. Need that season 3".
Related Netflix Features:
Video of the Week
Lucy is a multi-award nominated writer and blogger with six years' experience writing about entertainment, parenting and family life. Lucy has contributed content to PopSugar and moms.com. In the last three years, she has transformed her passion for streaming countless hours of television into specialising in entertainment writing. There is now nothing she loves more than watching the best shows on television and telling you why you should watch them.