Glastonbury line-up 2023: The all-male headliners causing backlash among music fans
The festival has announced its first line-up for 2023, but some are unhappy with the lack of female headliners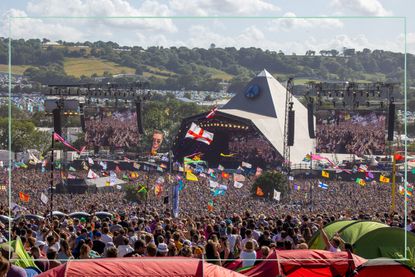 (Image credit: Getty Images)
The first wave of artists has finally been announced, so we're taking a look at the Glastonbury line-up for 2023 - and why some are disappointed with the announcement.
It's an exciting time for those who were lucky enough to get Glastonbury tickets (opens in new tab), as the festival has started announcing the acts descending on Worthy Farm in 2023. If you missed out on Arctic Monkeys tickets (opens in new tab) or Lewis Capaldi tickets (opens in new tab) earlier this year, then you can watch a slice of the action during the festival's live broadcast - along with many other internationally renowned artists.
But while many music fans are delighted to see some of the industry's biggest names appearing on the first Glastonbury line-up announcement, others are disappointed to learn that all of the headliners this year are male. Here, we reveal the line-up so far, and take a look at the reaction from the public.
Glastonbury line-up 2023
The Glastonbury 2023 line up includes Arctic Monkeys, Guns N' Roses and Elton John at the top of the bill, with other big names including Christine And The Queens, Fatboy Slim, Lana Del Rey, Lewis Capaldi, Lil Nas X, Blondie, Rudimental, Manic Street Preachers, The War On Drugs and Lizzo.
The first line-up announcement was made on Friday 3 March via Glastonbury festival's social media accounts, with more than 50 acts announced - though there are hundreds more to come. See the full line up so far below...
Who is headlining Glastonbury 2023?
The Glastonbury 2023 headliners are Arctic Monkeys, Guns N' Roses and Elton John. Arctic Monkeys will close the Pyramid stage on the Friday for their third time headlining the festival, while Guns N' Roses will take to the stage on the Saturday and Elton John on the Sunday.
Glastonbury organiser Emily Eavis shared her excitement at securing Sir Elton John for the festival, telling the BBC: "We've wanted Elton for years. It's been something that we've talked about on number of occasions and I was like, what's the best way to get through to Elton?
"And in the end, I wrote him a letter and I said, 'If this never happens, it would be such a failure on all of our parts. I know you've done everything else in the world. I know you've fulfilled every everything you need to fulfil, but please, can you come and play Glastonbury?
"And he just called up and said yes."
Elton John was the first act to be announced for Glastonbury 2023, and he afterwards revealed that the performance will be his last ever UK show, after more than 50 years on the road.
Fan reaction to the Glastonbury line up 2023
While many music fans and festival-goers have been thrilled to see so many huge acts already announced for Glastonbury 2023, others have been quick to criticise the lack of female headliners.
During Women's History Month, Glastonbury Festival announced an all-male headline bill. In 2023. Tell me why we don't need this month one more time.March 3, 2023
See more
I love #Glastonbury in a big way; Elton and Arctic Monkeys have special places in my musical make-up. But having three all-white, all-male headliners is SO far from leading by example. Yes there's diversity on the bill, but that trio topping the (literal) Pyramid is such a shame.March 3, 2023
See more
@glastonbury do better!!! All male headliners? You can't even blame lack of talent, there is a overwhelming WEALTH of amazing women to choose from. https://t.co/CQyWZbnoWzMarch 3, 2023
See more
In keeping with Glastonbury's pledge to keep its festival line-ups gender balanced, there is a roughly 50:50 split between male and female acts in the first announcement, with 48 per cent of the 54 names on the recent line-up being female acts.
However, with all of this year's main stage headliners male, for some music fans this isn't good enough.
What have Glastonbury organisers said?
Glastonbury organiser Emily Eavis has defended the 2023 festival line-up, saying that the music industry needs to invest in more female musicians to create future headliners.
Speaking to The Guardian (opens in new tab), she said: "We're trying our best so the pipeline needs to be developed. This starts way back with the record companies, radio. I can shout as loud as I like but we need to get everyone on board."
Eavis has also said, "We try our best and we obviously aim for 50:50. "Some years, it's more, some years, it's less.
"This year, we did have a female headliner, and she unfortunately had to pull out... It changes all the time."
She said that Guns N' Roses replaced the female singer who "changed her touring plans" - and though she didn't name names, many suspect she was referring to Taylor Swift, who was originally set to perform in 2020, before the festival was cancelled due to Covid.
But in good news for the 2024 festival, Eavis has also said: "Next year it's looking like we've got two female headliners, so fingers crossed."
Video of the Week
Ellie joined Goodto as a Junior Features Writer in 2022 after finishing her Master's in Magazine Journalism at Nottingham Trent University. Previously, she completed successful work experience placements with BBC Good Food, The Big Issue and the Nottingham Post, and freelanced as an arts and entertainment writer alongside her studies. In 2021, Ellie graduated from Cardiff University with a first-class degree in Journalism.