When do Glastonbury tickets go on sale? Release date and how to register
Everything you need to know about securing tickets to the UK's biggest music festival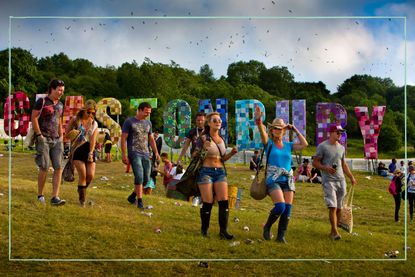 (Image credit: Alamy)
Details for when Glastonbury tickets go on sale have been revealed - make sure you're prepped so you don't miss out.
Summer 2022 is not long over, and what a year for festivals it was, as they returned in all their glory post-pandemic. Capital's Summertime Ball (opens in new tab) and BBC Radio 1's Big Weekend (opens in new tab) were just two of the major music events that took place, but, of course, the festival everyone was most excited about was Glastonbury.
The world-famous music festival will be back for summer 2023, and just like it was a scramble to secure Lewis Capaldi tickets (opens in new tab) recently, there'll be a lot of people desperate to secure there place at Worthy farm. We've got all the ticket details so you can make sure you'll be part of the action for Glastonbury 2023.
When do Glastonbury tickets go on sale?
Glastonbury 2023 tickets will first go on sale at 6pm on Thursday November 3 for coach and ticket packages, with standard tickets becoming available at 9am on Sunday November 6.
Local and Sunday tickets will also be available, but these won't be released until after the main ticket sales, and are available exclusively to Mendip & Central Somerset residents.
Glastonbury Festival 2023 tickets will go on sale on Thursday, November 3rd (coach + ticket packages) and Sunday, November 6th (standard tickets). Info at https://t.co/YwYspsGHt5 pic.twitter.com/gzBnRuP7B3September 23, 2022
See more
Tickets will be exclusively sold at glastonbury.seetickets.com (opens in new tab), and additional items such as Worthy View accommodation, Campervan passes, and tipis will be available for ticket holders to book later in the Autumn.
How to get a Glastonbury ticket for 2023
To get Glastonbury tickets, you will need to register in advance of purchasing, which can be done via a form on the Glastonbury website (opens in new tab). Registration is currently open and will close at 5pm on Monday 31st October.
This means that all tickets to Glastonbury are individually personalised to the named ticket holder and are therefore strictly non-transferable. Security checks are carried out on arrival, and only the specified ticket holder will be admitted to the Festival.
Those registered will then be able to book tickets from 6 November, with a maximum of six tickets per transaction. Those buying tickets for other people will need to make sure the individuals that they are purchasing for are also registered.
The registration requirement is part of an effort to stop large numbers of people purchasing tickets only to sell them on for massively inflated prices.
Glastonbury 2023 tickets resale
There is no date yet set for Glastonbury 2023 tickets resale. Last year, the resale took place at 6pm on Thursday 24 March for coach and ticket packages, and 9am on Sunday 27 March for general admission tickets.
The ticket resale is where tickets for which the balance was not settled are put back on sale, on the same website as the tickets were originally bought from.
Anyone wishing to purchase resale tickets will also need to be registered prior to the date they go on sale. These tickets must be bought in full - there is no deposit option - and there is a limit to the number of tickets each person can purchase.
It's almost time for the @glastonbury ticket resale! 🥳 Here's a glimpse of the poster from 1982😲Coach & ticket packages go on sale 6pm (GMT) on Thursday 24th March, and general admission tickets go on sale 9am (BST) on Sunday, 27th March.🎟️: https://t.co/Uorc8Q62pZ pic.twitter.com/V1eXRPoclhMarch 23, 2022
See more
How much is a ticket for Glastonbury 2023?
Tickets for Glastonbury cost £340 in total for general admission for the full weekend. The tickets are £335 and there is a £5 booking fee.
For the 2023 festival, those purchasing a ticket will also need to pay a deposit. A statement on the Glastonbury website says: "A £50 deposit (plus coach fare if booking a ticket + coach travel) is payable when booking in November, which the balance payable in the first week of April 2023."
Tickets for last year's festival cost £265 plus a £5 booking fee, and the price hike has left many disappointed, with one Twitter user saying, "That's far too expensive. People should boycott and not try to buy tickets for next year. This should put you all off buying a ticket. You don't need to go for that price!" and another adding, "I'd love to win the lottery. Maybe then I would be able to afford Glastonbury tickets." However, some music fans weren't put off by the ticket price, with one user tweeting, "If you think I'm willing to spend £350 on a ticket to the greatest place and biggest party on the plant then your right, I am".
Emily Eavis, co-organiser of Glastonbury festival, has taken to Twitter (opens in new tab) to defend this year's ticket price, saying: "We have tried very hard to minimise the increase in price on the ticket but we're facing enormous rises in the costs of running this vast show, whilst still recovering from the huge financial impact of two years without a festival because of Covid."
The price for local and Sunday tickets have not yes been released, but last year were available for £95 last year.
What are the dates for Glastonbury 2023?
Glastonbury will take place Wednesday 21 - Sunday 25 June 2023, as the festival always takes place over the last week in June.
Traditionally, Glastonbury has a 'fallow year' - which means the event doesn't go ahead - every five years, to allow the land to rest after being visited by hundreds of thousands of festival goers.
2018 was the last fallow year, but due to the Coronavirus pandemic Glastonbury was cancelled in 2020 and 2021, meaning the next fallow year is not likely to be until 2027 - though this hasn't been confirmed.
Glastonbury 2023 line up rumours
Eminem: A source has told The Sun (opens in new tab): "Eminem is wanted for a huge slot at Glastonbury and has been in talks for yonks. His dates all line up and if they can get him on board, it will be the first time he has ever played at the festival."
Arctic Monkeys: They've headlined twice before, and the dates for the band's 2023 UK and Ireland tour has tongues wagging, because there just happens to be a five day gap between 20 and 25 of June.
Elton John: Just like Arctic Monkeys, Elton John's Farewell Tour has left a gap between 21 and 27 June, leaving many hoping that he'll make an appearance at Worthy Farm in 2023.
Taylor Swift: She was due to headline Glastonbury in 2020, and was one of the few names who didn't reappear on the line-up when the festival returned. Coupled with her new album dropping in October 2022, rumours have ignited that she'll be at Glastonbury next year.
Harry Styles: Mr Styles' Love on Tour (opens in new tab) is one of the biggest music events of 2023, and with a two day gap over the Glastonbury dates - and his show on June 21 is in nearby Cardiff - fans are hoping to see him at Worthy Farm this year.
Video of the Week