Michelle Yeoh partner and children - Details of the Everything Everywhere All at Once star's family life
Her fiance has had quite the career too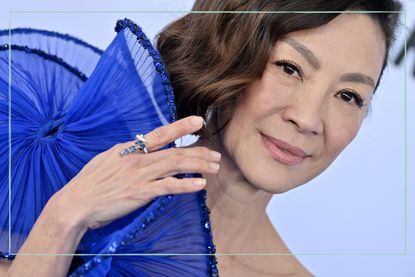 (Image credit: Future/Getty)
Continuing to wow audiences for her role in Everything Everywhere All at Once (opens in new tab)- we've shared what we know about Michelle Yeoh's partner, personal life and whether she has children.
All eyes are on Michelle Yeoh this weekend as the acting icon finds herself amongst the favourites to secure the Best Actress gong at The Oscars 2023 (opens in new tab). The 60-year-old has already picked up a number of other prestigious awards for her role as Evelyn Wang in the sci-fi adventure this year. But Yeoh faces strong competition from Cate Blanchett and To Leslie (opens in new tab) actress Andrea Riseborough for their equally notable perfomances.
Away from the cameras, Michelle's life appears as glamourous as one might expect from a star with a career spanning three decades in Hollywood. Some might be surprised to learn that Michelle Yeoh's partner is just as legendary - albeit in a similarly luxurious but slightly different arena. We share all there is to know about Michelle Yeoh's personal life.
Who is Michelle Yeoh's partner?
Michelle Yeoh is engaged to long-term partner Jean Todt. Her fiance is a former rally driver, who went on to become director of the Ferrari F1 team. Up until 2021, Todt was the President of the Fédération Internationale de l'Automobile (FIA) which oversees the Formula One World Championship.
In an interview with the Financial Times (opens in new tab), Todt revealed that the couple met in Shanghai "on June 1, 2004". The two were at a car unveiling event for Ferrari and Yeoh and Todt were made to pose together for photos. Todt shares that he asked for her number and began pursuing her long-distance.
In an interview with YOU Magazine (opens in new tab), Michelle reflected on their meet-cute. "A guy was trying to clear the stage and was being rude, so Jean went up to him and talked him down," she said. "He's about my height, and the fact that he could talk down someone bigger than him was my first impression of him – and a good one." Alas things progressed from there.
Todt allegedly proposed to Yeoh in 2005, but it wasn't until July 2008 that their engagement became public knowledge. It was Michelle who shared the happy news whilst appearing on CBS's The Late Late Show.
The two have yet to tie the knot - according to Town and Country Magazine, who asked the Crouching Tiger, Hidden Dragon star about reports they were thinking of getting hitched soon.
"Thinking!" Michelle snorts. According to the publication the two have been too busy to plan the simple ceremony they desire. Instead, "He counts the number of days rather than the years," Yeoh says. "I'll ask him, 'What is the present for 6,725 days?' "
The couple split their time between Paris, Hong Kong and Geneva.
my favourite fun F1 fact is that Jean Todt (the president of the FIA) is engaged to Michelle Yeoh (famous actress from crouching tiger hidden dragon, crazy rich asians and tomorrow never dies) I feel like not enough people know this so consider yourself informed haha pic.twitter.com/PWFqFDiEAQJuly 31, 2021
See more
Has Michelle Yeoh ever been married?
Yes, Michelle Yeoh was previously married to businessman Dickson Poon for four years from 1988 to 1992. At the time, Poon managed luxury brands such as Harvey Nichols, whilst Yeoh had been recently crowned Miss Malaysia.
Poon was influential in Yeoh's acting career behind-the-scenes. Yet Michelle was adament that she wanted to prove she had the right to be on set too. "I didn't want anybody to say, 'he's there because he's the producer,'" she recollected to Town and Country Magazine (opens in new tab) in August 2022. "So it gave me more incentive to say, 'I'm here because I deserve to be here.'"
A few years on from her divorce from Poon, Michelle became engaged again. This time to Dr. Alan Heldman, an American cardiologist from Baltimore, who met Michelle in London during her movie tour for Bond film Tomorrow Never Dies. Heldman popped the question in 1999, but the two parted ways in June 2000.
Does Michelle Yeoh have children?
No, Michelle Yeoh does not have any children of her own. However, the 60-year-old is a stepmother to Nicolas Todt, the son of her fiancé Jean Todt.
Michelle has been very open about children and her desire for them, but fertility issues have prevented the actress from having kids of her own. The Oscar-nominated actress revealed that being unable to have children was what prompted her divorce from ex-husband Dickson Poon.
In an interview with Bustle (opens in new tab), Michelle said: "As it turned out, I was unable [to have children]. And if I'm being honest with myself, I didn't want for us to be bitter 10 years down the road. Because in Asian families, people want to have sons and daughters [because] they are an extension and a legacy.
"And when you have the realization [that you can't have kids], you have to deal with it. You deal with the curveballs that are thrown at you," she explained.
In a separate interview in 2018, Michelle shared that she underwent fertitility treatments to try to conceive children. "I tried IVF, everything. I was desperate," she told YOU Magazine. "I love kids and saw myself surrounded by them but there's only so much you can put your body and mind through. It comes to a stage where you have to accept it, move on, and deal with the repercussions."
In the same interview, the Crazy Rich Asians star shared that she has nephews and nieces and a number of godchilden - including her ex-husband's daughter Dee, from his first marriage.
"I'm very strict with my brother's children," she says. "My sister-in-law will call me from Malaysia and tell me: 'They won't go to sleep.' So I'll ask for them to be put on the phone and I say: 'Go to sleep now!' and they do. I adore children, but they need that kind of discipline."
Michelle Yeoh: Career highlights to date
Michelle Yeoh grew to prominence for her roles in Crouching Tiger, Hidden Dragon and Bond film Tomorrow Never Dies. More recently, Yeoh is known for playing Eleanor Young in romantic comedy Crazy Rich Asians and Evelyn Wang in Everything Everywhere All at Once.
When first starting out, Yeoh was credited as Michelle Khan. Her early films include Hong Kong action films Yes, Madam (1985), Police Story 3: Supercop (1992), and Holy Weapon (1993). In 1997, she became known to international audiences for playing Wai Lin opposite Pierce Brosnan in Tomorrow Never Dies. Three years later saw the release of Ang Lee's martial arts film Crouching Tiger, Hidden Dragon (2000) which saw Yeoh nominated for a BAFTA for Best Actress.
Fast forward to the 2023 awards season and Michelle has already made a splash. Michelle won the Golden Globe and Screen Actors Guild award for Best Actress in Everything Everywhere All at Once. She's also nominated for her leading role in the upcoming Academy Awards.
Michelle Yeoh: Other facts
Michelle Yeoh is five ft three and a half in height.
Michelle Yeoh was born in Malyasia on August 6, 1962.
Yeoh speaks 3 languages - English, Malay and Cantonese.
Yeoh studied ballet at the Royal Academy of Dance in London, moving to England aged 15. Sadly a spinal injury prevented her from becoming a professional ballet dancer.
Aged 21, Michelle Yeoh was crowned Miss Malaysia in a national beauty pageant in 1983. In the same year, she represented Malaysia at the Queen of the Pacific beauty pageant in Australia and took home the crown. Yeoh was also Malaysia's representative at the 1983 Miss World pageant in London.
Related features:
Video of the Week
Emily Stedman is the Features Editor for GoodTo covering all things TV, entertainment, royal, lifestyle, health and wellbeing. Boasting an encyclopaedic knowledge on all things TV, celebrity and royals, career highlights include working at HELLO! Magazine and as a royal researcher to Diana biographer Andrew Morton on his book Meghan: A Hollywood Princess. In her spare time, Emily can be found eating her way around London, swimming at her local Lido or curled up on the sofa binging the next best Netflix show.