Who is Jimmy Kimmel's wife and how many kids does he have?
Jimmy Kimmel and his wife have been married since 2013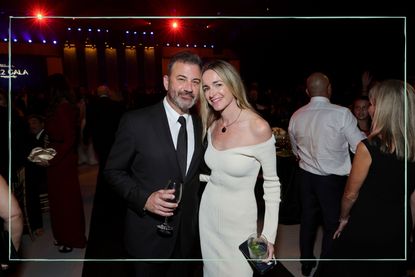 (Image credit: Getty Images)
Film fans want to know more about the Oscars 2023 (opens in new tab) host - including who Jimmy Kimmel's wife is and how many children he has.
Awards season is in full swing and as the Oscars approach many want to know more about those attending the prestigious ceremony, from who is Austin Butler (opens in new tab) and does he have a girlfriend (opens in new tab) to where to watch Elvis (opens in new tab) - the film he's nominated for.
But many also have questions about this year's host, Jimmy Kimmel. Best know for his late-night talk show, Jimmy Kimmel Live!, it will be his third time at the helm of the event, his first in 2017 and he also returned the year after, before the Oscars went hostless for three years. Here, we share who Jimmy Kimmel's wife is and how many children he has.
Who is Jimmy Kimmel's wife?
Jimmy Kimmel has been married to Molly McNearney since 2013. Molly is the executive producer and co-head writer of Jimmy Kimmel Live! and she is set to executive produce this year's Oscars, which Jimmy Kimmel is hosting.
The pair worked together for six years before they started dating in 2010. They struck up a friendship while both of them were dating other people, but after they both became single the late-night show host prepared a meal of Molly's favourite foods, and they made their relationship official.
However, the couple didn't hit it off when they first met. In an interview with Glamour (opens in new tab), Molly said: "When I first met him, he insulted me. The executive producer brought me into his office and said, 'This is Molly; she's my new assistant.' Jimmy barely looked up from his desk until my EP said, 'She competes in triathlons,' and then Jimmy looked up at me and said, 'That is really stupid! What a waste of time.'"
She added that once they started dating, she was nervous to tell her co-workers. "We love to make fun of Jimmy over here, myself included. When you have camaraderie with your co-workers, one of the parts of that is making fun of the boss a little bit, and now to think, 'That's the guy I'm dating', I didn't want that to stop."
Jimmy and Molly got engaged while on safari in Africa after three years of dating, and tied the knot in Ojai, California in 2013. Their wedding guests included Matt Damon, Ben Affleck, Emily Blunt and Jennifer Aniston, and the newlyweds went on to honeymoon in Portofino, Italy.
How many children does Jimmy Kimmel have?
Jimmy Kimmel has four children, two with current wife Molly McNearney and two from a previous marriage. Kimmel married his first wife, Gina Maddy, in 1988 and the pair got divorced in 2003.
Kimmel posts a Mother's Day tribute to Molly every year on his Instagram, captioning the most recent post (opens in new tab) from May 2022: "Happy #MothersDay to every Mom everywhere, especially Molly - these kids don't know how lucky we are."
Who are Jimmy Kimmel's children?
Katie Kimmel
Jimmy Kimmel's first child, Katie, was born in 1991 in Tampa, Florida, when Jimmy was 24 years old.
After Katie was born, Kimmel lost his job working in morning radio in Tampa and found a new one in Palm Springs, California. In an interview with Vulture (opens in new tab), Jimmy spoke about struggling to make ends meet at the time. He said: "We moved across the country, and I would work from four in the morning till around 11 in the morning, and at the time my ex-wife worked too. So I'd pick Katie up from daycare as quickly as I could, because we couldn't afford the $5 an hour to keep her there longer."
Katie received a BFA from The School of Art Institute of Chicago in 2015, and moved to California to work as an artist after graduating. Since then, she has set up her own business selling home goods, apparel and artwork.
In 2017, Kimmel defended his daughter on Twitter (opens in new tab), accusing clothing brand Reformation from copying her designs.
In 2021, shortly after her 30th birthday, Katie married her long-term partner Will Logsdon.
Kevin Kimmel
Jimmy Kimmel's first son and second child Kevin was born in 1993. Kevin works in television doing sound and as a production assistant, and he has worked on reality shows including Survivor and Big Brother: USA.
The father and son are clearly close, and Kevin often posts photos on his Instagram (opens in new tab) of the pair spending quality time together, such as playing baseball, fishing or watching NBA games.
Kevin married his wife Nicole at his father's fly fishing lodge in Idaho in September 2022. Sharing the news on Instagram, he captioned a photo (opens in new tab) of the happy couple, "After an exhilarating three and a half months it's an absolute joy to finally call you my wife."
Jane Kimmel
Jimmy's third child, Jane, was born in 2014. Announcing the news on Twitter, he said: "Congratulations to my beautiful and very tough wife on delivering our baby girl this morning @mollymcnearney."
Opening up on Jimmy Kimmel Live!, he said shortly after Jane was born, "We had a little girl, we named her after my grandmother - her name is Grandma Kimmel. She weighed 6 lbs., 1 oz. at birth. Twenty inches long, just above the legal limit - sometimes, they make you throw them back."
He added: "I've been taking somewhere in the neighborhood of 10,000 pictures of her a day. She thinks I'm with TMZ now."
Opening up about how his parenting experience has been different to when he had his first child over 30 years ago, Jimmy told PEOPLE (opens in new tab), "I'm more patient, I'm more confident. I didn't make any money when I was in radio and I got fired a lot.
"It's stressful enough to get fired and have to move to another town, but when you have little kids, it's even more stressful. So it's easier this time around, and I'm glad because I'm busy."

Billy
Jimmy's youngest child, Billy, was born in 2017. He was born with a congenital heart condition and had to undergo heart surgery when he was just three days old.
Jimmy has been open about the experience, and after Billy was born he said on his show, "We call him Billy. Six pushes, he was out. He appeared a normal healthy baby." He went on to explain that when Billy was just a few hours old, a nurse noted that the infant "was a bit purple."
"The room started to fill up. More doctors, nurses, and equipment started coming in and they determined that he wasn't getting enough oxygen into his blood," Jimmy said. "It's a terrifying thing."
He explained: "Basically, the pulmonary valve was completely blocked and he has a hole in the wall between the left and right sides of his heart," before adding, "Poor kid. Not only did he get a bad heart, he got my face."
Billy left the hospital when he was six days old, but had to have surgery again when he was seven months old.
In the years since, Jimmy has expressed his gratitude for his son's health and the doctors and nurses who treated him. Posting on Instagram for Billy's 5th birthday (opens in new tab), the TV host wrote: "Happy 5th birthday to our little nut. We are eternally grateful to the brilliant doctors and nurses at @ChildrensLA & @CedarsSinai for saving Billy's life and to those of you whose donations, prayers and positive thoughts meant everything."
Related features:
Video of the Week
Ellie joined Goodto as a Junior Features Writer in 2022 after finishing her Master's in Magazine Journalism at Nottingham Trent University. Previously, she completed successful work experience placements with BBC Good Food, The Big Issue and the Nottingham Post, and freelanced as an arts and entertainment writer alongside her studies. In 2021, Ellie graduated from Cardiff University with a first-class degree in Journalism.