Is Colin Farrell married and does he have children? The Banshees of Inisherin star's family life
The Irish star is nominated for Best Actor at the Oscars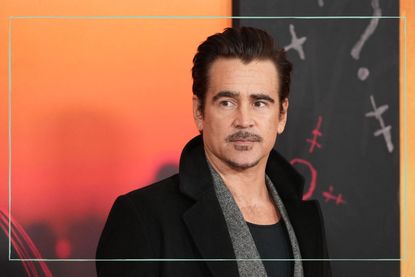 (Image credit: Alamy)
With the Irish actor predicted to win big at the Oscars 2023 (opens in new tab), film fans want to know more about his personal life - including if Colin Farrell is married and whether he has children.
Colin Farrell may have been a huge name in Hollywood for the past 20 years or so, but it's not until this year that the Irish star has finally been nominated for an Oscar, having been put forward for the Best Actor award for his performance in The Banshees of Inisherin.
And just like film fans want to know more about the personal lives of other nominated stars, asking questions like who is Michelle Yeoh's partner (opens in new tab) and if Austin Butler has a girlfriend (opens in new tab) to wondering who is Oscars host Jimmy Kimmel's wife (opens in new tab), many also want to know if Colin Farrell is married and whether he has children. In years gone by, the star was frequently in the tabloids for his romances with other A-listers, but more recently he has kept a lower profile - here's what we know about Colin Farrell's family life...
Is Colin Farrell married?
No, Colin Farrell is not married. The Irish actor has never been married, although there is unproven speculation that he was previously married English actress and singer Amelia Warner, who he dated from July to November 2001.
Since then, Farrell is reported to have dated a number of different celebrities, including Angelina Jolie, Britney Spears, Lindsay Lohan and Rihanna. Meanwhile, Amelia Warner went on to marry Fifty Shades of Grey actor Jamie Dornan in 2013.
Who is Kelly McNamara? Colin Farrell's girlfriend
Colin Farrell now keeps a lower romantic profile, though he is reported to currently be dating Kelly McNamara, who works as a PA to U2 guitarist The Edge.
Kelly remained a mystery to the public for a long time, though Colin did share some details when appearing on The Ellen Show back in 2017. He said: "My girlfriend, she travels a lot as well with work so often times we're two ships passing in the night but we make sure to find a port that we can, you know, rendezvous at."
Later that year Kelly's identity was revealed, with the Irish Mirror (opens in new tab) reporting that the pair had been seeing each other since 2015, and they met while spending time with U2.
It's reported the couple have had an on-and-off relationship in the years since, with Colin telling the Irish Mirror (opens in new tab) in 2020 he was "single and living alone" in lockdown. "I don't have a partner and my two children were with their moms," he said.
Does Colin Farrell have children?
Colin Farrell has two children. He welcomed son James Padraig in 2003 with model Kim Bordenave, and in 2009 had his second child, Henry Tadeusz, with Polish actress Alicja Bachleda-Curuś.
In 2007, Farrell revealed that James has a rare genetic disorder known as Angelman Syndrome, which can cause intellectual delay. He has been open about his son's health, telling the Irish Independent (opens in new tab) in 2007, "With my son the only time I'm reminded that there is something different about him – that he has some deviation of what is perceived to be normal – is when I see him with other four-year-olds.
"Then I go 'oh yeah' and it comes back to me. But from day one I felt that he's the way he's meant to be."
He added the he feels "incredibly blessed to have him in my life," and that his son had shown "amazing courage" in the first four years of his life.
When Colin recently won Best Actor at the 2023 Golden Globes, he paid tribute to his two sons in his acceptance speech, saying, "My kids at home are watching this, James and Henry, the loves of my life. I love you so much."
Colin Farrell net worth
According to The Irish Sun (opens in new tab), Colin Farrell's net worth is estimated to be $80million - the equivalent of £66million.
As well as his appearance in the Oscar-nominated film The Banshees of Inisherin, Colin has appeared in a number of Hollywood blockbusters, including his breakout role in Minority Report as well as Daredevil, Fantastic Beasts and Where to Find Them, The Gentlemen and the 2022 film The Batman.
Related features:
Video of the Week
Ellie joined Goodto as a Junior Features Writer in 2022 after finishing her Master's in Magazine Journalism at Nottingham Trent University. Previously, she completed successful work experience placements with BBC Good Food, The Big Issue and the Nottingham Post, and freelanced as an arts and entertainment writer alongside her studies. In 2021, Ellie graduated from Cardiff University with a first-class degree in Journalism.