Watched Paddington 2? Here's what we know of third film Paddington in Peru
Marmalade sandwiches with a Peruvian twist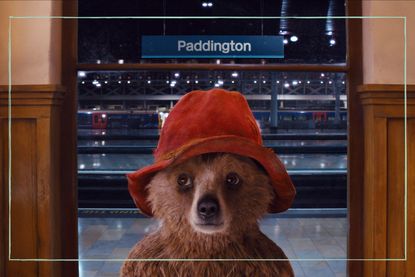 (Image credit: Cinematic Collection/Alamy/Future)
The world's favourite marmalade sandwich eating bear is back for a third instalment - and this is the news everyone needs right now.
The first two Paddington films delivered perfectly pitched stories that all ages can relate to, and delightful casts to bring the scripts to life. Paddington became a huge part of Royal life when a viral video of himself with the Queen during her Platinum Jubilee celebrations stormed the hearts of the world. Following the sad passing of Her Majesty, Queen Elizabeth ll, Paddington became a beacon of hope, metaphorically holding the hands of mourners as they shared in grief at her death. The news that a third film is in progress, is comforting news - and here's everything we know so far about the film that looks set to take place outside the bear's adopted home of London.
Fans who have waited nearly 3 decades for a sequel to family favourite movie Hocus Pocus and asking when is Hocus Pocus 2 coming out, are delighted to now have an answer. The new story Hocus Pocus 2 tells, revolves around an up and coming witch and how her world becomes entwined with the Sanderson Sisters. For those wanting some superhero action, Thor: Love and Thunder can now be streamed online if it was missed during its theatrical release.
What could be the plot of Paddington in Peru?
The title of the film speaks for itself, and alludes to a storyline where Paddington returns to his birth place of Peru.
Fans will recall from the very first film, that Paddington was living in Peru with his Aunt Lucy, having been orphaned as a baby. It was she who encouraged him to travel the world and realise his dreams, especially as she was moving to Lima to live in a home for retired bears.
Paddington has maintained strong ties with his heritage - the bush hat he is rarely seen without, was handed down to him by his uncle in Peru. He also maintains regular contact with his Aunt Lucy, sending her regular letters and postcards.
The plot of Paddington 3 could involve the bear needing to get to his Aunt in a time of need, or wanting to take a visit to his homeland after spending some years in London. He could simply want to take his new family - the Browns - on holiday to show them his heritage. But this is the life of Paddington, and there could be some dastardly happenings that ensure chaos abounds wherever he goes!
Paddington in Peru: Possible cast
The cast has yet to be confirmed, but there is plenty of speculation over who could be returning.
The previous Paddington films have seen the titular bear voiced by the gentle tones of actor Ben Wishaw - it's safe to say the character wouldn't be quite the same without his calming vocalisations.
Henry Brown actor Hugh Bonneville has hinted at his return to the film, when speaking to GQ. On whether Paddington 3 had begun filming, he said "No, no, there's a long way to go. Many a slipped 'twixt cup and lip. No, there's all sorts of factors to be in place, like a script". I mean there was a script, but there's all sorts of factors as well as a script that need to be got in place and aligned".
Appearing to confirm that Aunt Lucy will be involved in the plot somehow, he continued "I know literally no more than the title, which slightly gives it away, Paddington in Peru. So I suspect a trip to Aunt Lucy's in some way, shape or form. But we'll have to wait and see". With Bonneville back in the picture, that would likely signal the return of Sally Hawkins as Mary Brown, Julie Walter as Mrs Bird, and Madeleine Harris and Samuel Joslin as the Brown's children Judy and Jonathan.
Nicole Kidman and Hugh Grant aren't expected to return, as their character arc as the villain of the movies only lasted for one outing each. In which case, speculation will undoubtedly mount over who will be stepping into their A-class shoes as the new scoundrel to wreak havoc for Paddington and the Browns.
Paddington in Peru: Meet the Director
There is a new director coming on board for the third film in the Paddington franchise - Dougal Wilson will be taking the reins, marking his directorial feature film debut.
Wilson's previous work includes making advertisements for big brands such as Apple and the BBC, and he is the man behind the annually anticipated John Lewis Christmas advert. Speaking to Variety, Wilson said "As a huge fan of the first two films, I am very excited (if not a little intimidated) to be continuing the story of Paddington. It's a massive responsibility, but all my efforts will be focussed on making a third film that honours the love so many people have for this very special bear".
Studiocanal CEO Anna Marsh and Ron Halpern, EVP of global production, said "We have long been huge admirers of Dougal's work, his stunning visual creativity, his storytelling, heart, emotion and humour. We are so thrilled that Dougal will be directing the third Paddington film. We look forward to bringing Paddington back to Peru for his next big screen adventure".
Director of the previous two instalments Paul King, also weighed in to wish Wilson good luck. He said "After ten years of working on the Paddington movies, I feel absurdly protective of the little bear, and I'm delighted that Dougal will be there to hold his paw as he embarks on his third big screen adventure. Dougal's work is never less than astounding: funny, beautiful, heartfelt, imaginative, and totally original. Aunt Lucy once asked us to 'Please Look After This Bear.' I know Dougal will do so admirably."
Paddington 3 filming details
There is no news of a release date currently, as filming for Paddington 3 is yet to commence. However, filming is set to begin in 2023, moving between London and Peru locations.
In his interview with GQ, Hugh Bonneville confirmed this, saying "With a fair wind, I believe there'll be a Paddington 3 shot next year, yes". Despite stepping down as director, Paul King and co-writer Simon Farnaby have confirmed involvement in the film on some level, telling Digital Spy they are both "loitering around in the alleyways at the edges of that production".
Speaking of a possible release date, although they confirmed they had drafted a rough outline of the potential Paddington 3 story, they also spoke about how long it took to bring the film's predecessors to screen. They said "But it takes a long time to do those films. Paul did the first one himself, which took five years, and then [Paddington 2] was two and a half or three years". Even with principal photography due to begin early 2023, this timeframe could mean its longer than fans are anticipating, before the film's big screen debut.
Related Film Features:
Video of the Week
Lucy is a multi-award nominated writer and blogger with six years' experience writing about entertainment, parenting and family life. Lucy has contributed content to PopSugar and moms.com. In the last three years, she has transformed her passion for streaming countless hours of television into specialising in entertainment writing. There is now nothing she loves more than watching the best shows on television and telling you why you should watch them.