Prince Harry appears in new tell-all interview ahead of 'explosive' autobiography release
The trailer has just landed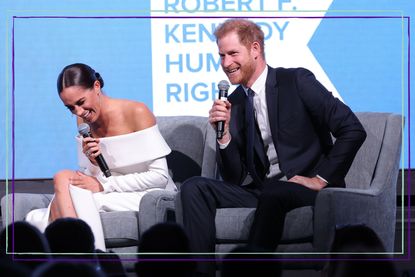 (Image credit: Getty)
Prince Harry has sat down for an intimate interview with 60 Minutes' Anderson Cooper ahead of his memoir release – and the trailer has landed.
In a new trailer which has been released on 60 Minutes' official Instagram page, a voiceover teases, "Next Sunday on 60 Minutes. Prince Harry has an explosive new memoir coming out. What's inside? His revealing interview with Anderson Cooper only on the award-winning 60 Minutes. All new next Sunday on CBS and streaming on Paramount Plus."
In a statement previously announcing the book, the Duke of Sussex said, "I'm writing this not as the prince I was born but as the man I have become.
"I've worn many hats over the years, both literally and figuratively, and my hope is that in telling my story—the highs and lows, the mistakes, the lessons learned—I can help show that no matter where we come from, we have more in common than we think."
A memoir-writing expert has now said that Spare will not only provide insight into Prince Harry's life for the public, but will give his two children the chance to read about their father's younger years in his own words when they grow up.
While it might not have been the main aim for Harry as he sat down to write his memoir, the CEO of memoir-writing service StoryTerrace, Rutger Bruining, believes the book will be a great learning tool for his kids.
Rutger Bruining told The Express, "They [Archie and Lilibet] are obviously quite young but I think the memoir will be a very interesting document for them, as he [Harry] won't be able to change the narrative after the book comes out.
"So the fact that he is doing his memoir quite young will show an evolution of his thinking and personal development."
Spare, the expert believes, will not be Archie and Lilibet's only way to understand their father's struggles but will simply add more details to the stories and memories Harry is likely already sharing with them.
Bruining said, "I don't think there is any risk of this book bringing him apart from his children as I suspect he is just providing them with more information. It will be a very unique document for them to have, even if it's a public document."
While the press release for the book reads: "SPARE takes readers immediately back to one of the most searing images of the twentieth century: two young boys, two princes, walking behind their mother's coffin as the world watched in sorrow - and horror.
"As Diana, Princess of Wales, was laid to rest, billions wondered what the princes must be thinking and feeling - and how their lives would play out from that point on. For Harry, this is his story at last.
"With its raw, unflinching honesty, SPARE is a landmark publication full of insight, revelation, self-examination, and hard-won wisdom about the eternal power of love over grief."
Prince Harry's memoir (opens in new tab), which is titled Spare, will be released on January 10th.
Entertainment writer - contributor
Robyn is a freelance celebrity journalist with ten years experience in the industry. While studying for a degree in Media and Cultural Studies at London College of Communication, she did internships at Now and Heat magazines. After graduating, she landed a job at Star magazine, where she worked her way up to features editor. She then worked at Future as Deputy Celebrity Content Director across Woman, Woman's Own, Woman's Weekly and Woman & Home magazines.