The exciting milestone that is long overdue for Prince Louis if he's to follow Prince George and Charlotte's royal footsteps
The Wales youngster still hasn't had the same experiences as his siblings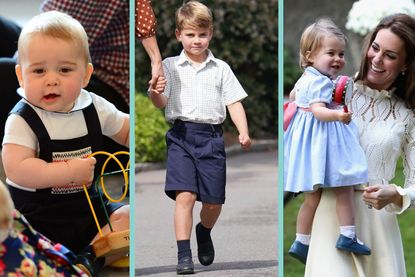 (Image credit: Getty Images)
Prince Louis is still yet to achieve the royal milestone that his siblings Prince George and Princess Charlotte reached when they were much younger than him.
While Prince Louis is likely to have reached his personal child development stages as well as child development stages one to five, it appears the royal child has missed out on achieving one thing that his brother and sister experienced early on.
The Wales youngster who celebrated his fifth birthday earlier this year, still hasn't been on an international royal tour with his parents Prince William and Kate Middleton.
Prince George was nine months old when he accompanied the Prince and Princess of Wales, who were the Duke and Duchess of Cambridge at the time they went on a royal trip to Australia and New Zealand.
And, Princess Charlotte was 16 months old when both she and Prince George joined Kate and William on their Canada royal trip.
But during the last royal overseas tour in which Kate and William went to the Caribbean, they went child-free as the trip fell during term time.
But if you're wondering whether Prince Louis could join them on a future international tour, it might be tricky as all three of their children are at school full time at Lambrook School, so it's unlikely that the Wales' will take them on a long international trip.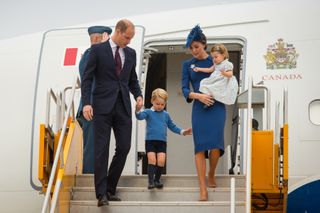 It's understood that Prince Louis has been forced to miss out on an overseas trip due to the Covid pandemic that stopped him from going abroad when he was little, even though his cousin Archie, who is now four, went on his first royal tour of Africa in 2019 when he was just four months old. However, Princess Lilibet never went on one as she was born after Prince Harry and Meghan stepped back as senior working royals.
But Kate and William are expected to have some more international royal tours coming up, with visits to Commonwealth countries including Canada and Australia.
Australian columnist Daniela Elser wrote, "If the Prince and Princess don't pull their finger out on the Commonwealth front, then by the time they have matching thrones, the land over which King William V presides will be so reduced he will be able to fly from one end to another in under an hour.
"If the Prince and Princess might be a little gun shy about venturing forth, out into these here Commonwealth wilds, well, that might be understandable."
Here Daniela is referring to the last royal tour abroad that William and Kate made to Belize, Jamaica, and the Bahamas in March 2022, which was marred by controversy due to protests over independence and slavery reparations.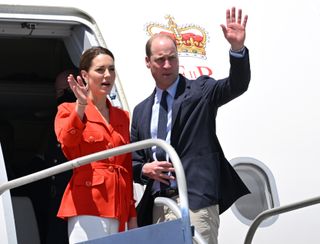 She continued, "But, that does not excuse them from continuing to stay away, whether out of lethargy or nervousness or unwillingness to have to go barefoot on so many beaches."
Prince William is headed to Singapore at the end of this week for the Earthshot Awards 2023 but Kate is set to stay at home to offer her support to Prince George who has some important school entrance exams coming up.
In other royal news, Prince Harry and Meghan Markle spotted trick-or-treating with Archie and Lilibet, and fans are all asking the same thing and Mike Tindall 'last meal' choice revealed and it's a perfect family favourite to make with the kids. And have you ever wondered do Kate Middleton's parents have titles?
Parenting advice, hot topics, best buys and family finance tips delivered straight to your inbox.