The People We Hate at the Wedding: Cast and first-look at the trailer
As family tensions brew in upcoming movie The People We Hate at the Wedding we look at who is in the cast.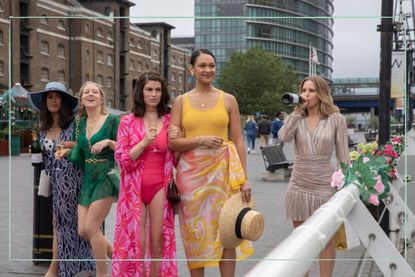 (Image credit: Amazon Prime Video)
The People We Hate at the Wedding is set to give viewers plenty of belly laughs as struggling American siblings reluctantly agree to attend the wedding of an estranged family member and fans are eager to know who is in the cast?
Alice and Paul along with their mother Donna, attend the wedding of their estranged, wealthy half-sister Eloise in the English countryside. It's a chance for them to reconnect as-more or less-adults, and learn to love each other like they once did.
But over the course of the week, it's not just the stress of knowing what to wear to a wedding (opens in new tab), the family's many skeletons are wrenched from the closet, and the unlikely reunion gives everyone the motivation to move their own lives forward.
This upcoming film is a modern wedding comedy for anyone with a slightly dysfunctional family (everyone), or anyone who's been forced to attend a wedding they tried to avoid (also everyone) as we look at the star casting...
The People We Hate at the Wedding cast
The People We Hate at the Wedding cast includes; Allison Janney (mum Donna), Kristen Bell (Alice), Ben Platt (Paul), Cynthia Addai-Robinson (bride Eloise), Dustin Milligan, Isaach De Bankolé, Karan Soni, Tony Goldwyn, Jorma Taccone, Julian Ovenden, and John McMillan (Ollie).
They are joined by Jaxon Goldenberg (young Paul), Davina Moon (Daniella), Rufus Jones (Tom), Jonny Weldon (Will), Rich Keeble, Lesley Ewen (Barbara) and Emma Davies (Helen).
Ben Platt was the first actor to sign on to the film. Director Claire Scanlon revealed in an interview with EW (opens in new tab), "His character is so sweet and people-pleasing, yet in trying to please his boyfriend, he's losing his own sense of self. Ben loved portraying that complexity on film."
Meanwhile, Kristen Bell was brought in as a replacement for Annie Murphy (Schitt's Creek) as Alice.
The People We Hate at the Wedding trailer
The trailer for upcoming feel-good comedy The People We Hate at the Wedding has just been released and fans cannot wait to watch the movie when it premieres on November 18th on Amazon Prime Video.
You can take a glimpse of the hilariously raunchy comedy that sees dysfunctional American siblings Alice and Paul along with their ever-optimistic mom, when they are invited to the British wedding of their estranged half-sister Eloise.
After watching the trailer, one fan said, "Kristen, Ben and Cynthia as siblings, and Allison as their mother?! Oh, yes, please, it's always a win!"
Another fan put, "Can't wait! The book was hilarious and the casting is perfect, Ben and Kristen make excellent spiteful siblings."
And a third fan added, "Oh this is gold can't wait for it."
Who is Claire Scanlon?
Claire Scanlon is director of this upcoming feel-good film The People We Hate at the Wedding. She has also worked at the helm of hit Netflix show Never Have I Ever (opens in new tab). The American editor and director has been nominated for four Primetime Emmy Awards - one of which she won for her editing work on The Office and The Apprentice.
Teasing the upcoming film, Claire told EW, ""Grant Ginder created such a fun and relatable family - with very unique, comedic ways of avoiding adult responsibility. The vulnerability of his characters, so flawed yet desperately looking for human connection, very much spoke to me."
She also explained how working on the movie made her feel at ease. She said, "I feel most comfortable in the world of hard comedy. Both Set It Up and The People We Hate at the Wedding share common ground on that front. Flawed people avoiding the consequences of their actions - that never blows up in one's face does it? I love watching this family squirm and frankly get their own comeuppance for making absolutely terrible, yet hilarious choices."
Related Amazon Prime Video Features
Video of the week