What did Andrew Ridgeley do after Wham! and where is he now?
Fans of Netflix's new Wham! documentary are keen to know what Andrew Ridgeley is doing now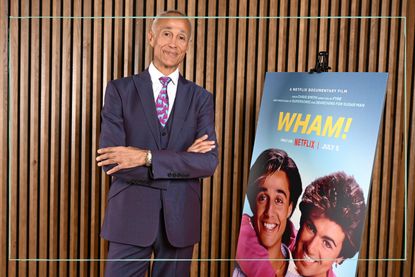 (Image credit: Getty Images)
Netflix's brand-new Wham! documentary has got viewers wanting to know what Andrew Ridgeley did after the band split and what he's up to now. We did the research for you, and here's everything there is to know...
Featuring unheard interviews and never-before-seen footage from George Michael and Andrew Ridgeley's personal archives, Netflix's latest documentary charts the success of British pop duo Wham!, beginning with their appearance on Top of the Pops in 1982, and ending with the Wembley stadium farewell concert in 1986.
The film has been a success among the streaming service's viewers, and has many asking questions about what happened after that final night in Wembley - from when George Michael came out and how he died to why Wham! broke up. Meanwhile, band member Andrew Ridgeley doesn't actually appear in the doc - as director Chris Smith said it would have thrown the film off balance if Ridgeley were on camera but not Michael, who died in 2016 - which has left viewers wanting to know where he is now and what he has been doing since Wham! broke up.
What did Andrew Ridgeley do after Wham! broke up?
Shortly after Wham! broke up, Andrew Ridgeley moved to Monaco and tried his hand at racing, before moving to LA to try acting. Eventually, Ridgeley moved back to England in 1990 and released his one and only solo album, Son of Albert.
The album failed to make it into the charts and received mixed reviews, and the tabloids were especially harsh to Ridgeley. In a recent interview with The Big Issue, he shared that he "had no real idea" what to do after Wham! split.
"I didn't have the voice to compete with George, but that was fine," he said. "Being in a band was the full extent of my aspirations at 16 and I had realised it. I had no desires and no burning deep-held ambition to do anything else... I was thrilled to pieces with his development into the artist that he became. He was my best friend. It is so alien and bizarre to me that anyone would feel otherwise. I genuinely don't understand it."
In January 1991, Ridgeley briefly reunited with Michael on stage at the encore of his Rock in Rio event at the Maracanã Stadium in Rio de Janeiro. And though Michael and Ridgeley planned several reunion shows through the '00s, the concerts never happened.
Since then, Ridgeley published a memoir called Wham! George & Me in 2019, and had a cameo that same year in the romantic-comedy Last Christmas, which was inspired by the band's chart-topping Christmas single.
However, for the most part, Ridgeley has kept out of the limelight, recently revealing to the Los Angeles Times that he didn't like the lack of privacy that came with being a major celebrity.
He said, "I was unprepared for the consequences of fame. I resented deeply the intrusion into my personal life, being chased from restaurant to restaurant. To step away from that was a welcome sort of relief."
Did George Michael and Andrew Ridgeley stay friends?
George Michael and Andrew Ridgeley did stay friends after Wham! split up, Despite rumours saying otherwise. In fact, Michael once said, "I think it should be the most amicable split in pop history."
Ridgeley has always spoken fondly of his former bandmate in years since, recently telling the New York Times that he was "one of the finest, if not the finest, singing voices of his generation."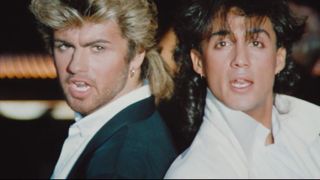 In another interview with People ahead of the Wham! documentary release, Ridgeley recalled the last time he saw George Michael before his death in 2016.
"We'd have regular games of Scrabble," he recalled. "He'd beaten me the week before, and I was exacting my revenge. It took us right back to just... the essence of our schoolboy friendship and one-upmanship. It was a game that stimulated him, and me also."
After George Michael's death in 2016, Ridgeley delivered an emotional speech at the 2017 Brit Awards, paying respect to his friend. He said: "George has left for us in his songs, in the transcendental beauty of his voice, and poetic expression of his soul, the very best of himself.
"I loved him and in return, we, you, have been loved."
Was Andrew Ridgeley at George Michael's funeral?
Three months after his death on Christmas Day in 2016, George Michael's funeral was held in North London, with Andrew among the guests. Wham! backing singer Pepsi DeMacque was also among the mourners.
He was buried in London at Highgate Ceremony next to his mother, Lesley, who died 20 years before him.
Around what would have been George Michael's 60th birthday, the Mirror reported that Andrew Ridgeley felt the death of his friend had left a "void" in his life.
He said, " "When I found out [George had died] it was a moment of disbelief. I think that's a very good way of putting it. I think anyone finds it difficult to comprehend when someone they're so close to passes away, it's an inconceivable moment. It leaves a void in your life."
He added, "If I could go back to any time in my life, it would probably be when Yog, Shirley [Wham! backing singer Shirley Holliman], and me were knocking around together as a very, very happy and affectionate trio."
Where is Andrew Ridgeley now?
Andrew Ridgeley now lives in Wadebridge in Cornwall, where he has been for 30 years. He first moved to the area in 1994 with his ex-girlfriend - Bananarama's Keren Woodward - moving to a farmhouse along with Woodward's then 10-year-old son, Thomas.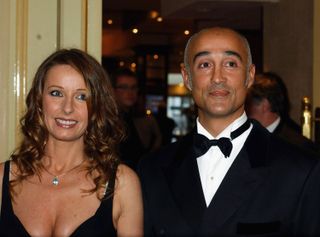 Ridgeley has got stuck in with the local community, and reportedly enjoys playing golf at the Trevose course, near Padstow, and has previously been spotted surfing off the shore of Constantine Bay, according to reports by CornwallLive.
The publication also reports that he has been a regular at the local Co-op and Regal Cinema in Wadebridge, and that he is a fan of a pint of Oakham Ale in the Quarryman Inn.
One Wadebridge resident posted in a local Facebook group: "Regularly see him, he's just a normal bloke going about his business but always smiles and chats. His dad was lovely a true gentleman and used to be a marshall on carnival night."
Andrew and Keren briefly split in 2015 before reconciling, but broke up for good and went their separate ways in 2017. It has been widely reported that Ridgeley has since been in a relationship with Amanda Cronin - founder of Amanda Caroline Skincare - but that the pair split in May 2023.
The MailOnline reported that Amanda said at the time of the split: "I'm grateful for the time we've had together – he's smart, funny, sexy and cool."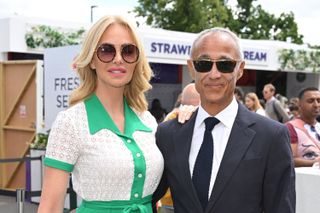 What does Andrew Ridgeley do now?
Andrew Ridgeley is enjoying the quiet life in Cornwall, and he is also a keen cyclist, having done a lot of charity fundraising through his bike rides. In a recent BBC interview, he revealed he's currently preparing to cycle from John O'Groats to Lands End to raise money for the suicide prevention charity Papyrus.
In 2018, Ridgeley appeared on Good Morning Britain to discuss a charity race through the French and Swiss Alps called Dallaglio Cycle Slam. The 18-day, 1,100-mile cycling event ultimately raised $1.4 million for charity.
Presenter Piers Morgan asked Ridgeley about Michael's death - which had taken place just two years earlier - during the TV appearance, but he made it clear he was unhappy with this line of questioning. "I'd much rather be discussing the Dallaglio Cycle Slam and it's good work for people who haven't had the privileges of you and I. I think that's rather a more worthy subject matter," Ridgeley said.
From around the early '90s onwards, Ridgeley mostly avoided the spotlight he had grown accustomed to, aside from occasional appearances on TV and radio.
Andrew Ridgeley net worth
Andrew Ridgeley has a net worth of around $40 million - roughly £30 million - thanks to the enduring popularity of Wham!'s greatest hits.
The band has sold more than 35 million records, and 1984's Make It Big was the first album of the '80s to have three number-one hits in America. That same album went 4x Platinum in the UK and 6x Platinum in the US.
Ridgeley has reportedly amassed more than £10 million in royalties from his Wham! hits and is thought to make thousands yearly from a co-writing credit on George Michael's 'Careless Whisper'.
Elsewhere on Goodto, we've uncovered the lives of those in front of the lens, from where Heather Mills is now and how Paula Yates died to if Fred Sirieix is married and how many children Pamela Anderson has.