Is Fred Sirieix married, and who is his daughter?
He's back with another round of First Dates, but what is Fred's relationship status?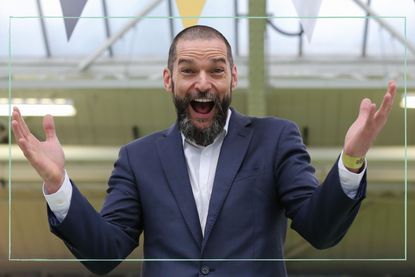 (Image credit: Dinendra Haria/Alamy Live News/Future)
As First Dates returns for its 20th season, it's not just the contestants piquing the interest of viewers. Presenter Fred Sirieix and his romantic life also have the attention of fans.
First Dates has been airing on Channel 4 since 2013. Now entering its 20th season, the show depicts many people on their first date, before they're interviewed and asked if they'd like to see each other again. The popular reality series has spawned the spinoff Teen First Dates, which began showing on E4 in February 2021, with a second season starting on February 22, 2022. With a moderate romantic success rate for those who take part in the show, viewers have been left wondering if the series presenter, Fred Sirieix, has any luck in his own love life. Read on to find out if Fred is married, and everything you need to know about his famous daughter.
Dating show fans were quick to tune into a Netflix match-making offering, then asking where is Perfect Match filmed? We have all the intel on this, as well as details of the recent Love Is Blind season 4 location. ITV has a new show for single parents looking for love - dubbed "Love Island for grown ups," the upcoming Romance Retreat hopes to offer widows and divorcees another chance at finding their ideal match.
Is Fred Sirieix married?
Fred Sirieix isn't married but is engaged to his girlfriend whose name remains undisclosed, but whom is known on his social media accounts as "Fruitcake."
The 49-year-old Maître d' has never been married, but was previously in a relationship with Alex Spendolini for 12 years. He revealed his relationship with Fruitcake on Instagram in 2018, and on March 17, 2020, Fred confirmed their engagement by sharing a picture of the pair with the simple caption "#fruitcake said yes," with heart and ring emojis.
Fruitcake has her own Instagram account named fruitcake_fundamentals, where her name remains a mystery, but she shares affordable high street fashion buys. The fashionista shares clothing advice for those with fuller figures and a bigger bust, as well as where to find budget clothing that looks premium. There's also plenty of snaps featuring her life and adventures with husband-to-be, Fred.
The pair had planned to marry in 2021, but cancelled as some family were finding it difficult to travel due to ongoing coronavirus restrictions. Although Fred suggested the wedding would take place in 2022, there has been no announcement from either Fred or Fruitcake, that a wedding has gone ahead.
Who is Fred Sirieix's daughter?
Fred's daughter is 17-year-old Team GB diver Andrea Sirieix, whom he shares with former partner Alex Spendolini. He also has a son, 13-year-old Lucien, with Alex.
Andrea is a Tokyo 2020 Olympic diving finalist, and a 2022 Commonwealth, European, and Junior World Champion. As well as sharing her diving triumphs with her 30,000 Instagram followers, she also features regularly on her father's account. Andrea has been training to be a diver from the age of 8, making the Olympic team at the age of 16.
Although Lucien features less frequently on Fred's Instagram, he did once share a video of the pair boxing together. He captioned the moment "Meanwhile my boy is working hard to take my head off. Not today son!" A fan commented on the post, saying "Loving this! Boxing is such a life/art/skill/lesson. Your lovely son will remember you teaching him all these areas and the time you spend together for ever."
How much is Fred Sirieix worth?
Fred Sirieix is thought to be worth in excess of £1million. His customer service company, The Art of Service Ltd, is thought to turn over around £500,000 a year.
According to The Art of Service website, it is "a board-based interactive training activity that demonstrates how to achieve great customer service. Its objective is to train staff in the very best aspects of hospitality and service. It raises the bar by teaching your staff exactly how to meet customer's expectations.
The focus is on the people in your business – how they perform, learn and represent what you and your business stand for. The below game is the original Art of Service Restaurant game." Key benefits of the training game include improving front of house skills, enhancing customer experience, testing staff knowledge and skills in a fun way, and promoting teamwork, ownership and participation, and more.
Related Channel 4 Features:
Video of the Week
Lucy is a multi-award nominated writer and blogger with six years' experience writing about entertainment, parenting and family life. Lucy has contributed content to PopSugar and moms.com. In the last three years, she has transformed her passion for streaming countless hours of television into specialising in entertainment writing. There is now nothing she loves more than watching the best shows on television and telling you why you should watch them.