How did Paula Yates die? Channel 4 documentary Paula looks at the life of the tragic star
A sad end to her short life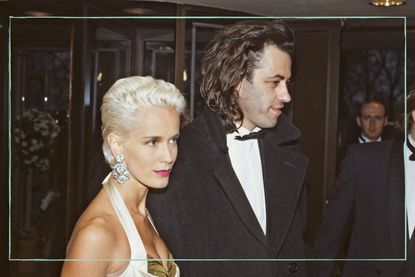 (Image credit: DPA Picture Alliance/Alamy/Future)
Channel 4 documentary Paula looks at the stars colourful life, and accidental death at the age of 41.
The 2-part documentary Paula, begins airing on Channel 4 on March 13. After rising to fame for hosting The Tube alongside Jools Holland, and her infamous Big Breakfast slot In Bed With Paula, the dynamic and hilarious presenter Paula Yates became a household name. Tragically the good times didn't last, and a devastating spiral led to Paula's death in 2000. The documentary is set to reveal never seen before interviews recorded just before her death. Great friends including Robbie Williams, hairdresser Nicky Clarke, and some of her best friends also offer insights into the life and times of the irreverent star. Read on to find out how Paula Yates died, and the other tragedies that followed her family in the aftermath of her death.
Also on Channel 4, documentary George Michael: Outed looks at what did George Michael do (opens in new tab) to be arrested on the fateful night that changed his life for ever. Similarly, interest in what did Charles Bronson go to prison for (opens in new tab) has been piqued, with the release of documentary Bronson: Fit to Be Free? Elsewhere on the channel, In The Footsteps of Killers looks at what happened to Deborah Wood (opens in new tab) - the young woman died in terrible circumstances and her killer has never been apprehended.
How did Paula Yates die?
Paula Yates died of an accidental heroin overdose, on September 17, 2000 on her daughter Pixie's 10th birthday. The presenter was 41-years-old, and was found dead at her Notting Hill residence with her 4-year-old daughter Tiger Lily present.
Yates had met The Boomtown Rats frontman Bob Geldof, in 1976. In 1983 their first child Fifi, was born. Second daughter Peaches was born in 1989, with third daughter Pixie following in 1990. The pair had married in Las Vegas in 1986, with their marriage and personal lives coming under intense scrutiny from the tabloids during their heyday. Yates later became infamous for the affairs she had, including one lasting 6 years with gay actor Rupert Everett.
When Yates met INXS frontman Michael Hutchence, she is said to have fallen completely in love. The pair had met 1985, while Yates was interviewing him for music show The Tube. She began attending INXS gigs, even taking her daughter along with her on occasions, and maintaining contact with Hutchence whenever she could.
She interviewed him as part of her Big Breakfast slot in October 1994, where chemistry between the pair was painfully obvious. In February 1995, Yates left her husband and the unsurprising news she and Hutchence had been having an affair for some time, was revealed. Later in 1995, Yates became pregnant with her fourth daughter - Hutchence's child.
When Hutchence died in 1997, his death was ruled by a coroner as suicide by hanging. However, Yates was convinced it was a sex act gone wrong, and sank into despair. The documentary details the depths of her depression after the singer's death, where she describes living as "Unbearable, almost unliveable on a day-to-day basis." During this devastating time, Yates - who hadn't used drugs for over two year - began using again.
The inquest into her death concluded that the amount of heroin ingested wouldn't have been enough to kill an addict. Because Yates had not used for some time and had decreased tolerance to the drug, the level was enough to kill her. The coroner deemed her behaviour to be "foolish and incautious." Her funeral took place at at St Mary Magdalen church in Faversham, Kent, on September 23, 2000.
How much was Paula Yates worth when she died?
Paula Yates reportedly has assets worth £800,000 when she died, however, this number was significantly reduced once her debts had been paid off.
It's alleged that when Yates' debts were paid, she was left with £14,000 which was left entirely to Tiger Lily - her remaining three children did not receive anything. When Michael Hutchence died, he passed away almost penniless.
According to the Mirror (opens in new tab), when he died it was believed he was worth £16 million. However, his estate said that apart from a £295,000 donation made to Greenpeace, there was no other money available. He had a property portfolio, but it transpired the contents weren't actually his to sell or bequeath. There were rumours of a trust fund set up for Tiger Lily, that she would receive on turning 21 - this alleged windfall has never been full confirmed, and might not exist.
Which one of Paula Yates' daughters died?
Paula Yates' second daughter Peaches also died of a heroin overdose on April 7, 2014, at the age of 25.
Born Peaches Honeyblossom Geldof on March 13, 1989, Peaches worked as a columnist, television personality, and model. She had been just 11-years-old, when her mother had passed away. In an interview, she later spoke about her mother's death, saying "I remember the day my mother died, and it's still hard to talk about it. I just blocked it out. I went to school the next day because my father's mentality was 'keep calm and carry on'. So we all went to school and tried to act as if nothing had happened. But it had happened. I didn't grieve. I didn't cry at her funeral. I couldn't express anything because I was just numb to it all. I didn't start grieving for my mother properly until I was maybe 16."
In 2008 at the age of 19, Peaches married American musician Max Drummey, of the band Chester French. On February 7, 2009, the couple announced they'd ended their marriage, divorcing in 2011. In June that year, she became engaged to Thomas Cohen, lead singer of the band S.C.U.M. The pair married on September 8, 2012, with first son Phaedra arriving the same year. Second son Astala followed in 2013, and following his birth Peaches began to struggle again with addiction.
She had been receiving treatment for heroin addiction for the two and half years before her death, taking the substitute drug methadone for cravings. Two months prior to her death, she began using heroin once again. In a statement concluding the inquest into her death, the coroner said "There is no indication that Peaches intended to take her own life or harm herself in any way … Someone who stops or ceases to use heroin then resumes is less able to tolerate the levels they previously had."
He continued "It has been said this is a case of history repeating itself. But this is not entirely so, By November last year she had ceased to take heroin as a result of the considerable treatment and counselling that she had received. This was a significant achievement for her but, for reasons we will never know, prior to her death she returned to taking heroin, with the fatal consequences that we have heard here today."
Why did Bob Geldof adopt Tiger Lily?
Bob Geldof had previously won a custody battle for his children with Paula Yates, being given full custody of Fifi, Peaches, and Pixie. When Tiger Lily was left orphaned, she was placed on his care for on a temporary basis.
Geldof was caring for her half siblings, and was deemed an acceptable carer until a permanent solution could be found. According to the Independent (opens in new tab), Michael Hutchence's father Kell, tried to get temporary custody of Tiger Lily, but later said he was happy for Geldof to take over her care.
He said in a statement "As far as the custody of Tiger is concerned, I feel she's in very good hands. My heart goes out to Bob Geldof and to my little granddaughter, Tiger Lily, who I feel for so much at this tragic hour, but certainly we will see how things proceed and I will be guided by many factors in this matter."
He continued to add "I tried to get a temporary custody, if you can call it custody, which would just have been looking after Tiger when her mother was not well. Naturally, I'm greatly concerned for my granddaughter's welfare, and I think it's just a matter of letting the dust settle on this whole thing then working out what is the best for Tiger."
Michael's half sister and her mother, Tina Shorr and Patricia Glassop, later tried to gain custody of Tiger Lily. They felt the publicity she would receive as a child of Geldof's would be harmful. They were denied custody, and Geldof fully adopted his late former wife's child in 2007.
Related Channel 4 Features:
Video of the Week
Lucy is a multi-award nominated writer and blogger with six years' experience writing about entertainment, parenting and family life. Lucy has contributed content to PopSugar and moms.com. In the last three years, she has transformed her passion for streaming countless hours of television into specialising in entertainment writing. There is now nothing she loves more than watching the best shows on television and telling you why you should watch them.