What is Love at First Sight based on? Origins of the new Netflix romance
A look at the inspiration behind the movie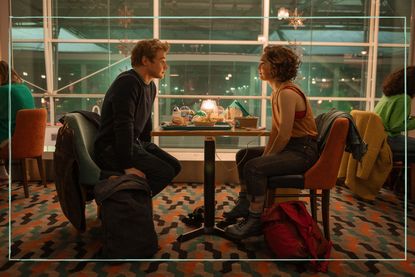 (Image credit: Rob Baker Ashton/Netflix/Future)
Goodto Newsletter
Parenting advice, hot topics, best buys and family finance tips delivered straight to your inbox.
Thank you for signing up to GoodTo. You will receive a verification email shortly.
There was a problem. Please refresh the page and try again.
What is Love at First Sight based on? With a wealth of current TV taking inspiration from real events, we look at the origins of Netflix's latest must-see romance.
Having last been seen as Portia, the overworked and downtrodden assistant to the iconic Jennifer Coolidge's Tanya in White Lotus season 2, Haley Lu Richardson is triumphantly back on our screens. In Love at First Sight, the charismatic actress stars as Hadley, whose life is changed when she misses her flight from New York to London. Waiting for a different plane, Hadley meets Oliver (Ben Hardy), and there's an instant spark - the pair then spend the night falling in love on their flight to Heathrow. But when they're accidentally separated after disembarking the plane, the race to find each other again seems impossible. What will fate have in store for the pair of adorable soul mates?
A plethora of current television takes inspiration from a host of sources - Prime Video's Sitting in Bars With Cake is based on devastating real events, and Netflix's Burning Body is also based on a true story. Meanwhile, those asking if Dear Child is based on a true story have found the Netflix show isn't based on real events, but does take inspiration from elsewhere. As with all romantic tales, viewers tuning in to Love at First Sight are wondering if the film has an origin story - read on for everything we know.
What is Love at First Sight based on?
Love at First Sight is based on the young adult novel The Statistical Odds of Love at First Sight, by author Jennifer E. Smith. The novel is purely fictional, and isn't based on real events.
Jennifer E. Smith is certainly no stranger to having her successful novels adapted for our screens. In 2022, Netflix released the movie Hello, Goodbye, and Everything in Between, based Smith's 2015 novel of the same name. First published in 2011, The Statistical Probability of Love at First Sight was the author's first commercially successful outing, and immediately caught the interest of producers hoping to adapt it for TV; this journey has been a lengthy one, but we are glad it's finally arrived!
Following Love at First Sight, Smith's novels Windfall, This is What Happy Looks Like and The Geography of You and Me, have had the movie rights acquired by producers, and could all transformed into our viewing pleasure in the future.
Speaking to DC Film Girl on YouTube about how it felt to have Love at First Sight released as a film, Smith was clearly delighted. "Magical is the right word for it," she said of her feelings on the adaptation. "It's been absolutely incredible, and especially this book in particular of all my books, has always had the most love from readers. It is truly the best version of it, and I could not be happier," she concluded.
The Statistical Probability of Love at First Sight: Recommended reading age
For those interested in reading The Statistical Probability of Love at First Sight, it's a YA novel with a recommended reading age of 12 and upwards.
As a YA book, the suggested age range for readers is 12 - 17, but the characters in the film are depicted as being older (Hadley is 17 in the book), for it to appeal to a wider audience. The novel has accrued thousands of positive reviews on review site Goodreads, and was nominated for Best Young Adult Fiction (2012) at the Goodreads Choice Awards.
One reviewers wrote "Now this is what I call a plain old romantic love story that has everything you want and more. It's definitely perfect for this time of year when you can cuddle up near a fire and just let your heart be filled. The Statistical Probability of Love at First Sight will leave you breathless and just when you think you can't take any more sweetness, you find out the reason behind this mouthful of a title and you're swept off your feet yet again!"
Another added "Everything came together like magic - the plot, the emotion (so real, some of the sad parts choked me), the raw realness of it and especially the '24 hour' countdown per chapter. It was a book unlike any other with characters that will stay with me forever."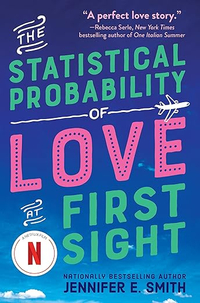 The Statistical Probability of Love at First Sight by Jennifer E. Smith | £9.19 Amazon
Read the novel that inspired the major Netflix romantic film Love at First Sight, starring Haley Lu Richardson and Ben Hardy.
Love at First Sight: Cast
Haley Lu Richardson (White Lotus, Jane the Virgin) as Hadley Sullivan
Ben Hardy (X-Men: Apocalypse, Bohemian Rhapsody) as Oliver
Dexter Fletcher (Band of Brothers, Hotel Babylon) as Val
Sally Phillips (Smack The Pony, Veep) as Tessa Jones
Rob Delaney (Catastrophe, Black Mirror) as Andrew
Jameela Jamil (Star Trek: Prodigy, She Hulk: Attorney at Law) as Narrator
David Rubin (Judy, Vera) as Dr. Harrison Doyle
Tom Taylor (Close to Me, The Bay) as Luther Jones
The movie's director Vanessa Caswill, spoke to Netflix Tudum about filming the opening scene during pandemic restrictions. "Nothing was flying in or out because of the pandemic," she said, "So we had this small little terminal to ourselves."
The scene where Hadley locks eyes with Oliver for the first time was used for the chemistry script reading between the two lead actors. Caswill added "It was quite pressurized because we were like, 'We have to get this right,'" she said of getting the casting spot on.
Haley Lu Richardson had been cast early, then it was a race against time to find the right person to portray Oliver. However, like all good love stories, there was a happy ending, with Caswell concluding "Finally I met Ben Hardy and I just loved him instantly. I found him so charming and surprisingly open and kind of vulnerable in a way about who he is and how he is. It blew me away. And I said to Haley Lu, 'I can't wait for you to meet him.' They met on Zoom, and they did that read and it was instant. Instant."
Love at First Sight: Reviews
Early reviews for Love at First Sight appear positive, despite alluding to the film being a little formulaic.
Brianna Zigler from Paste magazine said "I must confess the regularity with which Love at First Sight brought me to blubbering tears. Due to my inexperience with the slate of romantic comedies that Netflix peddles in, perhaps Love at First Sight really is just more of the same - but I found myself shockingly taken under its corny, sentimental spell. At the very least, it is exceptional in being bestowed with the captivating charm of Haley Lu Richardson, whose chemistry with co-lead Ben Hardy enthrals, even as the dialogue they're reciting is worthy of cringe."
Brian Orndorf from Blu-ray offered the film 8/10. He was of the opinion: "One fears the crush of rom-com formula with Love at First Sight, but the picture is refreshingly limited with manipulation, soon venturing into Hadley and Ben's family lives. There are some candy-coated moments, but the material is committed to understanding perspectives. Love at First Sight is sweet, it has to be, but there's more to it than just googly eyes and crazy misadventures. There's a real sense of heart and hurt in the endeavour, giving it a rich dramatic texture that's typically alien to the subgenre, making for a much more satisfying and surprising sit."
For the best romantic movies on Netflix and Amazon Prime, we have a full list of our top recommendations. To watch romance play out in real life, a UK version of Love is Blind has been announced, while viewers can't get enough of Davina McCall's new dating show, My Mum, Your Dad.
Parenting advice, hot topics, best buys and family finance tips delivered straight to your inbox.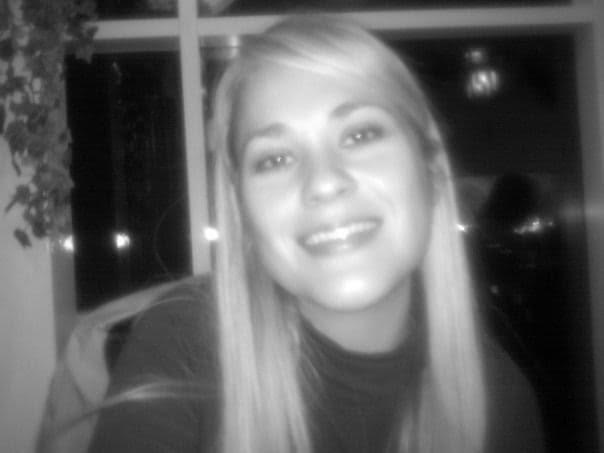 Lucy is a multi-award nominated writer and blogger with six years' experience writing about entertainment, parenting and family life. Lucy has contributed content to PopSugar and moms.com. In the last three years, she has transformed her passion for streaming countless hours of television into specialising in entertainment writing. There is now nothing she loves more than watching the best shows on television and telling you why you should watch them.