Where is Love is in the Air filmed? Filming locations of the Netflix romcom
Love is in the Air filmed in a particularly beautiful location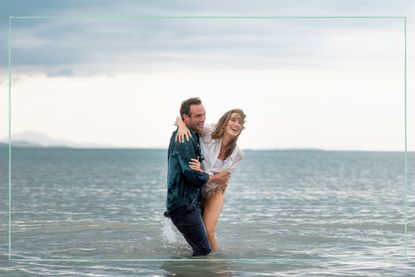 (Image credit: Netflix/Future)
Where is Love is in the Air filmed? It's not just the romantic action capturing attention in Netflix's latest romcom - the backdrop is also stunning.
Hot on the heels of Netflix's hit romcom Love at First Sight, comes another slice of romance to bring the feel-good vibes. Neighbours star Delta Goodrem stars as Dana Randall in the film, a committed pilot working alongside her dad and best friend for a non-profit air service - The Fullerton Airways team provide essential air services to the surrounding local island communities near their Queensland base. When Londoner William is sent to Fullerton Airways to review their finances, he arrives with an ulterior motive. As he secretly prepares the business for closure, spending time with Dana and the Island community makes him begin to rethink his course of action - falling for Dana seems to cement his decision, until she finds out the real reason for his appearance...
Viewers tuning in to Love is in the Air are wondering exactly where the action takes place, in the same way they've asked about where fellow Netflix romantic series Virgin River filmed. Elsewhere on the streamer, for those asking where All the Light We Cannot See was filmed, we have the answers. On Apple TV, a new Bridgerton-esque drama has viewers wondering where The Buccaneers was filmed.
Where is Love is in the Air filmed?
Love is in the Air filmed in Queensland's Whitsundays, and in and around Airlie Beach. The Whitsundays can be found in north-east Australia, at the heart of the Great Barrier Reef along Queensland's central coast.
The filming location is around 1,120km north of Brisbane, and 630km south of Cairns. Producer Steve Jaggi suggested a lot of Australian's aren't too familiar with the area, telling the Australian Broadcasting Corporation "I was surprised how few Australians had been to the Whitsundays, because for me, this is one of the best places on earth."
Filming in Queensland also saw a boom in the local economy, with Screen Queensland chief creative officer Belinda Burns suggesting the movie generated approximately $2.25 million extra for the area, and created around 70 jobs for cast and crew locally.
The Airlie Beach hotel Mango House was fully booked when filming took place in February, much to the delight of the owners, who report that to be one of their quietest months of the year. "Everyone's going back to school, people are paying off their credit cards after Christmas, and everyone's sort of settling down into the new year… so it's been great", said Mango House owner, Pam Ashdown.
It's also been reported by the Australian Broadcasting Corporation, that filming in the area has surged following the pandemic. Most recently, George Clooney and Julia Roberts filmed Ticket to Paradise in the Whitsundays, with a new $6.8-million film and TV studio in Cairns set to be up and running by the end of the year. Cairns is just a very short flight from the Whitsundays, meaning film crews descending into the area appears even more likely.
Airlie Beach
Airlie Beach is a coastal resort town in the Whitsunday region, with a small population of less than 1,300 people.
As one of the prominent departure points for the Great Barrier Reef, it's popular with Cruise ships and tourists visiting the surrounding marine parks. Visitors can experience year-round tropical weather, beaches lined with palm trees, waterfront parks, and vibrant restaurants and markets.
Snorkelling and diving the reefs below is hugely popular, along with hiking and mountain biking along Conway National Park's circuits. Nearby Cannonvale, Shingley and Boathaven beaches are some of the most regularly visited haunts, while TV series Black Snow was filmed in the nearby town of Proserpine.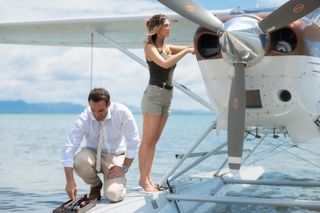 Love is in the Air: Cast
Delta Goodrem (Neighbours, The Voice) as Dana Randall
Joshua Sasse (Galavant, No Tomorrow) as William
Roy Billing (Never Too Late, Occupation) as Jeff
Steph Tisdell (Class of '07) as Nikki
Simon Brook McLachlan (The Pacific, Underbelly) as Heath
Daniela Pizzirani (Skin Deep) as Serena
Mia Grunwald (Elvis, Neighbours) as Michelle
Hugh Parker (The Family Law, Elvis) as Duncan
Director Adrian Powers spoke to Screen Watching on YouTube about the process involved in making the movie. He said "Netflix were really attracted to this story, and they were compelled by what it was." He added "Working with Delta was a dream. She is one of the loveliest, most talented and capable people I've ever worked with - she's a stone cold pro and totally committed to her work."
Sharing her excitement at the film's release in the week it was due to land, Delta Goodrem wrote on Instagram "It's movie week!!!! "Love Is In The Air" comes out this Thursday on @netflix! Any watch parties with cheese platters in plans? I will be on stage in Melbourne. Maybe we should all just stay after the show and watch it ha!"
One fan commented "Can't wait to watch it it looks incredible!" While another quickly responded "Waited so long to see this, will be enjoying every second of this movie."
Is Delta Goodrem married?
Delta Goodrem isn't married, but became engaged to her musician partner, Matthew Copley, in September 2023.
The pair keep their relationship largely private, with Delta taking to Instagram to share the news of their engagement simply by saying "My best friend asked me to marry him." The snap didn't share their faces, but simply the backs of their heads as they kissed against a sunset backdrop.
Speaking to Stellar Magazine about her need to maintain privacy, Delta said "I am pretty consistent with saying to people that my private life is my private life. It's a relationship of respect. Matt is an incredible musician and we really enjoy working together. Music is how we met, it's what we both do, so it's really about just being creative in the household."
Is Joshua Sasse married?
Joshua Sasse is married to a woman named Louisa Ainsworth, although he was once famously engaged to Kylie Minogue.
Joshua married Louisa in 2018, and the pair have two children together, Dominic and Delilah. They permanently reside in Australia, where Joshua has an agent and was keen to work on some Australian-based films. The couple married just one year after Joshua ended his engagement to Kylie.
Writing on Instagram to welcome his second child to the world, Joshua wrote "Delilah Darling Sasse has joined the family. A huge thank you to all our beautiful nurses and midwives and Lionel the legend and his team for bringing my beautiful wife and daughter so safely through!"
For more information on filming locations, find out where popular crime-drama The Inheritance filmed. Fellow emotional true-crime series The Long Shadow filmed in many different Northern areas. Psychological thriller The Woman in the Wall filmed in the same country as the events that inspired the story unfolded - we reveal where.