What is The Fall of the House of Usher based on and is it a true story?
Delving into the origins of the series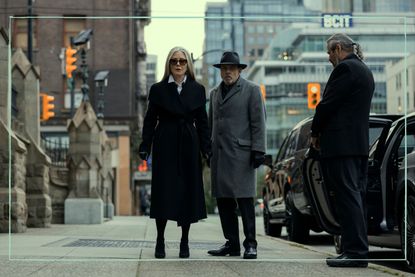 (Image credit: Eike Schroter/Netflix/Future)
What is The Fall of the House of Usher based on and is it a true story? Let's take a look at the gothic horror show's roots.
Fans of gothic backdrops and sinister happenings are delighted by Netflix dropping The Fall Of The House of Usher. Following the lives of ruthless siblings Roderick and Madeline Usher and their Fortunato Pharmaceuticals empire, an excellent cast offset the action. As the story unfolds, the Usher dynasty are left reeling when a mysterious woman from Roderick and Madeline's youth appears, and the heirs to the Usher fortune suddenly start dying. Those tuning in to the show have been wondering if there's any truth to the story - while others who've raced through all eight episodes want The Fall of the House of Usher ending explained - and we have everything you need to know about the origins of the latest Netflix must-see.
Netflix recently released another pharmaceuticals-based drama, with viewers also asking if Painkiller is a true story. After watching to the Painkiller ending, questions were raised about the whereabouts of Richard Sackler now - the man thought to be central to the horrific events depicted in the series.
What is The Fall of the House of Usher based on?
The Fall of the House of Usher is loosely based on a short supernatural horror story by Edgar Allan Poe of the same name, first published in Burton's Gentleman's Magazine in 1839, and later in Poe's 1840 collection Tales of the Grotesque and Arabesque.
The series will also draw on inspiration and characters from other Edgar Allan Poe stories, which eager fans will be excited to look out for. According to Britannica, Poe's original House of Usher story begins with a male narrator documenting his ride to Roderick Usher's house - the pair had been childhood friends and not seen one another for many years. The narrator had received a letter from Roderick requesting his friend visit as he was suffering a decline in his mental health. Arriving at the Usher family, the narrator notes Roderick indeed displaying an array of unusual symptoms.
Roderick believes the Usher mansion to be is sentient and exerting control over its inhabitants. He believes his illness to be caused by "a constitutional and a family evil," divulging that his twin sister Madeline who also resides in the house, is also very unwell - her ailment has gradually diminished her ability to move.
The narrator stays on for a few days at the Usher mansion, and Roderick comes to him to announce the death of Madeline. The pair bury her together, with the narrator noting a smile on her face and a flush to her cheeks. In the following days, Roderick's mental health declines, and he appears to sink further into madness. Disturbed by his behaviour, the narrator finds himself unable to sleep.
Visiting Roderick to check on him one night, the narrator describes Roderick opening a window to reveal the mansion and grounds covered in glowing gas - he suggests this could be electrical in nature following a storm, and nothing to worry about. While Roderick rocks and mutters in a chair, the narrator tries to soothe him by reading to him. Hearing strange sounds, the narrator believes they are coming from Madeline, whom he now believes they must have buried alive.
Madeline then bursts into the room, dressed in white and blood-stained robes. She falls on top of her brother, and they both die as they hit the ground. The terrified narrator then makes a run for it, with the story coming to a close as he looks back at the Usher mansion as it splits into two and collapses.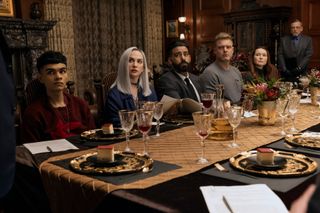 Is The Fall of the House of Usher based on a true story?
The series The Fall of the House of Usher isn't based on a true story. However, there are unsubstantiated rumours that Poe drew on a number of real life events when writing the original short story.
In Poe's story, the mentally ill Roderick Usher buries sister Madeline alive in the cellar of their ancestral home, claiming she is dead. There is a real home named Usher House situated in Boston, which was torn down in 1800. A rumour began that two skeletons were found buried in the cellar - the home owner is said to have found his wife having an affair, and buried her and her lover alive.
As well as being thought to use the circulating story of the corpses buried alive for his story, Poe was also thought to have based Roderick and Madeline on people he knew. Inspiration for the insane Usher twins may have been two real-life Usher twins, James Campbell Usher and Agnes Pye Usher - they were the twins of Luke Noble Usher, a close friend of Poe's mother, Eliza. The real twins are said to have descended into poor mental health, with their story acting as foundations for Poe. However, it should be said that neither the story of corpses found buried alive, or mad Usher twins, have ever been substantiated.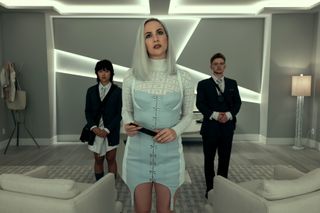 The Fall of the House of Usher: Cast
Carla Gugino as Verna
Bruce Greenwood as Roderick Usher, Madeline's twin brother
Zach Gilford as young Roderick Usher
Graham Verchere as teen Roderick Usher
Lincoln Russo as kid Roderick Usher
Mary McDonnell as Madeline Usher
Willa Fitzgerald as young Madeline Usher
Lulu Wilson as teen Madeline Usher
Kate Whiddington as kid Madeline Usher
Carl Lumbly as C. Auguste Dupin
Malcolm Goodwin as young C. Auguste Dupin
Samantha Sloyan as Tamerlane Usher
T'Nia Miller as Victorine LaFourcade
Rahul Kohli as Napoleon "Leo" Usher
Kate Siegel as Camille L'Espanaye
Sauriyan Sapkota as Prospero "Perry" Usher
Katie Parker as Annabel Lee
Michael Trucco as Rufus Wilmot Griswold
Henry Thomas as Frederick Usher
William Kosovic as young Frederick Usher
Mark Hamill as Arthur Pym
Paola Nuñez as Dr. Alessandra "Al" Ruiz
Matt Biedel as William "Bill-T" Wilson
Crystal Balint as Morelle Usher
Kyleigh Curran as Lenore Usher
Ruth Codd as Juno Usher
Igby Rigney as Toby
Aya Furukawa as Tina
Daniel Jun as Julius
Annabeth Gish as Eliza
Robert Longstreet as Mr. Longfellow
Sarah-Jane Redmond as Mrs. Longfellow
Nicholas Lea as Judge John Neal
Mary McDonnell plays Madeline Usher, and spoke to Netflix Tudum about the nature of her character. "I've played a lot of empowered women or women in power, but they're still aware of certain kinds of rules and decorum," she said. "And Madeline really doesn't give a f*** about it. And I love that about her. She just does not care. So there's freedom in her, along with all of the other things that attracted me to her."
Samantha Sloyan portrays Usher daughter Tamerlane Usher, who will never be at the helm of Fortunato because she's a woman - despite being the best person for the job. Sloyan said "Tamerlane Usher considers herself a true Usher. I think she aspires so much to please her father and to make him proud. And that has distorted her ambition in a way that has caused her to lock out all other things from life.
"She's put so much pressure on herself and so much importance on her success that her anxiety level has just gone through the roof. She's created this circumstance for herself [where] she's not sleeping. She's not doing anything. She's just completely focused on her one goal. And through that laser focus, she kind of loses the plot entirely - loses the point of everything."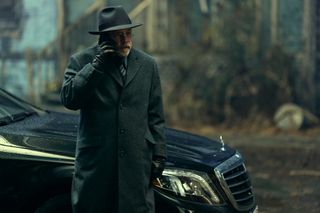 The Fall of the House of Usher: Rotten Tomatoes
The critics appear to love The Fall of the House of Usher, as it currently holds a 94% rating from them on Rotten Tomatoes.
Mike Flanagan from Vanity Fair was impressed, saying "By the end of House of Usher, we feel we have made our way through something dense and rich. This is not flimsy, forgettable TV. Flanagan's ardent belief in the power of monologue and melodrama, of complex storytelling and florid style, is infectious. His passion is in the right place, even if he sometimes follows it into indulgence. I guess we all get a little greedy sometimes."
Kristen Baldwin from Entertainment Weekly was equally as enthusiastic. "The opioid crisis has inspired a number of books, documentaries, and TV shows, many of which aim to highlight the suffering caused by Purdue Pharma's criminally reckless marketing and promotion of OxyContin," she wrote, adding "In Netflix's The Fall of the House of Usher, however, Haunting honcho Mike Flanagan uses the works of Edgar Allen Poe to explore how moral and physical rot consumes the all-powerful (and fictional) family behind a sinister drug empire. Usher is a Gothic-tinged horror lark that's more superficial than Flanagan's previous work but still delivers some creepy chills."
Dan Fienberg from Hollywood Reporter, joined in the praise with gusto. "Half creative writing project tied to a freshman seminar on Edgar Allan Poe, half horror-filled karmic catharsis, Flanagan's The Fall of the House of Usher is a bluntly entertaining exercise," he wrote. He continued "It's easily the most specifically topical of Flanagan's Netflix minis, fuelled by an often palpable anger. For eight hours, instead of rooting for people, you're rooting for payback, leading to a satisfying experience."
Some viewers have also been asking for the origins of Apple TV+ series Lessons in Chemistry. Author Anthony Doerr has spoken at length about the inspiration behind Netflix limited series All The Light We Cannot See. The Everybody Loves Diamonds true story is also an incredible one - we reveal what happened during the Antwerp Diamond Heist.