Where is Alone filmed and who is the cast? Everything we know about Channel 4's extreme reality show
Here are the details of the controversial new survival series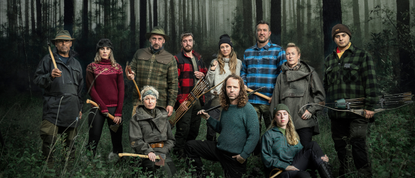 (Image credit: Channel 4)
Goodto Newsletter
Parenting advice, hot topics, best buys and family finance tips delivered straight to your inbox.
Thank you for signing up to GoodTo. You will receive a verification email shortly.
There was a problem. Please refresh the page and try again.
Where is Alone filmed and who is in the cast? The new reality show from Channel 4 has garnered plenty of excitement so far, but viewers want their questions answered.
The hit American survival show Alone has arrived in the UK. The premise is simple: 11 people of different ages and backgrounds are dropped into the wilderness, with no food, no water and just ten chosen items, and they have to survive until they cave in and call for rescue - the last one standing wins. If you love reality shows like Too Hot Too Handle and The Traitors Australia, then here's something a little different and a lot more dangerous!
It might be a well-known show across the Atlantic, but UK viewers have got a few questions. Just like TV fans want to know where fitness challenge series Go Hard or Go Home was filmed, many are now asking where Alone is filmed too. Keep reading to find out where the new reality show is set, and learn some more about the participants too.
Where is Alone filmed?
Alone is filmed in the remote wilderness of northwest Canada. The series is set on land uninhabited by humans around the Mackenzie River, in the Dehcho region of Northwest Territories, Canada.
Participants have to survive in the area alone, with only a few basic tools, and they film the experience themselves. The contestants were dropped at least one mile away from each other, and they had their own designated area of around 3.75 square miles. The cast wore a GPS device at all times so that the production team could monitor their whereabouts.
What happens in Alone?
In Alone, eleven people from across the UK are dropped into northwest Canada to fend for themselves. The contestant that survives the longest witll win the £100,000 prize fund.
They have just a few basic tools to help them (they were told to choose 10 survival items from a list of 53 essentials), as well as a satellite phone so they can be rescued when they've reached their limit. Other than this, there are no crew members or wilderness experts around to help them or offer advice - they're on their own.
The controversial survival show has got viewers talking, so read on to find out all about the Alone cast, where it was filmed and more details about the new six-part series.
Alone cast: Full list
Alan, 43, woodland manager
Elise, 32, PR executive
Eva, 25, NHS project manager
Javed, 58, business coach and mentor
Kian, 19, student
Laura, 40, entrepreneur
Louie, 28, builder
Mike, 49, joiner
Naomi, 26, clothing designer
Pip, 47, wild swimming coach
Tom, 39, company director
Alan, 43, forestry manager from Birmingham
Alan is a father of two who runs two businesses with his wife, selling ethically sourced meat and teaching outdoor skills to families. He finds solace in the outdoors - he's spent multiple days in the wilderness before - and is a keen forager and loves cooking, writing and passionately debating politics.
Alan thinks being autistic will help him survive on the show. He told Channel 4: "I am hypersensitive to basically all senses, so my hearing, especially, and my smell and my sense of touch are really, really sensitive. I'll hear things that other people don't.
"Plus, I have an extraordinarily high pain threshold, which has got to be useful on this show one would think. Also, I really like routine and I find, generally speaking, that other humans just mess up my day, so not having them around will be really nice for me."
Elise, 32, PR executive from London
After reading about women explorers when she was little, Elise started Woman with Altitude, a project where she leads expeditions following in the footsteps of female adventurers - using equipment that was only available to them at the time!
Having suffered with anxiety and panic attacks since moving to London 11 years ago, Elise says reconnecting with nature has been instrumental in her recovery and helped inspire her project.
She told Channel 4: "For me this is the biggest adventure of my life. I have never been this remote. I have never been dropped off in the middle of nowhere with not a clue where I'm going to be. Because usually when I do my trips I plan everything meticulously myself; I know what's happening every second of every day, who is going to be there and what's going to happen."
Elise says that she wants to "thrive and not just survive" in the wilderness, and prove to herself that she can do it. She added, "The competition for me is definitely with myself, because I don't want to be in competition with the landscape and with nature. I want to be fully immersed in it."
Eva, 25, NHS project manager from Leeds
For fiercely independent Eva, who turned 25 during filming, the outdoors is her happy place as it helps her deal with the stresses and challenges of life. Inspired by her dad's love of the outdoors, she's a confident hiker with basic bush-crafting skills, and loves spending her free time rock climbing, solo hiking and wild camping.
Eva grew up suffering with lots of different health problems - none of which doctors could diagnose or put their finger on. Finally, one year before taking part in Alone, having pursued her own research, Eva was given a diagnosis of Ehler Danlos Syndrome - a genetic collagen default.
She told Channel 4: "I think my biggest weakness is going to be keeping up with the physicality aspect. I know I am going be in a certain amount of pain [because of my condition], I just don't know how much pain I am going to be able to push through when on top of that, I'm not eating very much.
"Mentally, I think I will be able to keep pushing and pushing but it's knowing when to cut my losses now and I am not going know what that point is until I am actually out there."
Javed, 58, business coach from Ripon
Organised and methodical, Javed is a former scientist turned business coach and mentor. He loves a challenge, and he even built his own house from scratch during lockdown, with the 58-year-old – the oldest contestant in the series – always on the lookout for a new, fresh adventure.
The father of two was brought up in Birmingham as one of seven children, to first-generation immigrant parents from Pakistan. Javed discovered his passion for the outdoors as an adult, after growing up in a family who didn't spend a lot of time outside, and he didn't learn to swim or ride a bike until his late 20s.
Javed told Channel 4: "I am looking forward to lots of different things... There's the time to just sit and reflect. The time to explore and develop some new skills that I've always wished I had, that I am now going to get time and a requirement to develop.
"I quite like building camp fires, and I am going to get a chance to build a fire every day now and try lots of different fire lighting techniques. I am interested in seeing what all the wildlife is going to be like. It's certainly different to the animals in Northern England. We don't get a lot of bears, wolves, moose or bison back home!"
Kian, 19, student from London
The youngest participant, Kian, describes himself as a survival nerd, and he's currently studying War Studies at university. But his primary passion is the wilderness – he's been on several wilderness courses, often being the youngest there by a couple of decades, and has read plenty of books.
Kian told Channel 4: "I can't describe how much having this opportunity means to me. It's so incredibly exciting and so incredibly terrifying. Just standing out on the banks of the Mackenzie, I feel a tingle from my toes to the tip of my head every now and then and I can't tell if it's fear, excitement or a mixture of both.
"It's also hugely terrifying because I have to just grapple with the fact this may be the most amazing thing I ever do in my entire life and I've hopefully got another 20, 30, 40, 50 years ahead. So I try not to think about that part but, I'm just really, really excited."
And he said his parents had some advice for him: "Don't die, don't get eaten by a bear. I think those were the two main ones that have really stuck. When they were sending me off, my mum and dad said, 'you're out there to survive, but it is a competition and the most important thing is that you do what's right by you, you enjoy the process, you take what you need from it and ultimately this is a once in a lifetime experience so just make the most of it'."
Laura, 40, entrepreneur from Lincolnshire
Laura ran a beauty salon in her twenties, but when she reached her thirties her life took a new direction and she discovered a love for the great outdoors. She changed her lifestyle to embrace the outdoors, adventure and fitness, and she even rowed the Atlantic and survived by herself on a desert island.
For Laura, this experience will pull together everything she has devoted the last 10 years of her life to learning. She told Channel 4: "This is the ultimate adventure - it's all of the lessons that I've taken from my previous challenges put into one and putting me to the test to see how well I'll do. I'm desperate to get out and connect with nature, and be away from the noise of digital and other people and to go really, really deep and see what I'm capable of.
"My strengths are my routine and the care I've put into my body and mind. I love a routine, I'm very methodical and I like scenario planning and thinking of solutions. I'm also really good at self-care, looking after my body because I'm a runner and I exercise, so that helps me stay injury free.
"Plus I keep my mind healthy. So I'm looking forward to taking those strengths and skills out with me, because it's not all about axe work and knife, it's about looking after my feet, looking after my mind and getting lots of sleep as well. So I'll just find that balance between all of the skills."
Louie, 28, builder from Wallasey
Builder Louie loves wild swimming, camping and mountain climbing, but his dream is to be dropped somewhere with just an axe, giving him the chance to build his own shelter and be close to nature. A fan of the outdoors, he's previously stayed alone in the forest for almost two weeks.
A few years ago, Louie had a serious motorbike crash, which meant he couldn't work for 12 months. He spent all of his savings on bills and couldn't get out of the house. The feeling of helplessness Louie experienced after his accident is something he never wants to go through again, so he's hoping this experience will give him the confidence boost he needs to feel invincible.
Louie told Channel 4: "This is something I've wanted to do since I was a kid. I find my best memories have come from when I've been terrified. When I'm doing something a little bit dangerous or outside my comfort zone it helps with my personal growth.
"It makes me feel like I'm not a kid anymore, I'm a man. Doing this calibre of challenge will do wonders for me, or completely crush me. But I'm ready to find out."
Mike, 49, joiner from Manchester
Master craftsman Mike can build pretty much anything out of wood and has taught himself all about bushcraft and nature, so he should be fairly well-equipped to fend for himself in the wild.
Mike loves adventure and describes himself as a big kid. He struggled with drug addiction in the eighties but turned his life around to get clean and now enjoys spending as much time in nature as he can. He describes himself as a kid locked in a grown-up's body, and loves adventure, travel, and spending time with his wife and daughter.
Mike told Channel 4: "For me, the competition is simply how I'm going to deal with, resolve and get over every situation that comes at me. That'll be the challenge. That'll be the thing that I'll have to conquer whilst I'm out there. It's certainly not about the other people. It's all about the location, and what you've got in the bank to bring to the event."
Naomi, 26, clothing designer from London
Clothing designer Naomi grew up by the coast in Wales but now lives in London. It was in Wales that she discovered her love for the outdoors, but it grew when she was researching what makes a successful outdoor clothing brand.
She has a three-year-old son who'll turn four during filming and, as a young mother, she wants to fill her family's life with adventure and opportunity. While she's usually a social extrovert, she likes spending time alone in the wilderness to reset and challenge herself.
Naomi told Channel 4: "This is going to be a huge challenge for me. I am always with people, whether it be friends, partners, family. I'm surrounded by people every day and so the main thing for me is going to be the social aspect; to be completely on my own is not something I'm used to. I'm a young mum, I've got a big family, and I've just never been on my own.
"But I crave that a lot. I often go out to do an expedition on my own, but I end up mixing with lots of people and making friends. So it will be really interesting to see how I do, just completely alone."
Pip, 47, wild swimming coach from Aberdeenshire
Pip is a wild swimming coach, outdoor instructor and a mother of two, who served 17 years as an Army Officer and became the first female Army Commando. She is now dedicated to supporting others through outdoor-based activities and experiences at the family woodland centre, and helps people with learning disabilities learn bushcraft skills.
She likes to balance her feminine side with her love for the outdoors, to show people that you don't need to choose one or the other. She's been on lots of strenuous runs and bike rides, and has even swum the English Channel.
She told Channel 4: "I love discovering things so I go into everything with an open mind. I have a baseline of skills that will sustain me but I'm keen to explore them and develop them in any way possible, I think the immersive nature of the challenge is going to be something that's not only super exciting but super scary because we don't normally put ourselves in those sorts of situations.
"We reach a point where we're comfortable and life, moseys along, so to actually decide to put yourself into something like this quite interesting. Hopefully my resilience levels will help me keep going."
Tom, 39, company director from Portsmouth
Married father-of-one Tom, whose passion for adventure and exploration helped him build confidence following a tricky time at school, runs a travel company offering desert island experiences where people can pretend they're washed up and have to fend for themselves.
He discovered a love of the land while living abroad for a year studying coral reefs for his degree. After many years of working unfulfilling 'cubicle based' jobs, the 39-year-old set up his desert island travel business.
He told Channel 4: "I feel my best self when I am immersed in nature, when I'm outside of the intense city life. I don't know how on earth it will be doing that with the loneliness aspect, and with the calorie deficit. But the map's unexplored and I like pushing myself to my limits to grow as a person."
He admitted he was 80% excited and 20% terrified about being stuck in the wilderness on Alone.
"Alone is the survival Olympics. It's just the rawest, most real adventure and I'm just very grateful to have a chance to partake in it. Not many people ever get to go out into the wild, and live this kind of experience. It's a very special adventure to be able to partake in and time in nature can be really cathartic for us."
Alone is on Channel 4 at 9pm on Sundays and all episodes will be available to watch on catch-up.
In other TV news, we reveal if The Crowded Room is based on a true story, explain the Hijack ending and where Robert Black is now - the killer from Channel 5's The Child Snatcher: Manhunt.
Parenting advice, hot topics, best buys and family finance tips delivered straight to your inbox.
Adam is an experienced writer who regularly covers the royal family and celebrity news for the likes of Goodto, The List, The Metro, and Entertainment Daily. However, you can also find Adam covering relationships, mental health, pet care, and contributing to titles such as Creative Bloq.