Where is Wolf filmed? Filming locations of the BBC drama
Viewers want to know more about the Welsh locations featured in the new drama...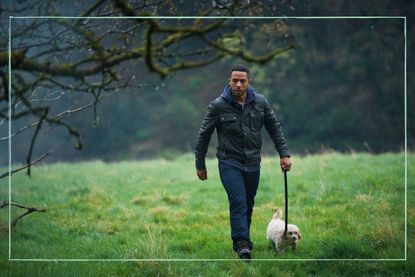 (Image credit: BBC)
Goodto Newsletter
Parenting advice, hot topics, best buys and family finance tips delivered straight to your inbox.
Thank you for signing up to GoodTo. You will receive a verification email shortly.
There was a problem. Please refresh the page and try again.
Where is Wolf filmed? Viewers have been enjoying the new BBC crime thriller, but have been asking questions about the setting.
The new BBC thriller Wolf has been well-received so far, after hitting our screens at the end of last month. It's based on Mo Hayder's Jack Caffery series of books, and DI Caffery himself is played by Ukweli Roach, while other cast members include Iwan Rheon, Sacha Dhawan, Sian Reese-Williams, and Juliet Stevenson. And viewers who haven't watched ahead on-demand are already itching to know who the killer is.
But that's not the only question being asked. Just as viewers are often asking questions about other gripping dramas - from where Channel 4's crime thriller Before We Die is filmed to the filming locations of fellow BBC thriller Annika - people are curious about the Wolf filming locations. Read on to find out where Wolf is filmed, and where it's set too.
Where is Wolf filmed?
Wolf was filmed in South Wales, predominantly in the county of Monmouthshire. However, some scenes were filmed at the Enfys TV studios in Cardiff, and the rave scenes in episode two were filmed in Neath Abbey. Other locations included Penarth, Pontyclun, and Ewenny Priory in Bridgend.
Still trying to join the dots in bbc drama #Wolf but one thing I have worked out is that its setting in Monmouthshire is actually Ewenny Priory, one of my favourite heritage sites in Glamorgan. A fortified priory with a Georgian house in the grounds. pic.twitter.com/wLcMut4vqjAugust 1, 2023
See more
Actor Owen Teale, who plays Oliver Anchor-Ferrers in the series, said that Wales has "everything you need", with mountains, coastline, and locations that look as if they could be in California or Australia.
Meanwhile, writer and creator Megan Gallagher, who also served as the show's executive producer, described filming in Wales as "a pleasure". She continued, "Not only are there incredible visuals available to showcase in the series, but the creative departments were top notch."
Iwan Rheon, who plays Molina, added, "It's lovely to be back working in Wales, as always. Obviously, I'm Welsh and grew up in Wales so it has a very dear place in my heart. It's been really great to get to use the landscapes here; Wales has quite a wide variety of landscapes so you can really make it look like anything.
"It's a really beautiful place to film. I think more and more things are being made here so the crews are fantastic - great professionals in every department which is amazing. Wales is just as good as anywhere to film."
Where is Wolf set?
Wolf is set in Monmouthshire, and filmed on location. The show is based on Mo Hayder's Jack Caffery books, which are also set in the Welsh county. However, parts of the series are also set in London, where Caffery returns to after working in Cardiff and Newport.
The Anchor-Ferrers house, where much of the filming takes place, is set in an unspecified area of Monmouthshire. Stevenson, who plays Matilda Anchor-Ferrers, said "A lot of the characters never meet the Anchor-Ferrers family. We are in a very isolated part of the story. We literally shot in one location - a mansion - so the Anchor-Ferrers story, vivid and extreme though it is, is always held in the bubble of that one house.
"The rest of the story roams all over the place. Jack meets lots of characters, so it's a huge canvas. That's part of the great skill of the writer in how she has managed to keep all these narratives going and that somehow they will end up being part of one whole thing. And it's really only Jack who finally ends up being in both narratives."
Welsh Deputy Minister for Arts and Sport, Dawn Bowden, said at the time of filming, "I'm delighted to get a sneak peek at this production in progress. It really is a production rooted in Wales, making the most of our fabulous Welsh landscapes - and of course Welsh talent and crew.
"Wales offers a wealth of diverse filming locations and a skilled workforce and it is excellent to see Hartswood Films returning to Wales."
How many episodes of Wolf are there?
There are six episodes in the first season of Wolf, which was produced by Hartswood Films and APC Studios in association with Creative Wales for the BBC. The finale will be broadcast on Tuesday 15 August.
So far, there's been no announcement of a second season, but Wolf was the last book in Hayder's DI Caffery series, published in 2014. Hayder died from complications of motor neurone disease in 2021, after being diagnosed with the condition the previous year.
How to watch Wolf
Wolf airs on BBC One every Monday and Tuesday at 9pm following the series premiere on 31 July. If you don't want to wait weekly for new episodes, however, all episodes are available to stream as a box set on BBC iPlayer now.
We've got behind-the-scenes details on plenty more TV dramas too, from where The Sixth Commandment was filmed to when Sanditon season 3 is coming out. We've also shared when The Woman in the Wall is on TV, as the first episodes grip BBC viewers.
Parenting advice, hot topics, best buys and family finance tips delivered straight to your inbox.
Adam is an experienced writer who regularly covers the royal family and celebrity news for the likes of Goodto, The List, The Metro, and Entertainment Daily. However, you can also find Adam covering relationships, mental health, pet care, and contributing to titles such as Creative Bloq.