Where was Matilda the Musical filmed? Filming locations of Netflix film
Turns out Crunchem Hall is a real place!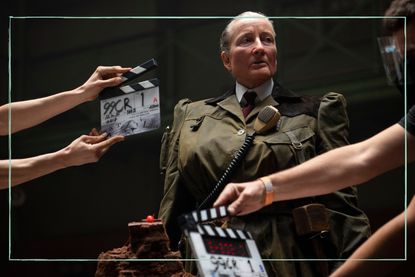 (Image credit: Future/Netflix)
It's not just the cast and story proving a hit with audiences, as many want to know where Matilda the Musical was filmed too.
It's no easy feat bringing Roald Dahl's beloved tale to the big screen, but the latest musical adaptation has received nothing but high praise from critics and moviegoers alike since it's anticipated release. (If you love seeing movies on the big screen, make sure you know how to get cheap cinema tickets (opens in new tab)). British talent Emma Thompson, Lashana Lynch and Steven Graham - plus newcomer Alisha Weir - head up the all-star cast, but it's where the action takes place which has had some people intrigued too. We've delved into the filming locations for Matilda the Musical - including the real-life identity of Crunchem Hall aka Matilda's school.
As for those who haven't yet feasted their eyes on the joyous new adaptation, we've shared when Matilda the Musical is coming to Netflix (opens in new tab) and where else you can watch it in early 2023.
Where was Matilda the Musical filmed?
Netflix's Matilda the Musical was primarily filmed at the Shepperton Studios in Surrey. A large studio space and green screen were used so they could incorporate CGI effects into the movie post-production, giving the film it's magical sequences.
Further filming took place on locations in Hampshire and Buckinghamshire - with the latter being the county where Matilda author Roald Dahl lived. IMDB also lists Dublin, Ireland as a filming location for Matilda the Musical.
Where was the school in Matilda filmed?
Cruncham Hall elementary school in Matilda the Musical was actually filmed at Bramshill House - a Grade I-listed Jacobean mansion in Hampshire. You'll see it in the background of playground scenes, plus a musical sequence shot in front of it.
Bramshill House has a rich history, dating back to the 1600s. The house itself has hosted British royalty in it's time, including King James I and James VI in the 17th century. After the Second World War it was used as a police training college - but in more recent decades has been owned and used by a private landlord.
Whilst Matilda the Musical has brought attention to Bramshill House, it was actually famous long before. It's said to be the most haunted house in England with several ghosts roaming the estate at night - including one named the Mistletoe Bride.
Bramshill estate is not open to the public to visit. Instead, the Basingstoke Gazette (opens in new tab) reported in March 2021 that the house and land is thought to become a permanent filming site - after failing to sell for £10 million when put on the market earlier that year.
Where was the village in Matilda filmed?
The village featured in Matilda the Musical is Denham, based in Buckinghamshire. Those that live near may recognise the village green and the park as backdrops in some of the film's scenes.
Denham is close to author Roald Dahl's home and museum in Great Missenden. Production also took place in the nearby Dunstable - specifically the Downs and Bison Hill car park. This is where the windmill scene and other countryside scenes were filmed.
"Bison Hill car park has been chosen for its outstanding aspect and views that give an unbeatable backdrop for the scenes being filmed," production company Poppet Productions told Bedfordshire Live of the filming location in question.
When was Matilda the Musical filmed?
Filming for Matilda the Musical took place in late spring and early summer of 2021, with principal photography shot in Ireland at the beginning of May. The movie was originally meant to start filming between August and December of 2020, but was delayed due to the Coronavirus pandemic.
Covid also led to further delays when production began. In July 2021, Deadline (opens in new tab) reported that one of the filming units had to shut down after a positive Covid test result. Thankfully the second filming unit were able to continue shooting and the first unit were able to return to work after a brief hiatus.
Matilda the Musical: Behind-the-scenes filming
In a behind-the-scenes Netflix special, actress Emma Thompson gave fans an insight into how she physically transformed into her character.
"It took six people to create Trunchbull," Thompson says, with a clip showing her arriving on set at 5am. The 63-year-old would then spend three hours having prosthetics and make-up applied to give her Trunchbull's square face.
"She had this sort of yellowy, paleish base and then I would paint broken veins - which have exploded, because she's always exploding with fury," explained Make-up artist Naomi Donne (opens in new tab).
She added: "She has no vanity Emma. The worse she looks, the more she loves it."
Matilda the Musical star Lexie Lorch gave details of set life under Covid restrictions in an interview with HELLO! (opens in new tab) "We basically lived at a hotel just for the cast and crew and had to be tested constantly," she said. "We were quarantined for ages and it was really strange."
"We had to record the soundtrack and music from glass booths in a giant room, far apart from one another," she added. "We would be in there singing for hours a day, but couldn't really mingle with our co-stars."
As for her stand-out memory from filming Matilda the Musical, Lorch (who play's Matilda's friend in the movie) shared her delight at filming a particular fairground scene:
"We had a huge fairground delivered on set, and we got to go on everything as many times as we wanted. It was our own personal play space for all the cast and crew. It was amazing and you can see how happy we were in the movie," she said. "We didn't have to act for that."
Related Film features:
Video of the Week
Emily Stedman is the Features Editor for GoodTo covering all things TV, entertainment, royal, lifestyle, health and wellbeing. Boasting an encyclopaedic knowledge on all things TV, celebrity and royals, career highlights include working at HELLO! Magazine and as a royal researcher to Diana biographer Andrew Morton on his book Meghan: A Hollywood Princess. In her spare time, Emily can be found eating her way around London, swimming at her local Lido or curled up on the sofa binging the next best Netflix show.