Peter Pan & Wendy 2023: Release date, cast, plot and everything you need to know about the Disney+ film
Peter Pan & Wendy return, and nostalgia levels are high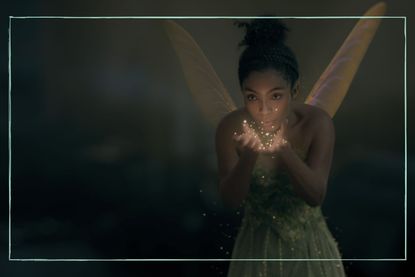 (Image credit: Disney+/Future)
Prepare to reminisce, as J. M. Barrie's beloved characters Peter Pan and Wendy make a return, in a timeless franchise children will enjoy for generations to come.
Peter Pan & Wendy has been a long time coming, with development of the live-action fantasy adventure first beginning in 2016. The title wasn't announced until 2020 when the script was in the final stages, and now the elusive film finally has a premiere date - although a trip to the cinema with popcorn won't be a part of the release date fun, as the film is skipping a theatrical release and heading straight to Disney+. Newcomer Alexander Molony makes his debut in the film as the titular Peter, joined by Ever Anderson as Wendy. Read on to find out everything there is to know about the film, including more about Ever Anderson, who has a very famous mother.
Elsewhere on Disney+, a multi-award winning comedy continues to make a splash - for an Abbott Elementary season 1 recap (opens in new tab), we have the full lowdown of everything that happened. Fans drinking up the hilarious mockumentary have been asking will there be a season 3 of Abbott Elementary (opens in new tab)? Again, we are first on the scene with the latest news. Also popular on the streamer, Fleishman Is In Trouble based on (opens in new tab) a book and experiences of the author, is an absolute must-see.
Peter Pan & Wendy 2023: Release date
Peter Pan & Wendy will be released on Disney+ on April 28, 2023. The film has been directed by David Lowery (Pete's Dragon), who co-wrote the script with his regular co-writer Toby Halbrooks.
The idea of Peter Pan was first coined in 1904 by J. M. Barrie, in his play Peter Pan; or, the Boy Who Wouldn't Grow Up. The story arrived to the silver screen in a silent movie, produced by Paramount, in 1924. With no long-term distribution of the film taking place and no national archive existing at the time, most copies of the film were eventually destroyed. Until the 1950s, it was thought the film was lost entirely, until a well-preserved copy was discovered in a vault at the Eastman School of Music.
Walt Disney saw the 1924 version of the film, using it as inspiration for the Disney animation of Peter Pan released in 1953. In 1991, the budget busting smash hit Hook was released, which reimagined the story and delighted a new generation of Peter Pan fans. Directed by Steven Speilberg, the late Robin Williams took the helm as Peter Pan, with Dustin Hoffman as the titular Hook.
Hugh Jackman took the role of Blackbeard in the 2015 film Pan, a prequel to the original story reimagining an alternative origin story for Peter Pan and Captain Hook. The film was not a critical success, garnering generally unfavourable reviews. A firm pantomime favourite, Peter Pan has appeared in many television shows and specials since the character's initial inception.
Peter Pan & Wendy 2023: Cast
Alexander Molony (The Reluctant Landlord, The Bad Seed Returns) as Peter Pan
Ever Anderson (Resident Evil: The Final Chapter, Black Widow) as Wendy Darling
Jude Law (The Talented Mr Ripley, The Holiday) as Captain Hook
Yara Shahidi (Black-ish, Smallfoot) as Tinker Bell
Joshua Pickering (A Discovery of Witches, Safe Space) as John Darling
Jacobi Jupe (Cupid) as Michael Darling
Alyssa Wapanatâhk (The Boy & The Braid, Robo Games) as Tiger Lily
Jim Gaffigan (Chuck, Hotel Transylvania) as Mr. Smee
Molly Parker (Dexter, Lost in Space) as Mary Darling
Alan Tudyk (Encanto, Disenchanted) as George Darling
Noah Matthews Matofsky as Slightly, Lost Boy.
Sebastian Billingsley-Rodriguez as Nibs, Lost Boy.
Skyler and Kelsey Yates as Tudy and Rudy the Twins, Lost Girls.
Florence Bensberg as Curly, Lost Girl.
Caelan Edie as Tootles, Lost Boy.
Diana Tsoy as Birdie, new Lost Girl.
Felix de Sousa as Bellweather, new Lost Boy
Relative newcomer Alexander Molony is a 16-year-old British actor. Although he has had a couple of television roles, Peter Pan & Wendy will be his film debut. He has previously appeared in children's animation Claude, on Disney Junior, and portrayed the son of Romesh Ranganathan's character in Sky's The Reluctant Landlord. On stage, he has appeared as Young Macduff in the Royal Shakespeare Company's production of Macbeth starring alongside Christopher Eccleston and Niamh Cusack.
Ever Gabo Anderson is a 15-year-old actress and model, and daughter of actress Milla Jovovich and British director Paul W. S. Anderson. Although her parents tried to discourage her from pursuing acting a career, she couldn't be dissuaded. Her first feature film appearance in 2016 was in Resident Evil: The Final Chapter. Her father directed the film, and she played a younger Alicia Marcus, the character played by her mother as an adult. She has also been photographed by some high-profile photographers, appearing on magazine covers and featured prominently in other modelling assignments.
Peter Pan & Wendy 2023: Plot
The official synopsis for the film reads: "Based on J. M. Barrie's novel Peter and Wendy and inspired by the 1953 animated classic, Peter Pan & Wendy is the timeless tale of a young girl who, defying her parents' wishes to attend boarding school, travels with her two younger brothers to the magical Neverland. There, she meets a boy who refuses to grow up, a tiny fairy and an evil pirate captain, and they soon find themselves on a thrilling and dangerous adventure far, far away from their family and the comforts of home."
In an interview with Collider (opens in new tab), director David Lowery explained that in adapting the much loved story, the production has turned out to be his favourite of all his films. He said "I think, personally speaking, it's my favourite thing I've ever made, which I wasn't expecting going into it, but it is. I've never been as in love with a movie as I am with this one. We've got a couple of weeks left to go and I just love this movie. It's the most personal thing I've ever made."
He added that the film forced him to confront his own Peter Pan complex, continuing to say "It is, ironically, the most adult movie I've ever made. I went into it thinking that my entryway into this movie was that I've got a classic case of Peter Pan syndrome. I don't want to grow up. Who does? And I thought that was what was going to appeal to me about it, but in making it, in writing it, and now directing it and seeing it come to life, I've realized that this is a movie about me letting go of that. Whether that's good or bad, I haven't processed yet, but it's the first movie I've made from an adult perspective, if that makes any sense."
Is Peter Pan & Wendy a sequel?
No, Peter Pan & Wendy is not a sequel, but simply a reimagining of the original J. M. Barrie story.
In a statement about his intentions for the film, David Lowery said "In making Peter Pan & Wendy, we set out to craft a film that honors both the original J.M. Barrie text and Walt Disney's animated adaptation; we wanted to invigorate our retelling with emotional sincerity, an open heart, and a grand yearning for adventure. Hundreds of incredible artists spent many years bringing this film to the screen; I'm excited for audiences to see their work, to go on this ride, and to rediscover an evergreen tale from a new perspective."
To Collider, the director said "It'll be an entire generation's first Peter Pan movie, and that's something I don't take lightly. I want this to be a movie that is important to the children who see [it]. And I want to make a movie that will matter... that the kids will look back on fondly and think that they got something from it, that they learned something from it, that it mattered to them. And I hope that adults will feel the same way, because as someone who is just now finally feeling comfortable with calling myself an adult, I think there's a lot of valuable material that we've pulled from the source, from the text."
Related Film Features:
Video of the Week
Lucy is a multi-award nominated writer and blogger with six years' experience writing about entertainment, parenting and family life. Lucy has contributed content to PopSugar and moms.com. In the last three years, she has transformed her passion for streaming countless hours of television into specialising in entertainment writing. There is now nothing she loves more than watching the best shows on television and telling you why you should watch them.