Best baby bouncer chairs 2023: 10 top parent-approved options
Keep your little one soothed, relaxed and in view with the best baby bouncer chairs on the market right now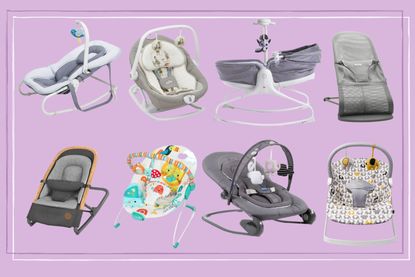 (Image credit: Future)
Helping to keep your hands free, the best baby bouncer chairs make for the perfect place to rest your baby throughout the day, while keeping your little one safe and secure.
Whether you need to get a few chores done, have a wash or just make yourself a cuppa and have a moment's rest, the best baby bouncers are a great addition to any new parent's arsenal.
Just like the best Moses baskets, baby bouncers are handy gadgets that come in all different shapes and sizes. They can keep your little one entertained, by your side and in view at all times.
Also known as rockers, some bouncers come with activity arches, many are portable and others are battery-powered and can rock, gently vibrate and play music to help soothe little dreamers.
To help you find the most suitable one for you, we asked a panel of parents to test out the market-leading options with their little ones, aged between five weeks and nine weeks old, over a period of several weeks. From bargain bounces to all-singing, all-dancing options, there's something for every parent and their little one. Keep scrolling to discover the top-rated options.
Best baby bouncer chairs 2023 - our top pick
Our pick of the best baby bouncer chair is the Babymoov Graphik Baby Bouncer. It's simply designed with a cosy, cushioned seat and removable head support for newborns. You can use the seat in either a bouncing or fixed position and it comes with a detachable and adjustable activity arch. It also folds down compactly - ideal if you're short on space and want to pop it out of sight at bedtime.
Best baby bouncers chairs 2023 - tried and tested 1. Babymoov Graphik
Best baby bouncer overall - a well-designed classic that's brilliant value for money
Specifications
Weighs: 3.2kg
Age range: Birth to 9kg
RRP: £99.99
Reasons to buy
+
Stylish design
+
Well-padded seat
+
Simple to use
Reasons to avoid
-
Some babies might prefer more stimulation
Our consumer editor says: The Babymoov Bouncer Graphik is a classic baby bouncer chair suitable from birth. The removable head support is a handy extra for smaller babies who don't yet have good head control, and the soft, fleecy seat offers good support for babies of all sizes. You can use this as both a fixed baby seat and as a rocker, which means you can pop your baby in it when they need to kick off some energy as well as when it's time to calm down before sleeping.
The seat has multiple recline positions so you can adjust it depending on whether your baby is feeling sleepy or keen to sit up and see more of the world. This baby bouncer chair comes with an activity arch with a rattling bird toy included. The seat folds down compactly so it's handy to store and the cover can be removed for hand-washing. Carry handles make it easy to move from room to room with you.
Our tester says: 'The seat features a really stylish graphic print, ensuring this would look beautiful in any nursery,' says our tester Clemmie Millbank, mum to Felix, five weeks. 'It's really easy to put together, and just as easy to adjust and then flatten down again for transporting around the house or popping in the car. The adjustable bar with the little toy bird is really sweet and kept my newborn entertained for quite a while.'
What stood out to Clemmie is the fact that this chair is a practical option for use from birth. 'Lots of bouncers are technically suitable from birth, but really tend to be better suited for older babies,' she says. "But this one is so well padded – and the headrest adds extra comfort and support – that my tiny five-week-old instantly loved it.'
Verdict: We've chosen this as the best baby bouncer because it's well-designed and ideal for both newborns and younger babies. This means you get brilliant value from the day your baby arrives. The toy arch is a lovely extra. Overall, this feels like a high-quality baby chair but it's also reasonably priced – our tester was surprised when we showed her the price tag and expected it to be more expensive.
---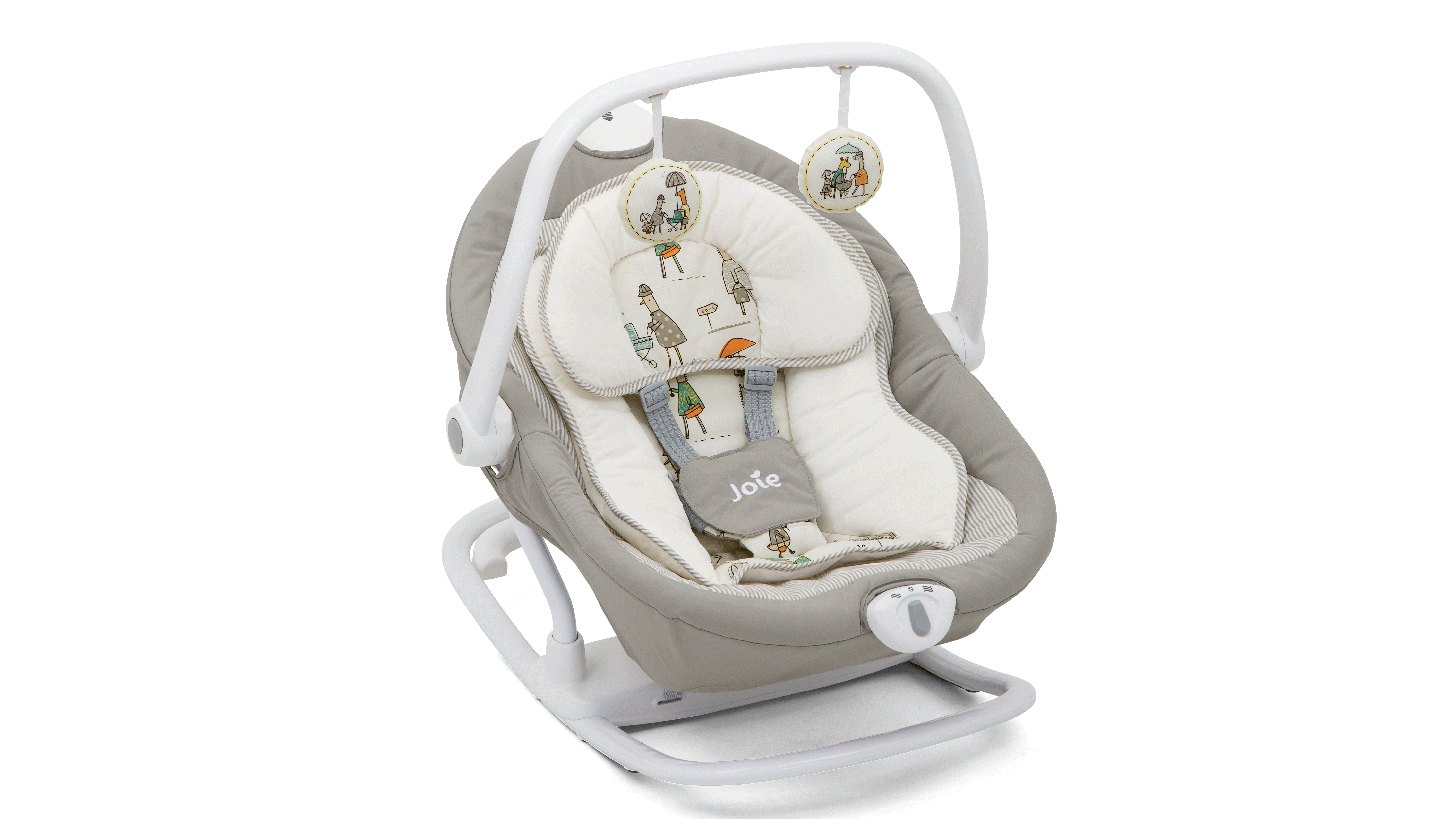 2. Joie Sansa 2-in-1 Rocker
Best premium baby bouncer - a self-rocking baby chair with a detachable, portable rocking seat
Specifications
Weighs: 7.36kg
Age range: Birth to 9kg
Batteries: 4 x 1.5v D
RRP: £160
Reasons to buy
+
Self-rocking
+
Comfy, padded seat
+
Musical features
Our consumer editor says: The Joie Sansa 2-in-1 is an innovative baby seat that combines a baby rocker with a portable baby bouncer. You really do get two items here for the price of one. So although it's an expensive option, it offers real value for money. It's not an especially travel-friendly option but if you're looking for a practical baby bouncer chair for long days at home, this is an excellent choice. It also has a vibration mode and plays nature sounds and lullabies.
Our tester says: Louisa Field, mum to Liv, two months, says: 'If you have a baby that insists on being or rocked or bounced all day long, it's a huge plus that this seat can do that for you and save your back. The sound of the machinery when it rocks is a bit loud – not sure why, as it's only on the back-and-forth rocking. Whereas the side-to-side mode is basically silent. But you can even set it to do both at the same time. If only the rocking motion was even faster – our baby would like that even more!'
Our tester particularly loved the self-rocking functionality. As a busy parent, you don't always have your arms free to rock your baby. Even keeping your foot on the baby bouncer chair to keep it moving can be too much when you're a multi-tasking mum. The beauty of the Joie Sansa 2-in-1 is the fact that you can adjust the movement to suit your little one, and then let it take care of itself. (With close supervision, of course.)
Verdict: This is an ideal baby chair for busy parents. It keeps your baby safe and entertained while you focus on attending to other children, tackling the laundry – or drinking a cuppa before it goes cold!
---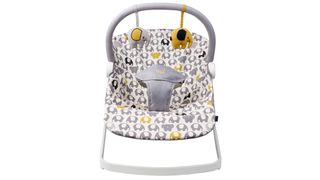 3. BabaBing Float Baby Bouncer
Best budget buy - the perfect baby bouncer if you're on a tight budget
Specifications
Weighs: 1kg
Age range: Birth to 9kg
RRP: £40
Reasons to buy
+
Affordable
+
Lightweight and easy to move from room to room
Reasons to avoid
-
No 'extras' or special features
Our consumer editor says: This classic baby bouncer is delightfully basic. There are no 'bells or whistles' – it's just a simply-designed bouncer that allows your baby to gently bounce themselves by kicking their feet. But if you're a fan of simple items of baby gear without complications or if you're on a strict budget and don't want to spend over the odds on an item that will be quickly outgrown, this is the one for you.
Our tester says: 'The BabaBing bouncer is very easy to assemble with no faff involved, plus it has a super cute print and it's light enough to move around the house with ease,' says Louisa Field, mum to Liv, two months. 'We have a small flat so we wouldn't choose anything bigger than this when it comes to shopping for a baby bouncer. Liv seemed comfortable enough in it, although it could perhaps have a little bit more 'bounce' to it – she's so small that kicking her legs doesn't actually make it move all that much yet. But she definitely liked being able to look up and out when sitting in this, so the height seems just right.'
Our tester also commented on how straightforward this baby bouncer is to use compared to other more complex designs. 'You can use this straight out of the box with no fiddly assembly required, and that's definitely a huge bonus when you have a newborn baby. On the downside, there are no special features or extra accessories, so it may be a bit too simplistic for gadget-loving parents or those who like baby gear with jazzy extras.'
Verdict: The non-slip base is ideal for wooden floors, and the bouncer chair comes with a play arch with toys included. So if you're looking for a well-designed baby bouncer without any unnecessary frills, this is well worth considering. It's a brilliant choice if you're sticking to a budget and don't want to waste cash on features you don't really need. If all you're after is a simple, stylish baby bouncer for those moments where you need to pop your baby somewhere safe, look no further.
---